Shipmate Column
March-April 2013
---
CLASS OF 1963
Pres: CAPT W. Spencer Johnson IV, USN (Ret.)
Sec'y: Michael H. Shelley
164 Sweetwater Lane, Pisgah Forest, NC 28768
h: 828-862-4245 e: nstar@citcom.net
Web site: http://www.usna63.org.


For any classmate you can go to the Classmates Page and enter his name to read his current biography if available.
---
---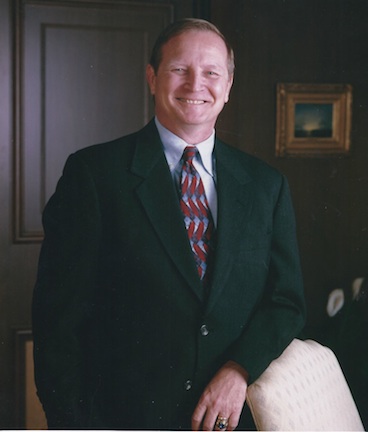 Roger Tetrault


&nbsp I am very pleased to begin this report with the news that our classmate Roger E. Tetrault has been named by the USNA Alumni Association as a Distinguished Graduate of the Naval Academy. This award recognizes demonstrated and unselfish commitment to a lifetime of service to the nation, personal character, and significant contributions to the Naval Academy and the naval service or a leader in industry and government. We congratulate Roger for this high honor.
&nbsp The announcement of the Distinguished Graduate Award included this summary of Roger's career:
&nbsp [He] served primarily as a surface warfare officer after graduation. He established the Naval Academy Ethics Leadership Chair; while at the Naval Nuclear Fuel Division of Babcock and Wilcox he led the program to develop a new generation of naval nuclear reactors that would last the life of a ship, thereby saving the Navy billions of dollars in future costs. He is the former president of the Electric Boat Shipyard. He served with NASA on the Advisory Council, International Space Station Task Force, Columbia Accident Investigation Board and National Research Council Committee for the Hubble Telescope and was awarded their Distinguished Public Service Medal. Prior to retirement, he served as chairman and CEO of McDermott International and is currently serving on the Naval Academy Foundation Board of Directors
&nbsp Roger is the second member of the Class of 1963 to be named a Distinguished Graduate; the first was Ron Terwilliger, who received the honor in 2009.
---
&nbsp As we approach our 50th Reunion, there are a couple of things that need your attention. First, be sure that the Class has your current contact information. Too many letters sent in the latest Reunion mailing were returned because of invalid addresses. Reliable mail service is critical because not all details about the reunion will appear in Shipmate; this is especially so for time-sensitive information. If you did not receive the reunion committee's November mailing, or if you have any doubt that the Class has your current postal and email addresses and your phone number, send the correct information to Steve Coester at scoester@cfl.rr.com. Our roster is independent of the Alumni Association's records so also inform the Association if you wish.
&nbsp There have been inquiries as to whether or not we will produce a 50th Reunion biographical directory. Rather than being burdened by the difficult logistics and high costs of such a publication, we will rely on individuals' contributions to the Current Biographies section of our web site. Over the past several years, more than 300 of our classmates have submitted their information, and I urge you to join them. When you browse through the biographies by clicking HERE you will see that there is no prescribed content or format; that's entirely up to you. A photo or two will be a nice supplement to your text. Some things to consider including are: your family, your degrees, final rank and branch of service, any family members who attended USNA, and professional and personal biographical info. Just send your information to Webmaster Steve Coester at the address above. If your current biography is already on our site, check to see that it is up-to-date and send any changes to Steve.
---
&nbsp In the Reunion vein, please heed this note from Ken Metviner about our support for the '63 Center for Academic Excellence.
&nbsp As the Class of 2013 fast approaches its graduation day, let's take time to reflect on the past 50 years and how far we all have come and how much we owe to the four years we shared on the banks of the Severn River. Most of us have taken the opportunity to give back in some respect to the Academy. Now, as we look forward to our 50th Anniversary Reunion and the last chance to participate in the Legacy Gift Campaign of the Class of 1963, please consider beginning or increasing your participation in that fundraising effort. Your Company Rep can steer you in the right direction, or log onto the helpful websites at USNA63.org or USNA.com. We have a project, the 63CAE, that is worthy of private funding support. Let me know if you need more information: kmetviner919@aol.com .
&nbsp Here's a related item from Mike Krause:
&nbsp I thought I'd send along a year-end status report on the 63CAE raffle ticket sales. As of the last day of 2012, the Class of 1963 Foundation has sold a total of 235 fifty-dollar raffle tickets. We expect to raise $50,000 through the sale of 1,000 tickets. Raffle tickets are still available for you. As you know, the drawing will be held October 25, 2013, at the Class Dinner. Anyone desiring to buy tickets should complete the order form on our web site and send it to me along with their check.
&nbsp Click HERE to see the brochure showing the prizes and HERE for the order form for tickets.
---

&nbsp Ron Klemick provided this full report on the Service Selection dinner for the Class of 2013. The accompanying photos were taken by an Alumni Association photographer.
&nbsp On Wednesday, 28 November, 49 classmates, wives , and guests joined 1,079 First Class Midshipmen for a memorable evening with a reception in Smoke Hall and a Dinner in King Hall, followed by a social gathering in Dahlgren Hall. The Service Selection Dinner marked the last major event prior to Graduation in the 1963-2013 "Another Link in the Chain" milestones from Induction Day to 24 May 2013.
&nbsp Attending from 1963 were John Aucella, Mel and Glynda Bunnell, Joe and Sally Bustamante, Dave Byrnes, Eli and Eileen Dabich, Doug and Charlsie Davidson, Bill Earner, Sonny Glassner, Mario and Susan Fiori, Bob and Sharon Forster, Spencer and Andrea Johnson, Ron and Sandy Klemick, Dan and Karen Koczur, Steve Leisge, Jim Lloyd, Ken and Sandi Metviner, Jeff and Marla Miles, Mike and Stephanie Nadolski, Nick and Kathy Nerangis, David and Judi Puckett, Pete and Jan Quinton, Jim and Kate Ring, Phil and Jan Rooney, Al Sherman, Forrest and Arlene Siburt, Tom Taylor, John Wilkinson and Carol Davisson, Roy and Vicki Warren, and Bruce Webb.
&nbsp Approximately 96 percent of the Class received their first or second career service choice and many of the male Mids sported shaved heads and shaved eyebrows. The dessert after dinner was "cannonballs" in honor of our Class. My challenge as the Guest Speaker was to keep their attention with the weight of cannonballs and the knowledge that cold beer and wine awaited the midshipmen in Dahlgren Hall.
&nbsp As we approach the downhill of ALITC, except for winter Battalion Receptions and Graduation, it has been my distinct pleasure and honor to assist our class through the maze and unknowns of the program. Thanks to your strong participation and support, our class has set all attendance records and provided some innovative additions to the program.
&nbsp Well Done with Honor, Courage, Commitment, and Quality '63!
&nbsp The full text of Ron's speech at the dinner is in the ALITC section of our web site and can be seen by clicking HERE . It is an excellent review of the enduring value of the Naval Academy experience. I encourage you to read it.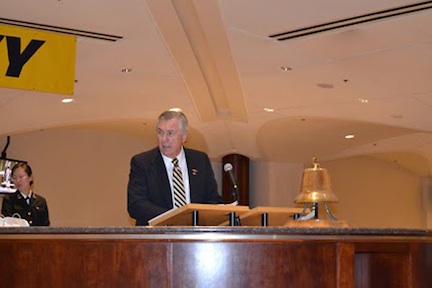 Ron Klemick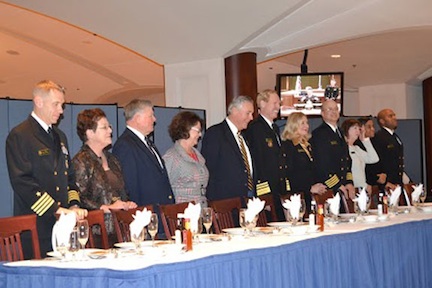 Johnsons and Klemicks at the head table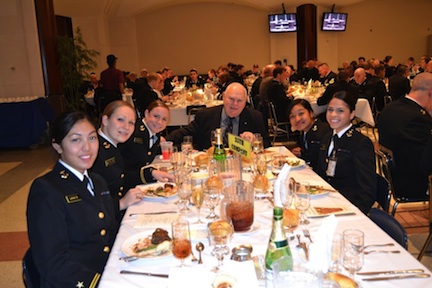 Bruce Webb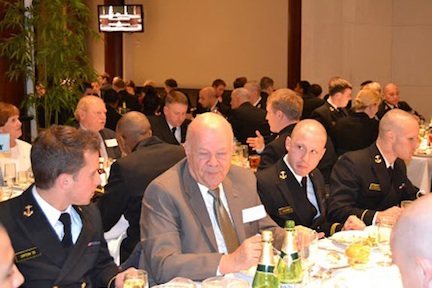 Dave Byrnes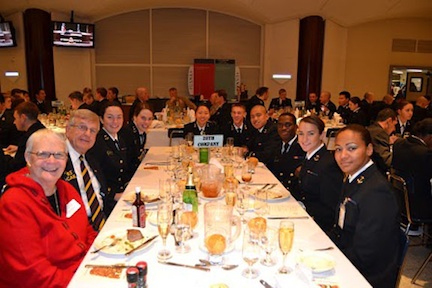 Judi and David Puckett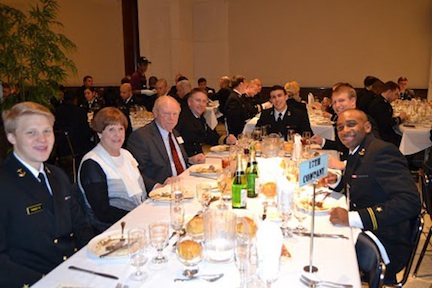 Jan and Phil Rooney



&nbsp Phil Rooney gives us some "color commentary" about the lighter side of the evening.
&nbsp Jan and I had a fantastic time at the Service Assignment Dinner at Mother B! We never did anything like that in our day, so it was really neat to be a part of this. Dinner included that old standby filet mignon, which I remembered we had most Sunday evenings way back when. As a treat for us, we had CANNON BALLS for dessert! The Mids had no idea what these were, so we had a blast describing how once in a while a Plebe would try to get carry-on by eating a dozen of these things! I ate about a fourth of mine, but my dear wife really enjoyed hers and ate most of it! At the end of the meal, Ron Klemick gave a great speech, full of congratulations and wisdom for later years.
&nbsp After dinner, we adjourned to Dahlgren Hall, where --get this--beer and wine were served to the 1/c Midshipmen! They had changed out of their uniforms, for the most part, and were wearing civvies, flight suits if they were going Air, or other such stuff if they were going Marines, subs, SWO, etc. I was really impressed!
&nbsp The Another-Link-in-the-Chain program has been super! The last function for us will be at graduation in May. However, we'll always have the '63 Center for Academic Excellence to visit and nurture for the rest of our lives. That place has had an enormous impact on academic retention! And to think that '63 is making it happen. So thanks to you who have already given, and thanks to you who will. It's an exceptionally worthwhile gift, for sure!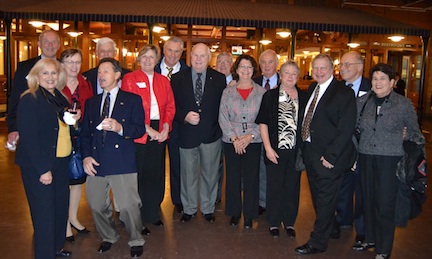 Arlene and Forrest Siburt (left front), Mario and Susan Fiori, Roy and Vicki Warren, Ron Klemick, Bruce Webb, Bob Forster, Sandy Klemick, Eli Dabich, Stephanie and Mike Nadolski, Ken and Sandi Metviner


&nbsp A third account from that evening came from Jim Ring, who tells us some things about the special warfare selectees.
&nbsp I went to the service assignment dinner for the class of 2013 on the day that the Mids find out what their service and community will be after graduation. They have a lot more choices than navy line, navy air, or subs. Sitting across from me was a rather small female mid. She was a cross country runner and ran the distance races for indoor and outdoor track. The team has won its last few meets against Army. When I asked her assignment, she said she was very proud to be one of 13 selected out of over 100 who applied. Her choice was EOD - explosive ordnance disposal! She chose it because it is mission oriented. I talked with the Commandant about it and he said his son was going there too. He said the training is almost as intense as SEAL training with a 50 percent dropout rate. Because of the selection process, academy grads have only a 5 percent dropout rate. They go through parachute training including HALO -high altitude jumps (40,000 ft, low altitude opening - around 2000 ft) and sometimes go with SEALs on their missions.
&nbsp It was interesting to learn that the new SEAL and EOD selectees shave their eyebrows, so hers were shaved. It is a new day ladies and gentlemen! I remember my sister played basketball and could play on only half the court because it was thought that girls could not handle full court running.
---
&nbsp Our classmate Chuck Spadafora contacted me with some exciting news about the USNA boxing program. He is a member of a committee formed to ensure proper recognition of Navy's coaches and boxers: past, present, and future. Over more than 90 years, Navy boxers have won 11 NCAA team championships, nine second-place finishes, and more than 50 individual championships. There have been only four coaches during those years: Spike Webb, Tony Rubino, Emerson Smith, and Jim McNally.
&nbsp The Academy and the Athletic Association have authorized the creation of a "Champions Trophy" to honor the coaches and national champions. The names of all will be inscribed on the trophy, which will be on permanent display in the boxing loft.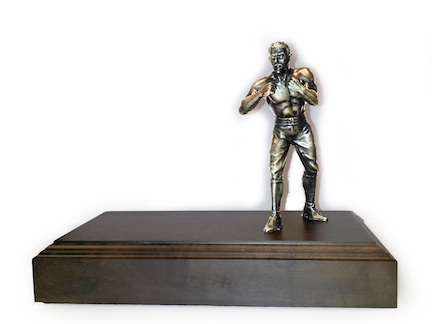 The Champions Trophy



&nbsp For more information, and to make a donation, contact Chuck by email at cspad60@yahoo.com or by phone at 724-801-6029. As he reminded me, "Boxing has always been held in high regard at USNA and in the fleet. Navy boxing is different than just boxing. It is a storied Navy tradition."
---
&nbsp Jim Koehn wants to acquire a Class of 1963 class crest wall plaque like the one pictured below. We do not know the source of these plaques, so if you can provide any information please contact Jim at jkoehn7@cox.net . Thanks!



---
&nbsp I'm pleased to share some excerpts from a December press release about our classmate Don Freese.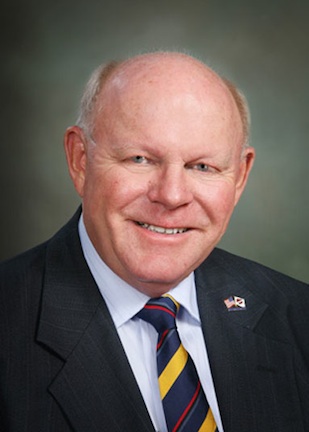 Don Freese
&nbsp Retired Navy Reserve Capt. Donald R. Freese, of St. Pete Beach, Fla., has been elected to the board of directors of the Military Officers Association of America (MOAA), the nation'n largest and most influential officers' association with more than 370,000 members from every branch of service, including active duty, National Guard, Reserve, retired, and former military officers and their families and survivors.
&nbsp A 1963 graduate of the U.S. Naval Academy, Freese holds Master of Science and Master of Business Administration degrees from Binghamton University in New York and a law degree from Chase College of Law, Northern Kentucky University. He served four years on active duty, qualifying as a surface warfare officer, and 26 years of active reserve duty with nine reserve unit commands before retiring. He is immediate past president of the MOAA Florida Council of Chapters, and past president of the St. Petersburg Area Chapter.
---
&nbsp Soon after Navy's narrow escape with yet another gridiron victory over Army, I received this report from Chuck Stone about the Army-Navy game party that he and June hosted at their beautiful mountaintop home in Escondido, CA. Note the snazzy flagpole and the Navy and USNA flags.
&nbsp We had a wonderful gathering--36 classmates and wives, plus four others--to cheer Navy onward to its 11th straight victory over the Black Knights. As you can see, it was just another "boring" day here in "paradise!"



&nbsp Pictured generally from left to right in front of our new flagpole are: Sally Orgera, Jay Roberts, Win Orgera, Bob Borlet, Karen Hoy, Sue Cargill, Gail Von Sydow, Lee Cargill, Sharon Borlet, Chuck Stone, Rowena Harken, Jerry Harken, Dave Meyers, Dottie Hughes, Bill Hughes, Karl Kozak, Janet Gushue, June Stone, Don Jacobs, Marirose Kozak, Charlotte Jacobs, Steve Hoy, Kay Khrone, Betty Ray Wilson, Grant Telfer, Ted Khrone, John Middleton, Rich Wilson, Dick Andrews, Jim Fontana, Pat Fontana, Donna Kaup, Betty Middleton, Vern Von Sydow, Cindy Lasswell, Jim Lasswell. Not pictured were Joe and Janet Bartel (grandparents of our Link in the Chain, Midn 1/c Laura Curtis USNA '13) and John and Kapi Kizer (dear Navy Supply Corps buddies).
&nbsp Also with us in spirit were Phillip Marsden (at home caring for his wife, Marti, recovering from recent back surgery), Bob and Sue Easton (recently released from the hospital for a serious abdominal infection), and Maureen Hogan (widow of Classmate J. J. Hogan, who passed away this past summer).
---
&nbsp Thanks to Mike Blackledge for sending this photo taken when he was in Torrance, CA, in November. Shown are Ron Saqui, Ross Anderson's widow Susan, and Mike. Ron and Mike were 4th Company roommates 2nd class year; Ross Anderson and Mike were roommates 1st class year.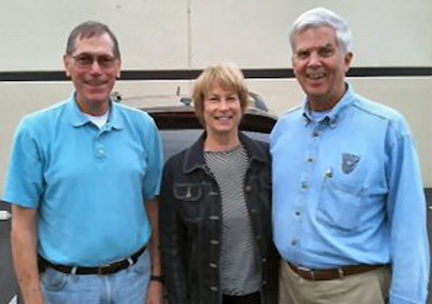 Ron Saqui, Susan Anderson, Mike Blackledge
---
&nbsp I have reported before about the transfer of swords from several of our classmates to members of the Class of 2013. Two more transfer ceremonies occurred in California at the turn of the year. This news from Phillip Marsden tells us about the first one.
&nbsp The latest sword ceremony here in the San Diego area occurred 28 December. Chuck Stone, Dave Meyers, and Joe Morra joined me in presenting Steve Longo's Marine Officer dress sword to Shan Mandrayar, Class of 2013. In Steve's absence, we presented Shan with a short Steve Longo biography including a picture of him taken during his Vietnam tour. Our local Class Marine rep, Joe Morra, talked about the significance of joining the Marine "brotherhood" and the history of the distinctive Marine sword. Left to right in this photo are Chuck Stone, Joe Morra, Midn Mandrayar, Phillip Marsden, and Dave Meyers.



&nbsp Steve sent this message with his sword:

"A new generation of Marines protects our nation and its freedoms. I am honored to pass on my sword to one of them. My hope is that this sword will only be needed for ceremonial purposes, but like any good Marine, Shan, be prepared to repel boarders."


&nbsp We all congratulated Shan for attending the Naval Academy and choosing the Marine Corps on graduation. A very nice reception followed, during which we got to meet Shan's family and friends including another retired Marine, Tom Dumont '62.
&nbsp With his report on the event, Phillip sent this picture of Steve Longo in South Vietnam, where he served with the 3rd Marine Division Air Operations in Dong Ha, as a Tactical Air Controller (Airborne) flying the O-1 "Bird Dog" out of Marble Mountain, and as the Air Liaison Officer of the 1st Battalion 26th Marines in northern I Corps. Steve left active duty in 1969 to pursue a career as a pilot in the airline industry. Today he enjoys retired life in Laguna Beach, CA.
Steve Longo
---
&nbsp The following week, another sword ceremony was held farther north in California as Bob Miller presented his blade to a future Naval Officer. Here is his account of the event on 3 January: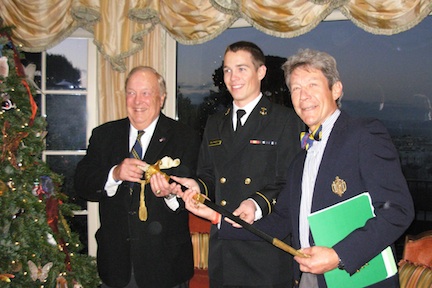 Sword presentation in San Francisco
&nbsp This photo of Jim Oakes '63, Clayton Callender Class of 2013, and me was taken as I presented my sword to Clayton in San Francisco on January 3. Clayton is the grandson of my mentor and long time friend Dr. John Callender, Dean of Bay Area orthopedic surgeons. Jim gave a brief discussion of the Another Link in the Chain Program, and I talked about how meaningful it is to me to pass on my sword to such a high quality naval officer. Clayton and I have begun a really nice relationship, and Dad and Grandad were so pleased and grateful! It was a great experience.
&nbsp I understand that other sword transfers are in the works. There is no set protocol for these, so each event can be tailored to fit the circumstances. Phillip Marsden has prepared a "gouge" that may be useful in planning your event. It's posted in the ALITC section of our web site. To see it, click Here.
---
&nbsp Our closing news this month comes from Roger Mehle, who sent this illustrated report about a unique event conceived by members of our 24th Company to build ties with their counterparts in the Class of 2013.
&nbsp On January 11, members of our class in the 24th Company enjoyed a "Link in the Chain" event with the Class of 2013 that was novel--and maybe without precedent.
&nbsp To "wet down" our gift of beer mugs to the First Classmen of the 24th Company--replicas of the 24th Company's mugs of fifty years ago-Roger Mehle, Tom Morgan, Nick Nerangis, and Tommy Thompson joined, at their invitation, approximately thirty members of 24/2013 at the Rams Head Tavern in Annapolis. (Our entire company was invited, but these four hardy "locals" were the only ones who could make the event.) The evening was planned by Midshipmen 1/c Cody Dickson and Daphne Williams, who plainly know how to give a party!
&nbsp Once we recovered from the initial shock of seeing midshipmen (of legal age) drink in Annapolis--and in civilian clothing--we had a most enjoyable evening with these outstanding young men and women. They are, of course, only a few short months away from joining the Fleet and the Marine Corps, and their choices of service covered the gamut of opportunities: Navy and Marine Corps Air, including pilot and NFO training, Navy Surface and Submarine Warfare, Marine Corps Infantry, and Navy Seal training. (We were told that almost no one is permitted to be commissioned into the Army or the Air Force, unlike in our day.)

Celebrating at the Ram's Head Tavern in Annapolis. Tom Morgan seated fourth from the front, Tommy Thompson seated across from him, Roger Mehle and Nick Nerangis standing at right rear.




Tom Morgan, Tommy Thompson, Colette Mehle, Nick Nerangis, Roger Mehle, Dave Pogue (Tommy's son-in-law)



&nbsp After several hours of informal conversation, sea stories (mostly from us!), lots of laughs, and more beer than we've drunk in a while, we came away with an excellent feeling about the future of our military, which these young men and women represent so well. (They were on television on January 21; the 24th Company is this year's Color Company, and, as such, was the only USNA element to march in Barack Obama's inaugural parade.)
&nbsp We may also have inspired a tradition; fifty years from now, the members of 24/2013 plan to make a gift of identical beer mugs to the First Classmen of 24/2063. We've been invited to attend that party too!
&nbsp The evening was thoroughly enjoyable for us, and I hope for 24/2013. We had a real opportunity for conversation with the young men and women, sitting -- and drinking -- together for four hours!
---
&nbsp That's all for now. Please remember to let us know if any of your contact information has changed, and do take a few minutes to prepare or update your Current Biography for our web site.



---