Shipmate Column
March-April 2011
---
CLASS OF 1963
Pres: CAPT W. Spencer Johnson IV, USN (Ret.)
Sec'y: Michael H. Shelley
164 Sweetwater Lane, Pisgah Forest, NC 28768
h: 828-862-4245 e: nstar@citcom.net
Web site: http://www.usna63.org.


For any classmate you can go to the Classmates Page and enter his name to read his current biography if available.
---
&nbsp It has been a bad winter for us. I am very sorry to report to you that we lost four of our classmates in December and January.
---
&nbsp Edward A. Kolbe passed away on 3 December at his home. Ed's widow, Bonnie, can be contacted at 321 N 7th St, Perkasie, Pa 18944.
---
&nbsp James C. Thorell died on 10 December. Jim's widow, Sammie, can be contacted at 3403 Pleasant Hill Road, Nesbit, MS 38651-9002.
---
&nbsp William S. Marshall passed away on 2 January. Bill's widow, Nan, can be contacted at 428 Ford Drive, Elizabethtown, PA 17022-3193.
---
&nbsp Robert Jeffrey Niss died on 26 January. Jeff's widow, Millie Holland, can be contacted at 102 Camp Meeting Road Extension, Sewickley, PA 15143. His brother, Steve Niss (USNA '66), resides at 5 Raymond Place, Westport, CN 06880.

I invite you to read about these men's remarkable lives in the Last Call section of our web site by clicking Here.
---
&nbsp Here is a letter from our class President, Spencer Johnson, about the bonds now being forged between the Classes of 1963 and 2013.



&nbsp Dear Classmates and Friends,
&nbsp We have had a very successful "Another Link in the Chain (ALITC) Program" due to the enthusiasm of those of you who have been able to participate and the interest of those who could not attend the activities. Thank you for your effort and support.
&nbsp The next event of our ALITC Program is a ring donation that the USNA Alumni Association calls the "Bonds of Gold," a part of its Ring and Crest Program. Our classmates, including widows and widowers, are being invited to donate class rings and/or miniatures to the class of 2013 to be melded with the gold which will be used to create their rings. This symbolizes an enduring link between our legacy class and the junior class of 2013.
&nbsp Should you feel moved to donate a ring to this everlasting tie between 1963 and 2013 we would welcome your generosity and dedication to this symbolic and important program. Previous classes have donated seven to nine rings for this purpose. Each has a unique story of the person who wore the ring and why it was donated. For example, our class recently acquired a miniature '63 ring that was found in a Pensacola, FL, hospital lost and found department. Attempts to identify the owner were unsuccessful and the ring has been donated for use by the Class in the "Bonds of Gold" program.
&nbsp Ron Klemick will serve as the class coordinator for this undertaking. If you think that you would like to donate a ring for this purpose, please let him know by email at rklemick@bellsouth.net or by phone at 910 270 9171 as soon as possible. Prior to April 1, 2011, please send the rings to our class custodian, Jeff Miles, 2723 Lury Lane, Annapolis, MD 21401. Jeff will keep them safe until they are presented to the Class of 2013.
&nbsp We recommend sending the rings by UPS with insurance and a signature required. It is recommended that the donor have the stone(s) removed prior to mailing. The Naval Academy Foundation will provide the donors with a tax deductible donation receipt. With gold prices being very high and fluctuating, a local appraisal of the gold ring is suggested.
&nbsp In addition to the ring, a brief write-up regarding the classmate/donor is requested for historical and presentational purposes: information such as why the person chose to attend the Naval Academy, what company he was in, his career path and career achievements, etc. would be appropriate. In the case of a widow, please tell us who your husband was and anything you think appropriate for relaying to the class of 2013 about your husband.
&nbsp In mid April 2011, a Bonds of Gold ceremony will be held in Memorial Hall to which all classmates will be invited. The evening ceremony will include representatives of the Class of 2013, Naval Academy leadership, classmates, and donors who might wish to attend. The donors or their representatives, such as classmates or wives, will be asked to make a brief presentation to the Class of 2013, speaking about the individual whose ring will become an indelible part of the "link in the chain" between our two classes.
&nbsp The rings will then be accepted by the officers of the class of 2013. Previous classes have found this to be a very profound and emotional ceremony for all. We believe the key to this program is maximum attendance at this event, the personal histories of our classmates and their loved ones who wore the rings, and thereby their memorialization. Our class has been a huge supporter of the ALITC program. In fact, the Class of 1963 has received the "12th man" title from the Class of 2013 because of our participation in ALITC events and our encouragement along the way.
&nbsp The donation of a ring or miniature is obviously a big decision and can be a difficult one to make, especially for a surviving spouse or family member. We suggest any decision to donate a ring be a family one, with the input and advice of children and friends factored into the decision.
&nbsp Ron Klemick or I will provide answers to your questions and concerns.
&nbsp With every wish for a happy and healthy New Year, I hope to see you at the San Diego reunion March 31-April 3.



---
&nbsp Sir, there are only two months until the Mid-Term Reunion of the Class of 1963! It is shaping up to be something very special. As of mid-December, 140 classmates have registered, and more are expected. The attendee count not stands at 260-plus, including wives and guests. It's not too late to register your attendance; click Here to see the registration form and Here for the schedule of events.
&nbsp One of the highlights of the reunion will be a "silent auction" to benefit the Class of 1963 Center for Academic Excellence (CAE) at the Naval Academy. Among the offerings included in the auction will be weekend escapes, golf at exclusive courses, craft pieces, and works of art - all donated by members of our class. Advance bids will be accepted, and you do not have to attend the reunion to bid. To see a copy of the colorful auction catalog, click Here.



---
&nbsp As you know, the Class of 1963 Foundation has for many years been coordinating our financial support to the CAE and is conducting a campaign to raise a large sum as our 50th Reunion gift to the Academy. In December, Andrew Phillips, the Academic Dean and Provost, sent this informative letter about the CAE to Class President Spencer Johnson and Foundation President David Puckett.
&nbsp This is a great time for me to thank you again for the generous and important support the Class of 1963 has provided for the CAE. As you know, we've talked several times over the past year about the importance of the CAE, and its associated accomplishments.
&nbsp You may also be aware that we recently concluded an external "review" of the CAE. This is a normal process that we undertake for every academic program at the Academy. On a regular cycle of every five years, we invite a team of three external consultants (typically experts in the discipline under review) to come to the Academy and give us their best advice about what we're doing well and what we could improve. It turns out that it had been about 15 years since the last CAE review, so we felt this assessment of our work was really important to do now. And we're very pleased with the result - we're doing many, many things very well.



&nbsp As strong supporters of the CAE, I thought you might like to read the following remark made by the visiting committee, which I think summarizes quite well the impact that this program makes:

"Among the most notable assets of the Center for Academic Excellence (CAE) is its dedicated and experienced staff. All clearly understand and support the USNA and CAE mission and are committed to developing midshipmen into outstanding young officers. These same attributes were also observed in the community members who provide evening tutoring services. Every midshipman we interviewed spoke glowingly of the CAE staff. Many said they would not still be at USNA without the help and support they received from CAE personnel. These midshipmen benefited from the small class sizes, the individualized attention and the student learning-focused pedagogy. This approach really helped them grasp course material and increased their confidence to perform in the classroom and in the Brigade. Several midshipmen reported CAE staff remained in contact with them long after they had completed their CAE programs"


&nbsp Thanks again for your support. As you can see from the quote above, the CAE has been doing outstanding work in support of the midshipmen, and your funding has made a considerable difference!
---
&nbsp Chet White enjoyed a two-week cruise from Los Angeles to the Hawaiian Islands in December. He was surprised to find that classmate Rich Pace and his wife May were among the passengers. Chet said they had a fine old time telling sea stories and such. He supplied this photo from a dinner aboard.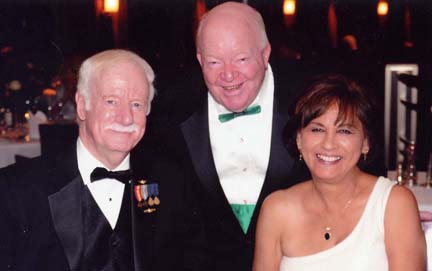 Chet White with Rich and May Pace
---
&nbsp Faithful contributor Dave Bingemann sent this news about the latest muster of his companymates.
&nbsp As I did last year, I am submitting news about our latest Terrible Tenth ( later 8th) Company Reunion. Since 1994, we have been holding Company mini-reunions almost annually somewhere in CONUS between the five year homecomings in Annapolis. We try to split our get-togethers equally between the two coasts, and usually have roughly 50 percent of us attending each event.
&nbsp This year, 19 of us gathered in Fredericksburg, VA, from 19 to 22 October, hosted in grand southern style by Betti and Matt Small. We toured the Fredericksburg National Historic District, home of Mary Washington, and the Fredericksburg Civil War Battlefield and Visitors Center. But, for me, the highlight of the week was the all-day canoe trip down the Rappahannock River . Fifteen of us plus five of the ladies had a blast! Speed Leeper risked his camera for the event. The water was a little low, so some of the rapids were a little challenging, but all of us made it back safe and sound. But most importantly during our get-together, we all enjoyed good fellowship and the wonderful food and hospitality of the Smalls in their scenic and warm southern home. The weather was ideal, Fall foliage was near its peak, and the scenery, especially the river, was just spectacular.

After canoeing on the Rappahannock River


Those attending our reunion were of course the Smalls, plus the Bingemanns, the Boleys, the Breens, the Bridgemans, Colston, the Deegans, the Dickersons, Ollie Doherty, the Earners, Ellison, Hahn, the Helspers, Kell, Leeper, the Oatways, Patterson and Bonnie Phinney, the Rulands, the Schalls, and the Spears. With spouses and friends, we numbered 34 strong. We all had a terrific time.
&nbsp This picture of the entire group was snapped in the Smalls' home

"Terrible 10th Company" reunion in Fredericksburg, Virginia



&nbsp In 2011 we return to the West Coast and plan to reconvene again sometime in the Fall in Novato, CA, with hosts Georgia and Hugh Schall doing the honors
---
&nbsp Jim Eckland has begun a new adventure, working at a major mining construction site in Mongolia. Here are some excerpts from a colorful e-mail he sent via Dave Moore two weeks after arriving there.
&nbsp In December, Fluor offered me a job with great pay and benefits to work in southeastern Mongolia (Gobi Desert). I had not been to Mongolia, so I elected to give it a go. This largest-ever Mongolian commercial project is a joint venture/LLC to build a copper and gold mining facility, including a road south to nearby northern China.
&nbsp First, I flew non-stop on Korea Air from DFW to Seoul, where I visited the Mongolian Consulate and obtained a visa to work in Mongolia. On 2 January, I flew from the Mongol capital Ulaan Bataar to a hasty air strip here near the Oyu Tolgoi project. The weather is cold, but we have not had much new snow in the past week. Think of the coldest day in Boston or Pittsburgh. Our dwelling is a "ger." (Mongolian for larger round tent that the nomads use outside the cities.) It is a very different structure for Western expats, with four pods linked to a central unit -- eight of us share showers, sinks, and toilets. When you have time, Google "Oyu Tolgoi mining".
&nbsp I am usually not out in the weather more than 10 minutes. I purposely walk on crusty snow rather than on a sidewalk which can have black ice and be slippery to cause a fall. The walk from the ger to the dining hall is five minutes. Our chow hall feeds about 4,000 people with three meals a day. Overall, the food is okay (6 out of 10 score). They have a Western food line and one for Mongols.
&nbsp Our Mining Concentrator boss is an Irishman who lives in Vancouver. We have other expats here from Australia, the UK, the US, and the Philippines. About 75 percent of the workers are Mongols, with some 4,000 Chinese working for the major contractor. With many Mongolians, much of what we do on the project is related to training them with skills, computer processes, teamwork, and dealing with others. There are several translators on site working daily in the Chinese/Mongolian and English languages.
---
&nbsp On 11 December, our San Diego area classmates and their ladies continued their long tradition of assembling for the Army-Navy football game. Phillip Marsden provided this report and several photos taken that day.
&nbsp This year's Army game gathering was held at the On the Border Restaurant in Escondido. Terri and John Ryan organized the party and provided the decorations. We had a great turnout to cheer on the Navy team. By my count the attendees were Jim and Sandi Thornton, Chuck and June Stone, Bill and Donna Gentile, JJ and Maureen Hogan, Jim and Pat Fontana, Jim and Cindy Lasswell, Bill and Dottie Hughes, John and Terri Ryan, Win and Sally Orgera, Don Jacobs, Karl and Marirose Kozak, Bob and Sue Easton, Laura Easton and her fiance' Albert, Rich Wilson, Vern and Gail VonSydow, Dave and Patti Meyers, Donna Kaup, Janet Gushue, Jay Roberts, Max and Edith Ricketts, Steve and Karen Hoy. These pictures include a group shot in front of the 2011 Mid-term Reunion banner.

San Diego area Beat Army party




Dottie and Bill Hughes, Janet Gushue, Karl and Marirose Kozak




John Ryan with JJ and Maureen Hogan




John Ryan, Win Orgera, JJ Hogan, Steve Hoy, Sandi and Jim Thornton




Kozak, Fontana, Meyers, Hoy, Roberts, Ryan, and Hogan




Max Ricketts with Donna and Bill Gentile




Rich Wilson, Chuck Stone, Vern VonSydow



---
&nbsp The excitement continued in late December when Navy played against San Diego State in the Poinsettia Bowl at Qualcomm Stadium. Always on the scene, as a good reporter should be, Philip filed this illustrated after-action report:
&nbsp We had a great turnout at JJ Hogan and Bill Ullrich's ('64) tailgate at this year's Poinsettia Bowl. It seemed like a home game for both teams as there were a large number of Navy fans as well as the usual San Diego State supporters. It was truly amazing how we were able to play the game one day after a deluge rendered the stadium and parking lot into a lake. As you know, San Diego State proved to be a tough team and played flawlessly to take away a hard fought victory. Some of our local classmates in attendance included: JJ and Maureen Hogan, Ted and Kay Krohne, Dick and Susan Andrews, Steve and Karen Hoy, Bill and Dottie Hughes, Karl and Marirose Kozak, Max Ricketts, Rich Wilson, Tim Cook with Hugh Hewitt the radio talk-show host, Vern and Gail Von Sydow, Janet Gushue, Bill and Donna Gentile, Grant Telfer, and John Ryan. As a special treat we were joined by two east coast classmates; Dave and Kate Maples from Atlanta and Jim Spruance and son Jake from Virginia Beach. The photos capture some of the spirit from the tailgate.

Donna, Dave, Bill, and Kate




Dottie, Janet, Bill, JJ, and John




Max, Phillip, Donna, Bill, Marirose, Jim, and Jake




Rich, Karl, Ted, John, and Grant



&nbsp To see a short TV news video from that day, Click Here. The youngster playing in the puddle is JJ's grandson Aiden. JJ appears at the very end of the clip.
---
&nbsp The 50th anniversary of President Kennedy's inauguration on 20 January was noted by several of our classmates who circulated their remembrances in e-mails. Surely, that day imprinted in us some of the most vivid memories from our Midshipman years. Here are excerpts from some of those e-mails.

From Dave Moore:
&nbsp These are the memories I can summon: Several parade practices so we could learn to march in two-company formations eighteen men abreast and doing "Eyes Left." Waking up to all that snow. Breakfast where the uniform for the parade was announced, including "wear overshoes." Someone then started one of those rotating mess hall cheers where we sequentially beat our fists on the tables and yelled "NO RUBBERS!" Standing on South Capitol Street for hours in the freezing cold. No provisions made for bathrooms or port-a-potties until finally someone discovered that a small gas station across the street had a single toilet which, I think, every midshipman used. Overshoe "flat tires."
&nbsp My family watched it on TV and reported that just as the Midshipmen reached the reviewing stand, all the stations cut to an orange juice commercial. Upon return to the TV broadcast, the last of the midshipmen marched out of sight leaving behind hundreds of overshoes. A few blocks later, we turned left, crossed over a berm of pushed up snow, and struggled across a snowy field not unlike that famous painting of Napoleon's Retreat from Moscow. We turned our rifles in to some trucks waiting there. I am sure there must have been some great liberty stories that night. I went to see the movie "Spartacus."
&nbsp From Will Settle:
&nbsp The night before the inauguration there had been a 16-inch snowfall in the area, and as a result there were only enough buses available the next morning to send five of the six battalions. The Sixth Batt was secured with holiday routine for the day. About two hours later, two more buses showed up and anyone wanting to go on liberty to DC could hop aboard; the only requirement was that you wear full parade dress like the marchers.
&nbsp I set off with my roommate, the late Bob Stiger. I remember listening to President Kennedy's address in the bus as someone had brought a transistor radio. We were dropped off around 12th Street, just off Pennsylvania Avenue. I had viewed the 1957 Eisenhower parade from the District Building at 14th and Pennsylvania because a friend of my parents worked there. We decided to go there as you could get a splendid view from the 5th floor. We were warmly welcomed and got to watch in heated comfort drinking coffee and hot chocolate. I recall seeing Eleanor Roosevelt and Edith Wilson riding together in an open four-door Lincoln convertible. Both of these presidential widows died within months of this event, so it was probably one of their last appearances. Mrs. Wilson had been a widow for almost 40 years by that time.
&nbsp Later, we decided to follow the parade up toward the White House; this was about the time the 5/6ths Brigade had passed, leaving overshoes all over the road. When we got to the reviewing stand CDR Tazewell Shepard, the President's naval aide, invited us to warm up inside and watch the parade with the VIP's. We stood about 15 feet behind Mr. and Mrs. Kennedy for about 45 minutes before we decided to move along. The thought occurred to me then that the security was lax because we got in on the strength of our midshipman full dress; nobody asked for an ID card. Memories of that event surfaced at the Army game in November of the next year, when a drunk was able to run out to the 50 yard line and shake the President's hand while he was changing sides at half time.
&nbsp From Jim Ring:
&nbsp Once we started marching over by the Capitol, I had marched just few steps before someone stepped on my overshoe. I gave my rifle to someone and hopped along but couldn't get it back on. I kicked it off reluctantly since I would have to buy another pair on our meager $7 a month. Nick Daramus was next to me and someone stepped on his, but he decided to limp along with the flat tire, because he did not want to buy another pair. So instead of digging his heels in, he dug his toe in and his limp was really noticeable. As we got to the end, he reached down to pull it on and to his surprise he had stepped into someone else's overshoe, so he had two on that foot. Being the good friend he was, he gave the extra one to me.
&nbsp From Dave Anderson:
&nbsp It was a chilly day and affected the fingers and judgment of all. When our Company Commander took his sword up for the salute, the tip of the blade caught the bill of his hat and sent it about 30 feet into the air. He was lucky though, the sword could have caught his nose and ripped it from his face. Poor guy, it was on TV. Not only the new president saw it, but the entire country. Our fun though, was stepping on the heels of the plebe in front of us, causing the rubber to disengage. I recall the street littered with rubbers.
&nbsp From Harry Salmon:
&nbsp I can only remember two things about the parade: (1) "Eyes Left!" and getting two flat tires ... and eventually kicking off the rubbers. (2) At the end of the parade, I had no plan so I stood on the nearest corner and watched the rest of the parade finish. The Nebraska float stopped and a beautiful but frozen girl in a strapless evening gown got down off the float looking totally lost. I asked if she needed help and she said her parents were supposed to meet her but this was not where they had pre-arranged to meet. She had no money with her but she did have the phone number of where the family was staying. I put my overcoat on her and we went to the news store on the corner. We used the phone, and after holding on to her for a half hour to keep the both of us warm, her parents arrived and thanked me and took her home. I asked if I could drop by to see her later and was informed that they had prior plans. Their looks were like the old signs in Norfolk. It was clear that they didn't think much of sailors.
&nbsp From Doc Varanini:
&nbsp After the Parade, I went back to study engineering. Don Palen hung out at the still prestigious Mayflower hotel and Jim Hagerty, Eisenhower's Press Secretary, was at the bar getting blottoed and bought Palen a number of rounds. Don had the swizzle sticks to prove it. My Mom also mentioned that a television commercial pause was taken when the Brigade appeared.
&nbsp From Mike Moore:
&nbsp I remember also the long, long wait where they parked the 5th Battalion for a long time before the march. I was parked on ice, and my feet were really cold from standing on it. It was extremely cold! Then we heard a catchy drum rhythm (the D&B guys?) and some teenagers on a balcony in skimpy outfits started dancing a can-can as I recall. I remember the bare legs and wondered how they could do it.
&nbsp With the march finally underway, I had lost feeling in my right arm up to my elbow from the cold. I thought my forearm might be frozen solid. When I heard the order begin "Left Shoulder," I had visions of several thousand M-1's on the ground, although I was mostly worried about mine. The command "Arms" came, and to my amazement I pulled it off perfectly. I didn't drop the rifle.
&nbsp My wife was a senior in Chula Vista (CA) High School, and her class was allowed to watch the show on TV. She knew I was in the 11th Company and watched for me. She said all the "flat tires" caused our overshoes to accumulate as the companies marched on. She said one of the announcers, panning towards the last company finally passing by, remarked, "And there, ladies and gentlemen, goes the Brigade of Midshipmen, leaving behind a trail of rubbers".
&nbsp From Steve Coester:
&nbsp Remember we had several practice parades around the track by the Fieldhouse. I never figured out why. We did enough marching as it was and it was just going around in circles. Maybe the company commanders needed to learn how to say Eyes Left for the only time in their lives.

What I remember most is the cold and slush. We must have stood out in the cold and snow for over two hours leaning on our M-1s which had their metal butt plates on the frozen ground before they formed us up for the parade. We were all wearing white cotton gloves, not our regular gray winter ones so our hands were frozen.

Finally our proud moment arrived and "Eyes Left" was ordered as we passed the President. As sharply as we could we executed the maneuver only to find Kennedy totally turned away from us chatting with Jackie or someone else.

Finally we finished and turned in our rifles. Our full dress uniforms soaking wet to the knees, our spit shined shoes destroyed, our collars wilted.

Some us us including me were somehow invited to one of the Inaugural Balls. I hardly remember it but had a date with a girl I had met at the Army-Navy Game a month earlier. Can't remember her name but she was beautiful and had the most fantastic blue velvet Gone With The Wind ball gown I ever saw.
&nbsp I am sure these recollections have stirred up some of your own memories of that frigid and historic day. To see a video of the inaugural parade and other events of the day, Click Here. The USMA and USNA units appear around the 1:40 mark. The fellow riding a bison past the Presidential reviewing stand is a sure highlight, one not to be repeated in our PC/PETA era.
---
&nbsp And that, gentlemen, is a wrap for this month. Keep the news and photos coming!



---