Shipmate Column
May/June 2004
---
CLASS OF 1963
Pres: Stephen M. Duncan
Sec'y: Michael H. Shelley
25 Sweetwater Lane, Pisgah Forest, NC 28768
h: 828-862-4245 e: nstar@citcom.net
Web site: http://www.usna63.org.
Remember that you can click on any underlined Classmate's name to view his Current Biography.
---

&nbsp VADM David Robinson has been elected to the Surface Navy Association's Hall of Fame. He is one of only 50-some inductees, including John Paul Jones, Oliver Hazard Perry, George Dewey, and Arleigh Burke. Congratulations, Sir! We are all proud of your distinguished service and accomplishments. Classmates, I encourage you to visit the Association's web site (http://www.navysna.org/) to see David's citation and review the complete list of honorees. From the home page, click on "Awards Program," then on "Hall of Fame."
---

&nbsp We extend our sympathy to Bill Carmichael , whose wife Cathy passed away on 12 February. She had been treated over the years at the Massey Cancer Center at Virginia Commonwealth University (VCU) and wanted it to be supported in the future. Memorial contributions can be sent to the Center at 401 College St., P.O. Box 980037, Richmond, VA 23298-0037. Bill's address is 2801 Earlswood Road, Midlothian, VA 23113-2208.

We also are grieved by the death of Dr. Kathy Sridhar, wife of our classmate Jim Lasswell. Surrounded by family members, she passed away on 17 March, ending a valiant struggle against her cancer. Jim can be contacted at 15734 Riparian Road, Poway, CA 92064-2257.
---

&nbsp EADS North America has named David Oliver as its executive vice president and chief operating officer, a newly created position. He will have responsibility for the full scope of operations of EADS North America, including all marketing and business development activities of the company. Just prior to joining EADS, he served in Iraq as the director of management and budget for coalition forces. In Iraq, he was responsible for formulating and implementing policies for economic restructuring, including establishing currency, tax, foreign investment, industrial, and privatization policies. Previously, he was Principal Deputy Undersecretary of Defense for Acquisition, Technology and Logistics from 1998 to July 2001.
---

&nbsp Again this year, many of our Washington, DC, area classmates and their ladies participated in a premier annual social event - the service academies Classes of 1963 Valentines Dinner Dance. USNA attendees included Jackie and Mike Cronin ; Jennifer and Bill Earner; Andrea and Spence Johnson; Karen and Dan Koczur ; Janice and Dick Kuntz ; Steve Leisge and Carol Hamblin; Barbara and Larry Marsh; Colette and Roger Mehle; Carla and Jeff Miles; Betty and Jerry Mulholland; Fran and Tom Reemelin ; Kate and Jim Ring; Charlie Robbins and Patricia Smith; Gene and David Robinson ; Diane and Neil Smart; and Jan and Phil Rooney . (Thank you, Phil, for providing the muster list.)

Spencer Johnson submitted an excellent report from that gala evening:
&nbsp The annual '63 Valentine's Dinner Dance was held at the Army-Navy Country Club in Arlington, VA, on 13 February 2004. About eighty people from the greater Washington area attended representing the classes of 1963 from the three service academies.

The West Point Class of '63 took the occasion of the fifth annual '63 Valentine's Day dinner dance to induct our classmate Neil Smart into their class. The West Point Class of '63 had only two honorary members, one of whom is Bob Hope. Neil Smart is the third person to be so honored by a vote taken of the whole class at their fortieth reunion last fall.

Neil Smart, USNA '63 and USMA '63


On graduation, Neil took his commission in the Army Corps of Engineers, and fell in with our West Point contemporaries almost immediately during initial Corps of Engineers branch training at Fort Belvoir. He subsequently commanded Army engineers at platoon and company levels in Vietnam, and later at battalion level, in addition to commanding an Army Engineer district before hanging up his spurs at the end of a thirty-year career in the Army. Along the way, Neil served on the faculty and as a TAC ( Tactical Officer is the West Point equivalent of our executive department) and has a daughter and son-in-law, both Army, who also have served as TACs at West Point. Neil's new West Point classmates told a number of amusing stories of a Naval Academy graduate at West Point, especially during the week before the Army-Navy game. West Point '63 made it very clear that Neil is endeared to them all and an affectionate addition to their class muster rolls. In receiving the handsome certificate of honorary membership in the West Point Class of '63, Neil recounted some of the highlights of his career, and ended by noting that the motto of his USNA class is Quality '63 and the motto of his newly adopted West Point Class is '63 Quality. He also mentioned that he, and perhaps only he, is now in the enviable position at all future Army-Navy games of walking away a winner, no matter what the scoreboard says. There can be no doubt that in honoring Neil, our contemporaries and brothers-in-arms at West Point honor us all.

After inducting Neil into West Point '63, each Academy's spokesman said a few words, Bill Earner speaking for USNA '63, and then the Army put on a great program of Valentines singing in which the men alternately sang to the ladies, the ladies sang to the men, and all sang in unison to their Valentines. We then danced the night away until near midnight. There will be another '63 dinner dance next year hosted by USAFA. Stay tuned for further details!
---

&nbsp Steve Coester submitted a note and some photos from classmate visits in Florida this February.
&nbsp After visiting Sandy and Ollie Donelan and Elise and Vern Browne in the Tampa Bay area, Maire and Ron Machens drove over to the Florida East Coast to visit Yvonne and me. A great time was had between four-year roommates and their wives, including a good lunch at "Grills" at Port Canaveral. Ron and Maire spent the night with us, and several bottles of wine were consumed out on our pool deck.

Some pictures were taken to record the visit, including one of Maire, Ron, me, and Yvonne at lunchtime. After their visit, Ron sent a photo taken at the Donelans. Pictured are Vern, Maire and Ron, and Sandy and Ollie.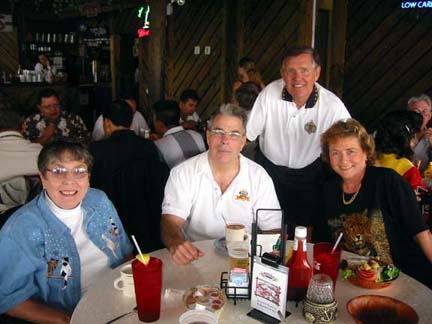 Lunching in Port Canaveral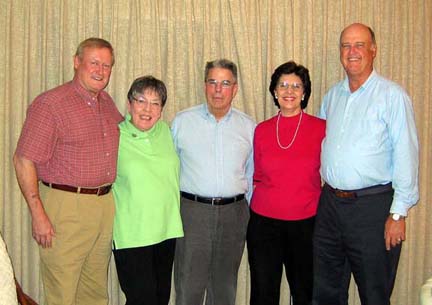 Visiting in St. Petersburg
---

&nbsp Jim Ring recently exchanged e-mails with Chuck Good '90, the Executive Officer of USS FITZGERALD. Jim stated our continuing interest in FITZ and her crew, inquired about the availability of items from the ship's store, and asked about ship visits for classmates when the ship in her homeport in San Diego. Here is LCDR Good's response:



&nbsp On behalf of the CO, CDR Brad Smith, please accept our respects and let me reassure you that we are very proud of FITZGERALD's namesake and are always happy to share that pride with LT Fitzgerald's classmates, shipmates, and family. Our 2003 deployment brought a huge outpouring of support, and we received quite a few e-mails from his Classmates and also from Sailors who had served with him as Advisors or in the "Brown Water Navy." Also, we are in touch with the LA-Orange County USNA Alumni Association Chapter and Imperial Valley Navy League, both of which organizations have '63 members in key positions. They have been very generous in their support for the ship, to include the provision of a generous quantity of beer in anticipation of a "beer day" during our extended deployment as well as catering a picnic for our families when we were deployed. So the ties are still there.

To update you on our schedule, we are just exiting the shipyards and preparing for sea trials. We have a three-week shakedown end of March/beginning of April, then we begin preparations for INSURV. After INSURV, we will conduct a partial crew swap with USS O'BRIEN, a Spruance-class DD which is getting ready to decommission. We anticipate shifting home ports in the fall.

As might be imagined, our schedule is quite compressed. We will attempt to fit in a Friends and Family Day cruise during the summer, but as we will be in the middle of workups with a fresh crew, we can't really make any promises at this point. What we can promise is that any Class of '63 folks or others with a Bill Fitzgerald connection are always welcome when we are in port. Just drop us a line a few days ahead of time. Depending on the prevailing THREATCON, it may be challenging to get you on base, but we will make every attempt. Weekends and evenings are best.

So get in those visits while you can ... we'll be saying "sayonara" to San Diego in the fall! Also, anyone wanting emblematic items and other ship's store memorabilia, please contact our PAO, ENS Graham McAllister (Class of '02) at mcallisterg@fitzgerald.navy.mil -- he can arrange any transactions. Ballcaps, coffee cups, and Zippos are perennial favorites.
Best regards and very respectfully,
Chuck Good '90
---

&nbsp Chet "Whitey" White has shared some birthday news:
&nbsp Bill Hoefling and I were born on February 5th and we were together in the 10th Company at USNA. He is a year older than me and I never let him forget. This year was my 63rd birthday and Bill and his wife Lavonne invited me up to their house in Cornwall, PA, to celebrate our joint birthdays. I was greeted at the front door with an appropriate display. We had a great time chatting and then a wonderful dinner. Afterward, we all went over to a nearby Bed & Breakfast, where I spent the evening. The owners of the B&B are John Inman (USNA '52) and his wife. Here is a photo showing, left to right, Bill, John, and me.

Birthday display




Hoefling '63, Inman '52, and White '63



---

&nbsp Having heard indirectly that Ben Cole had shifted gears and was moving in a new direction, I asked him to bring us up to date. Here is his response:
&nbsp Yes, I have re-entered the world of politics after a 9-year hiatus. I served as County Councilman and then Chairman of County Council during 1991-1995 here in Summerville, SC (outside of Charleston). After five years of being the CEO of the Charleston Regional Development Alliance, which was formed to recruit new industry and jobs to our tri-county region following the closure of the Charleston naval base and shipyard, I then moved to a similar position as Senior VP in charge of statewide economic development for our state public utility, known as Santee Cooper. I retired from there on January 1 of this year to spend full time seeking the South Carolina State Senate seat for our district. I will be running in the June 8th Republican Primary in South Carolina in what will most likely be a three man race. I had considered this once before, but the timing was never quite right for several different reasons, but this time around decided to do it after several local business and community leaders asked me to think about it. Although I wasn't quite ready to retire, it was the right thing to do if I was going to be serious about it, which I obviously am. Several of our classmates, and in particular, my 23rd companymates, have really been generous and thoughtful in supporting my campaign with their contributions, so I really appreciate that. It just proves, once again, the terrific bond that exists among the academy alums over the many years since we left the shores of the Severn.

Sue is helping with doing the really hard day-to-day campaign type work of sending out letters, scheduling my appointments or speaking engagements, and staying on top of the never ending number of items such as planning campaign materials, newspaper ads, fundraising events, etc. She is a real trooper and it is a good thing we already have forty years together under our belt, as this will for sure test one's staying power! Sue is also a State Commissioner on the Commission for Higher Education and has served two terms on it at the pleasure of the Governor.

We have three granddaughters now from our oldest daughter, Deb, and son-in-law Michael, and they are 8, 6, and 3 years old and live in Greenville, SC. Our other daughter, Lorrie, lives in Simpsonville, SC, just outside Greenville, and is Marketing Director for Greenville Technical College. We have been here since 1979 in the same house and really love the Low Country area as they call it, and the weather and great year round outdoors opportunities (although I must admit this winter has been less than spectacular!), but then, compared to what?!
&nbsp Ben sent this great photo of himself and Sue, taken on 6 June 2003 while on a cruise to the Bahamas exactly 40 years after they were wed in the USNA Chapel.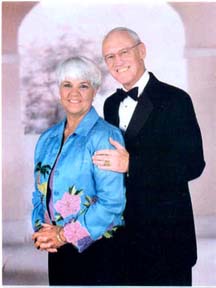 Sue and Ben Cole
---

&nbsp Charlie Jordan checked in with me recently:
&nbsp At the urging of my 19th Companymate Peter Browne, I am sending a short note and picture for the Shipmate column. I retired at the beginning of the year after a career in law and municipal water supply. My wife (Elizabeth Schlosser --I know the name is different but we are married) and I have been spending a little time south of the border recently. We just returned from a week in Puerto Vallarta (picture enclosed from the end of a breakfast) where we kept my brother Greg company during his birthday. Greg was in the Class of '65, but did not graduate. I am leaving in early March for six weeks in Argentina where I will have an opportunity to practice my Spanish a little more.

Breakfast in Puerto Vallarta



---

&nbsp Class of 1963 Foundation treasurer Jim DeFrancia recently received a letter from Stacey Lanius, daughter of our classmate Skip Templin. Skip, you will remember, was lost in Vietnam. Stacey's letter is a testimony to the lasting impact the Foundation has on the children of our deceased classmates. Some excerpts appear below; the full text is available in the Foundation section of our web site.
&nbsp We live in Plano, TX, and have three wonderful children, ages 9, 7, and 4. My husband John is a corporate attorney at Fujitsu Network Communications in Richardson. Like most young families, we stay very busy doing fun things we feel are important.

You may or may not recall that I was a C.P.A. after college. In 1994, I stopped working to be a full-time mother and have never regretted that decision. Recently, I was approached by a C.P.A. who had been given my name by a colleague. He has hired me to do part-time assistance during tax season, and perhaps thereafter. He is allowing me the flexibility of working only when our youngest child is in preschool. This kind of opportunity is rare for mothers with young children at home. In discussing my new job opportunity and in looking back at our path to this point, John and I reaffirmed the importance of a good education, and how it helps reach so many types of goals in life.

I looked at the USNA63 web site and thought this would be a good time to contact you and thank you and the Foundation again for what you do for the surviving sons and daughters of your classmates. An education is something I believe every parent would place at the top of the priority list for their child, and your contributions to that are a significant way to honor your deceased classmates. I continue to appreciate the assistance I received in 1984-1988 (Those days are seeming further and further back!) and continue to use the education I received in ways that make a big difference to my family.
---

&nbsp And that's it for this month, folks. The transition to Shipmate's unfortunately reduced publication schedule - only eight rather than ten issues annually - means that it will be nearly three months before you receive the next issue of our magazine. That gives you plenty of time to send me some news about yourself and your family. Please don't miss this rare, wide-open window of opportunity! You've enjoyed reading about your classmates and seeing their photos; now it's time for you to return the favor.



---