Shipmate Column
May-June 2012
---
CLASS OF 1963
Pres: CAPT W. Spencer Johnson IV, USN (Ret.)
Sec'y: Michael H. Shelley
164 Sweetwater Lane, Pisgah Forest, NC 28768
h: 828-862-4245 e: nstar@citcom.net
Web site: http://www.usna63.org.


For any classmate you can go to the Classmates Page and enter his name to read his current biography if available.
---
---
---
&nbsp I am sorry to begin this report by telling you of the recent deaths of two of our classmates.



&nbsp Harold Anthony "Tony" Breard died on 14 March in Austin, TX. His widow, Beverly, can be contacted at 12712 Lipizzan Court, Austin, TX 78732. To see Tony's obituary on our web site, click HERE.



&nbsp Thomas D. Yannessa passed away on 2 March in Dallas, TX. To see Tom's obituary on our web site, click HERE
---
&nbsp Ron Klemick provided this reminder about the Class of 2013 Ring Dance.
&nbsp As part of the "Another Link in the Chain" program, the Class of 1963 has been invited to attend the Class of 2013 Ring Dance on Saturday,19 May 2012. The dance will be in Dahlgren Hall from 7:00 p.m. to midnight. Heavy hors d'oeuvres and beverages will be included at no cost to our class. The dress code is black tie, white dinner jackets, with optional miniature medals. Mess Dress uniforms are also appropriate. Ladies are encouraged to wear formal or cocktail dress as desired.
&nbsp Full information about our participation in the Ring Dance is on the "Another Link in the Chain" page of our web site. Click HERE to see it.
&nbsp Please contact me by email rklemick@bellsouth.net (or phone (910-270-9171) no later than 12 May if you wish to attend the dance. An open house at the Class of 1963 Center for Academic Excellence is scheduled for 11:00 on Saturday morning.
---
&nbsp Spencer Johnson shared with me an email he had received from Pete Soverel. Pete mentioned a very fine way that members of our class can help members of USNA '13, the 50 years junior class to which we are now linked:



&nbsp I don't know who thought of donating our swords, but it is a terrific idea. While Naval Officers need a sword, it is an expensive accoutrement that is rarely used. This way, our swords can connect the Classes of 1963 and 2013 and save the recipients hundreds of dollars. I have contacted Jack Barfield '61 for advice about how to go about selecting a recipient. He and his wife Ning are very active with the Puget Sound Chapter's Parent Club.
&nbsp My sword was actually my grandfather's (Commodore Benjamin Hoey '08). The blade is inscribed with both our names, classes, and dates of active duty (1908-1943 and 1963-1990, respectively). I will have the recipient's name/class engraved on the blade as well. I have asked that the recipient commit to donating the sword to a member of the class of 2063 when he/she no longer has a need for the sword. I will also give my sterling wardroom napkin ring with our class crest engraved with all my duty stations to the sword recipient.
&nbsp If you are interested in following Pete's lead, I suggest you contact a USNA Parents Club in your area. A list of the clubs is on the Alumni Association's web site at www.usna.com. See it by clicking Here. I did an internet search and found that a kit containing a sword, scabbard, gold knot, belt, and sword case can cost $700.00 or more. That's a lot of money to a new Ensign.
---

&nbsp Please give serious consideration to this message from the Trustees of the Class of 1963 Foundation.
&nbsp As you know, The Class of 1963 Center for Academic Excellence (63 CAE) has achieved national prominence for its dramatic impact on midshipmen retention and its overall effect on elevating scholarship at the Naval Academy. It has been a wonderful legacy for our Class, celebrating our time together at USNA and the benefits we have derived as a result of our experiences there. As we approach the 50th Anniversary of our graduation, it is time to renew our commitment to the Class Legacy Gift, which supports critical elements of 63 CAE programming. Our objective is to successfully establish a permanent fund to forever maintain our name on the Center.
&nbsp We would like to remind Classmates of an important initiative in our fundraising efforts, an approach known as Planned Giving. What is Planned Giving? How does it differ from Just Giving? Essentially, it involves giving from your estate, and is designed to provide various tax benefits for your loved ones as well as future benefits to the Naval Academy and the 63 CAE. Talk it over with your loved ones and tell yourself you want to make a planned gift to The Class of 1963 Center for Academic Excellence.
&nbsp The professionals at the Naval Academy Foundation, plus our own Dick Jones, as Class Chairman of Planned Giving, are ready to help you with your planned giving decisions. Check out www.USNA63.org/foundation or www.USNA.com for more information.
---
&nbsp This is an excerpt from a recent announcement by The Potomac Institute for Policy Studies:
&nbsp The Honorable Stephen M. Duncan, who served as Assistant Secretary of Defense in the administrations of two Presidents, and as the senior Department of Defense counterdrug official, has been named a Senior Fellow of the Institute. Commenting on the appointment, Potomac Institute Chairman and CEO Michael Swetnam said, "Steve is one of the most talented and experienced senior leaders that this country has ever produced. " In addition to his service at the Pentagon, Mr. Duncan has served as the Director of the Institute for Homeland Security Studies at the National Defense University, as a senior executive in two advanced technology companies, and as a federal criminal prosecutor. He is a combat veteran of the war in Vietnam and retired from the Navy with more than 41 years of active and reserve service. He is the author of two books on national security subjects and has just completed a third.
---
&nbsp From the wonderful ski country in far northern Idaho comes this note from Ken Sanger.
&nbsp Pete Optekar came to Sandpoint to ski Schweitzer with me in March. We had a fine time schussing down the mountain that has the most snow in the nation this season. He has promised to return often to get into shape for his bike trip through Vietnam later this year. One has to wonder about Marines. Who else would ski in Idaho cold to get ready for biking in Southeast Asia heat? Looking at the photo of us, with beautiful Lake Pend Oreille in the background, it should be clear why I tried to stay behind him. If I fell in front of him, I would definitely need the services in the First Aid shack in the photo.

Pete Optekar and Ken Sanger



&nbsp After skiing, as we toasted life with some fine single malt scotch, Pete recalled his stint on muddy Monkey Mountain, outside Danang and I mentioned returning to the ship after (almost) every flight, having a hot shower, hot food, movies, and clean sheets. I think I caught a hint of him wondering about his career choice!

&nbsp
---
&nbsp In a previous column I mentioned Zimm Zimmerman's inquiry about how many of us still have a USNA issue cruise box. Several guys responded quickly. Here is some of their feedback.
&nbsp From Chris Munger -- I still have my cruise box. I can remember first seeing the boxes when I was a plebe and noticing two boxes with the last name of Munger (not mine) on my deck. Outside of my family, I had never met another Munger. I was spooned by both when they got back from their summer cruises.
&nbsp From Jim Koehn -- I still have mine which we use in the garage to store odd stuff!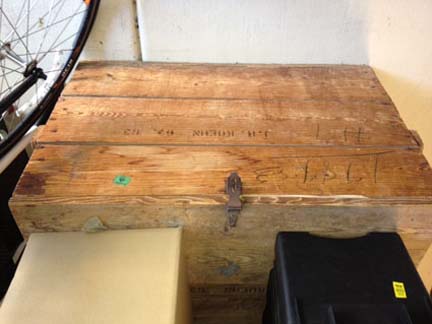 Jim Koehn's cruise box



&nbsp From Doug Zanzot -- We are making great use of cruise boxes past and "present"(mine). The "present" cruise boxes (my USNA / USS TIDEWATER) boxes are being used as toy boxes by our grandchildren. The past (my dad retired as Captain, USN) cruise boxes were labeled "Professional Books." My dad related that some people's boxes labeled thusly occasionally leaked and might have been used for transport of alcoholic beverages to circumvent ICC regulations regarding interstate transport of said beverages. We use that box for Christmas decorations (and it is not odiferous).
&nbsp From Alan Merkel -- I still have two cruise boxes. I actually started out with three, but one was converted to a dog house years ago and does not survive today. I don't remember how I ended up with the two extras, but I assume there were those who could not take them where they were headed, or who did not want them. I use mine to store my really valuable stuff. They are still lined with sheets that I put into them before shipping them in 1963. Did everyone do that? I opened one the other day to take these pictures, and inside I found the USNA blotter from my desk along with two advertising pictures of 1963 Chevy II's -- the first car that Catherine and I purchased together, from the Chevy dealer in Annapolis. We drove it on our honeymoon, and no, I don't still have it now.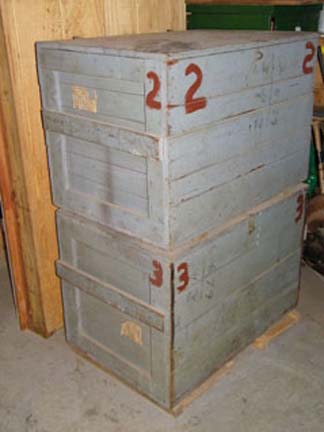 Alan Merkel's cruise boxes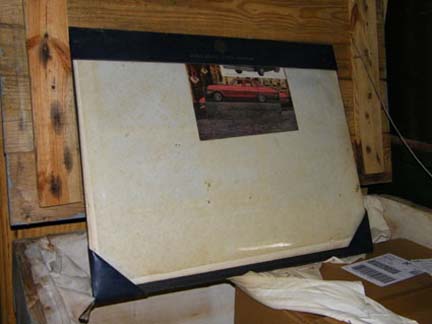 Do you remember your desk blotter?



&nbsp From John Peterson -- Your comment in the Shipmate column prompted me to dust off the old cruise box. Showing some early signs of non-conformity, I painted my cruise box battleship grey with some faux ironwork on the corners. It raised some questions for Bancroft Hall management but I guess there were no rules about painting cruise boxes so it squeaked through. Hard to pin 'Conduct non-becoming...' on that one. The grey box served as storage for old uniforms and blankets for a number of years but has pretty much outlived its usefulness. I'll look for a good home for it one of these days.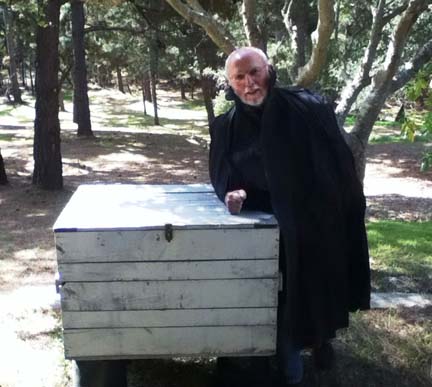 John Peterson in his original raingear



&nbsp Not to outdo John Newsom's amazing feat of getting into an old full dress uniform, I want to confirm by this picture that I can still fit into my rain gear. I am still splitting my time between California and cruising Cadenza in the eastern Aegean. Bill Umphrey broke away from his busy schedule which includes running US Boston Capital Corporation and joined me for a couple weeks last summer. This picture is of the two of us taking in the view from the top of a small church on the island of Arki. Unfortunately, our bulk, although modest, blocked most of the view.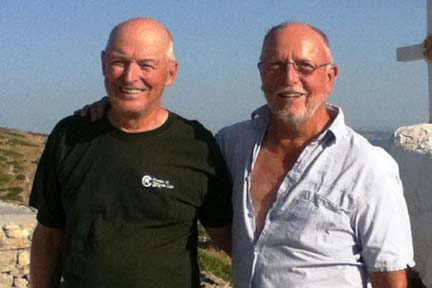 Bill Umphrey and John Peterson



&nbsp Jim Eckert and I almost got together when he was a few miles away in Bodrum on R&R from Mongolia last June but it conflicted with my sailing schedule and I was afraid I would have a mutiny onboard. I will be marketing Cadenza this summer; it is time to move onto other adventures. Anyone interested in seeing a beautiful boat in an incredibly wonderful cruising area check out my web site at capenorth43.com.
&nbsp It is probably in the 'day late, dollar short' category but I have been trying for years to work out the details of a 63 mile hike from the redwoods above Santa Cruz to Point Lobos state park just south of the Monterey Peninsula. Nearly 45 miles of that is on beautiful beaches following the coast. It would have to be done in the September timeframe because there are three rivers to cross and they are at their lowest at that time. I have done most of it except for the redwoods part. It is doable in 4-5 days and the logistics are fairly easy, no heavy backpacks are required. If there were some interest, it might be the impetus for me to get more details. I don't know if it could be linked to some kind of fund drive like the Center of Excellence class gift.
---
&nbsp This month's nostalgia question, suggested by Alan Merkel: Do you still have the car you bought before or just after our USNA graduation? Send me a picture!
---
&nbsp The latest photo submitted for the '63 license plate section of our web site came from Rich Pace.



&nbsp This picture was shot in February during a snowstorm at Northstar ski resort in North Lake Tahoe. I have had the vanity plate since 1976, when it was purchased for me by my mother as a birthday present. She later told me that when she visited the DMV to check on the availability of the plate, she found that graduation years from the 1930s up until the present (and including four or five years into the future) were all taken, with one exception: 1963. Kind of an odd coincidence, don't you think?
---
&nbsp Tom O'Brien tells us about his visit to the Pacific Northwest in late December.
&nbsp Ann and I visited our son, John O'Brien '89, and his family in the Seattle area over the Christmas holidays. I made contact with Classmate Dave Durfee who lives across Puget Sound in Bremerton and, after a great Washington State ferry ride, we met for a catch-up lunch in the picturesque Norwegian-themed town of Poulsbo at the excellent "Mor-Mor" Cafe'. Dave is still contributing his talents to two local orchestras while becoming more deeply involved in the model railroad scene out there. He has also started doing some volunteer work at the Bloedel Reserve on Bainbridge Island. Vivian, unable to join us for lunch this time, is still working at the Bloedel Reserve. We spent a wonderful 90 minutes together before the ferry schedule dictated a scramble to our rented car. This photo captured us as we left the restaurant on a typical Pacific NW winter day -- cool and rainy. Fun time!

Tom O'Brien and Dave Durfee



---
&nbsp Dave Moore relayed the latest news from Jim Eckland, who continues to live an adventurous, international life. You may recall that Jim had been working on a very large scale mining project in Mongolia. Dave says that Jim rested at home in Dallas for a while, and has now turned up in a less arduous work assignment for Flour. This is Jim's report:
&nbsp In December 2011, I was on a two-week business trip to Perth to provide contracting expertise. Then, in late January with a visa to work in Australia, I returned for four months [or longer] on BHP Billiton Iron Ore Major Projects in Western Australia. The client is making a huge investment to increase project facilities for production of iron ore [open-pit mine, railroad and port facility]. My apartment is near the wide Swan River, and below King's Park (240 steps to climb up 'Jacob's Ladder'). Our classmates may be interested in this photo of the 1982 U.S. Navy plaque in the memorial section of the park. Somewhat related, I saw an article about 2,000 Australian troops being killed in Iraq, as members of Coalition forces there.
&nbsp The inscription on the right-hand plaque reads, "United States Navy. Presented to all the people of Western Australia whose warm and gracious hospitality has ensured that no United States serviceman will ever forget this wonderful country, its magnificent people, or the close ties that bind our two countries together. Presented by: Admiral James D. Watkins, Commander-in-Chief, U.S. Pacific Fleet, May 1982 on behalf of the United States Navy."

USN memorial plaque in Perth, Australia




Jim Eckland and Graeme Cooper



&nbsp This is a recent picture of Graeme Cooper and me on coast of Western Australia. With wives, we met on the Greek isle of Santorini in July 2009.
&nbsp I sent an email to Jim thanking him for his submission and said that I was wondering if he would turn up next in Ecuador, Nigeria, or some other place. His response was unexpected but not surprising.
&nbsp I was in Ecuador in late 1965 as a member of a 16-man Engineering Det team from 8th Special Forces (Canal Zone) working with US Embassy/MAAG in Quito on a six-month TDY at several construction sites across the country. With Ecuador Army Engineers, we worked on potable water, colonization, road construction, electricity and sewage projects. One of my projects was in Tena, SE Ecuador, near the headwaters of the Amazon River. I worked with a young Peace Corps civil engineer, his wife was an RN providing health care to locals. Traveling there, we caught a raft across the river with an Army 3/4-ton vehicle.
&nbsp I have passed twice on assignment to Nigeria -- too risky with political upheaval and insurgents.
---
&nbsp That's all for now, folks. Be sure to contact me soon with news about yourself and our classmates. Thanks!



---