Shipmate Column
"Memberserve" 2010
---
CLASS OF 1963
Pres: CAPT W. Spencer Johnson IV, USN (Ret.)
Sec'y: Michael H. Shelley
164 Sweetwater Lane, Pisgah Forest, NC 28768
h: 828-862-4245 e: nstar@citcom.net
Web site: http://www.usna63.org.


For any classmate you can go to the Classmates Page and enter his name to read his current biography if available.
---
&nbsp Recently declassified documents about World War II cryptography reveal the vital contributions of Colonel Alva Lasswell, USMC, (father of our classmate Jim Lasswell) to the U.S. Navy's victory at the Battle of Midway and other events in the war against Japan. Jim sent me a copy of a fascinating article by Tom Hunnicutt, the Historian of the Marine Corps Cryptologic Association. Some excerpts from the text appear below. The entire article can be seen at usna63.org/tradition/history/Lasswell article.htm.
&nbsp In 1941, Lasswell was transferred to Hawaii, where he eventually became the chief translator in the Communication Intelligence Unit in Fleet Radio Unit, Pacific (FRUPac). His first major contribution to the eventual victory in the Pacific Theater came in mid-1942 when he translated an intercepted message that revealed Japan's planned attack on Midway Island. Upon Lasswell's translation, the message was sent to NEGAT, which was the FRUPac equivalent in Washington, D.C. NEGAT disagreed with Lasswell's translation that Midway was the intended target and on which day the attack was planned. Admiral Nimitz went to "the Dungeon" to speak with Captain Lasswell to ask how sure he was about his translation. Lasswell advised he was 100 percent sure. In order to verify Lasswell's translation, his commanding officer, Commander Joseph J. Rochefort, devised a plan in which a fake message from Midway Command was transmitted stating there were problems with a desalination plant on Midway. The Japanese intercepted the message and relayed this information, verifying Lasswell's accuracy.

&nbsp Admiral Nimitz used Lasswell's information to plan appropriately for what would become history's first great carrier battle and what many experts view as the turning point of the war in the Pacific Theater. After this great battle was won by the Allied forces, the Allies were finally able to go on a counter offensive that first began with the Navy, under Admiral Nimitz and Marine landings on Guadalcanal and the Solomon Islands.

&nbsp The next major war changing contribution of then Captain Lasswell, came on April 13, 1943, when he decoded and translated another Japanese naval message that was transmitting the intentions of Admiral Isoroku Yamamoto to fly to the Japanese held island of Rabaul. The intercepted message even gave information about his escort fighters and the exact time of his arrival. This information was relayed to Admiral Nimitz, who having been convinced of Captain Lasswell's accuracy already, began planning the attack on Admiral Yamamoto's aircraft, which was shot down on April 18, 1943. Once again Captain Lasswell proved his skills at decoding and translating Japanese messages when, in May of 1944, he once again worked his magic discovering a Japanese plot to ambush General MacArthur as he was returning from the European front. The Japanese Navy was placing submarines every seven miles in a stretch around the east coast of New Guinea on the route where they expected MacArthur would take in his return to the Philippines. It is believed the Japanese were looking for a moral victory in retaliation for the killing of Admiral Yamamoto. Because of Lasswell's translation, this never played out. Captain Lasswell had been told all seven submarines had been destroyed, while a second independent source states that at least five of the seven submarines were destroyed.
&nbsp Jim is President of Indus Technology, which he and his late wife, Kathleen P. Sridhar, PhD, founded in San Diego in 1991. With over 300 employees and offices in nine cities, Indus provides services such as systems engineering, technical and program management, C4I communication systems, logistics, IT services, and financial management.
---
&nbsp Twelve members of the Fourth Company gathered at the Academy on 23 April to attend the Committal service for their companymate Peter Featherstone, who passed away last September. Joining his widow, Charlotte, and other family members and friends were Jo Ann and Lou Simpleman, Candy and Bill Graham, Mike Blackledge and Bonnie Nolan, Victor Dean, Sonny Langley, Rob Newton, Doris and Harry Salmon, Judy and Bill Hollenack, Gail and Craig Barton, Mike Shelley, Steve Duncan, and Bonnie and Dan Hitzelberger. Also attending the service in St. Andrew's Chapel were Spencer Johnson, Peter Quinton, Jim Ring, and Arlene and Forrest Siburt. At a reception at the bay front home of the Featherstones' friends Georgie and Mike Dunn, many stories and memories of Peter were shared and enjoyed. Afterward, Charlotte and her family hosted a barbeque dinner for Fourth Company men and ladies at her home in Chesapeake Harbour. Peter's USNA roommate Craig Barton coordinated arrangements for companymates and Mike Blackledge set up attendance at the Navy-Johns Hopkins lacrosse game the next day. The presence of so many '63 folks must have had an influence on the outcome as Navy won in overtime, ending a 36-year string of losses to Hopkins.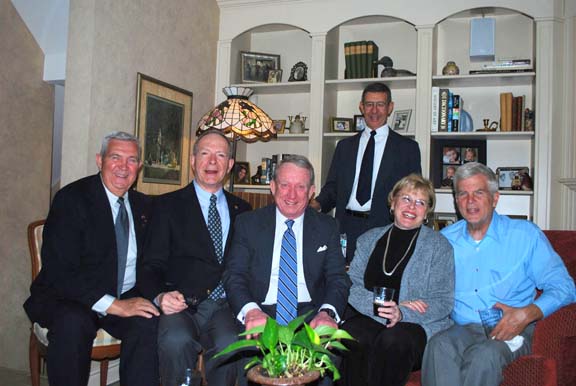 Hitzelberger, Shelley, Duncan, Hollenack, Bonnie Nolan, Blackledge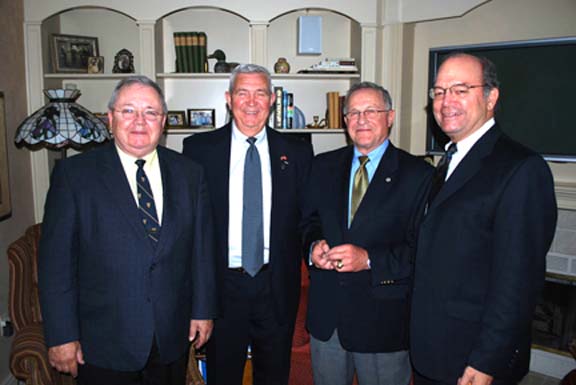 Salmon, Hitzelberger, Simpleman, Dean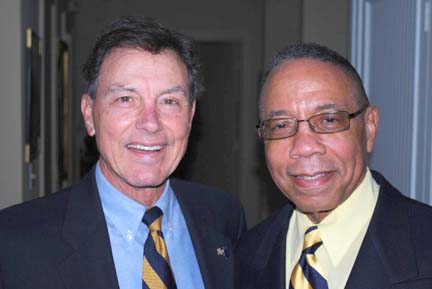 Siburt and Newton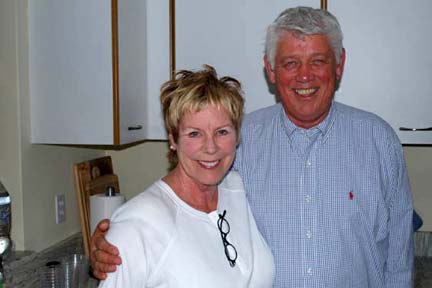 Gail and Craig Barton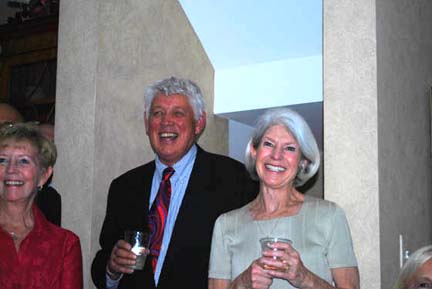 Craig Barton and Charlotte Featherstone
Blackledge and Simpleman watch lacrosse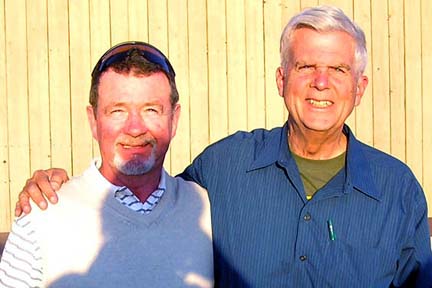 Carroll and Blackledge


&nbsp A few days after returning home to Albuquerque, Mike got together with companymate J.R. (Jack) Carroll, who was visiting from Penn Valley, CA. Jack was accompanied by 18 of his golfing buddies from California, playing five different courses in Albuquerque over five days.
---
&nbsp Thanks to Perry "Watt" Miles for sending this account on the occasion of Jim Metcalfe's retirement.
&nbsp I went to Jim's retirement ceremony on 22 April. There was quite a turnout from Tidewater's legal, judicial, and law enforcement communities. (Fortunately, there was another Marine in the house so we had them surrounded.) Several hundred people were there, including the U.S. Attorney for Eastern Virginia down from Alexandria with a letter of commendation from the Attorney General. Most impressive to me, however, among all the nice things said about him, were the thanks to Jim from the Secret Service, FBI, NCIS, ATF, DEA, IRS, and local police and prosecutors for his great work in getting convictions for them in tough cases. I knew Jim had been good at putting malefactors away, but I was not prepared for the volume and depth of appreciation shown by the frontline warriors in the battle against crime. All of us in the Class can be proud of what Jim accomplished for the nation in a long and distinguished career as a Naval Aviator, active and reserve, and as a federal prosecutor.

&nbsp My official role at the event was to present a plaque containing a nice letter from Class President Spencer Johnson recounting Jim's life and career, and thanking him for his service to the nation. My purpose at the event was to assure myself that Jim is actually retiring, and I have to tell you that I did not achieve that purpose. The guy is going to continue to serve as an unpaid, part-time prosecutor to help out with 'some unfinished cases.' I suspected as much.
---
&nbsp In mid-April I received an e-mail from Mike Krause, who was trying to find someone among our classmates who might be interested in purchasing a complete set of 12 Naval Academy Wedgwood plates from the widow of a Class of 1949 alumnus. They are in Staffordshire Blue and are in exceptional shape, he said. Mike's mention that the plates could be seen on his web site piqued my curiosity, so I asked him for more information. Here's his response.



&nbsp It is a hobby I started when my son was at USNA. I remember seeing them in shops in Annapolis when we were Midshipmen, but did not give them much thought. When my son Matt '96 entered in 1992 I saw them in a shop on Maryland Avenue. That started me on collecting them. I now have a couple of complete sets of Staffordshire Blue, two of Rose Pink (my wife Kathy's favorite color), and a complete set of Mulberry, plus many duplicates. I do not have all six of the second issue of six plates from 1957, but have a few of them. It is one of those hobbies that can consume you. I first advertised in Shipmate a couple of years ago and was contacted by several alumni looking to trade and share information. I developed the web site more as a service than to make money, but it became too expensive so I closed it. Recently, web sites have become less costly, so I just started it up again (www.usnawedgwood.com) and took out a new ad in the March-April issue of Shipmate. A couple of years ago, a '47 graduate wanted to find a home for his plates and basically gave them to me. I intend to keep those since he simply wanted them to go to someone who would appreciate them.
---
&nbsp Let's close this month's report with some news about younger members of the Class of 1963 family.

&nbsp Dick Arvedlund shared this information about his daughter, a noted financial journalist.
&nbsp My daughter Erin published a book on the Bernie Madoff scandal called "Too Good To Be True" which received good reviews and lots of publicity over the past year. When she worked for Barrons newspaper in 2001, seven years earlier, she wrote an article questioning his veracity. No one responded then, including the press, SEC, or anyone else. Her book was rated one of the best business publications of 2009 by Time magazine.
&nbsp I did an internet search and found a very interesting article about Erin's pursuit of the facts about Madoff's activities. It appeared in a Palm Beach, FL, newspaper last September. You can see it here: http://www.palmbeachdailynews.com/news/content/news/madoff/2009/09/27/Arvedlund_927.html
---
&nbsp George Singer says that he
&nbsp could not be more happy for my step-granddaughter Caedran Harvey, nor more proud. She is a highly touted soccer player who will be a member of Cornell University's incoming freshmen players this fall. A student at The Branson School in Novato, CA, she was a first-team all-league selection in 2009 and serves as team captain. There is another Cornell connection for me: Ian Sargent, my roomie for the first two years at USNA, went to Cornell before coming to Navy.
---
&nbsp Finally, those of you who know my son Aaron '97 will be interested to know that he and his wife Shauna have been blessed with their first daughter, Lauren Adriana, born on 20 April in San Diego.
---
&nbsp You'll enjoy your summer more if you spend some time with your classmates. When you do, be sure to tell me about it!



---