Shipmate Column
September-October 2010
---
CLASS OF 1963
Pres: CAPT W. Spencer Johnson IV, USN (Ret.)
Sec'y: Michael H. Shelley
164 Sweetwater Lane, Pisgah Forest, NC 28768
h: 828-862-4245 e: nstar@citcom.net
Web site: http://www.usna63.org.


For any classmate you can go to the Classmates Page and enter his name to read his current biography if available.
---
&nbsp I am sorry to begin this month's report with the news that John Wermuth died of a heart attack on 8 July in Tampa, FL. He had retired from Delta Airlines several years ago. His widow, Pat, can be contacted at 5200 Interbay Blvd., Tampa 33611.



---
&nbsp Jack Hood reports about a milestone for his family that may also be a milestone for the Class of 1963.
&nbsp Ginger and I made the drive back to Northern Virginia for our oldest son John's promotion ceremony to Captain on 1 July. Unless someone did not report it, I believe he may be the first 0-6 to come out of the many '63 children. John has followed me as an AED and is on his second tour at the National Reconnaissance Office. I do not have the slightest idea what he does other than work with space systems. The office went overboard with the ceremony and around 100 attended, headed by his boss, a one-star. He honored me by having me re-administer the oath of office. This emphasized my age as I administered his original oath when he was commissioned and I had been retired a couple of years already.

Jack and John Hood




Pinning on the eagles




Jack and Ginger Hood with CAPT John Hood and family


&nbsp In the time-honored tradition his wife, Sandra, and his mother pinned on the eagles. This was special as one eagle came from his grandfather (Ginger's dad) and one from me. It was a great day for all of us and the trip also gave us a chance to see the granddaughters again who have grown into young ladies. The oldest was driving and the youngest taller than Ginger, so they are growing up. Now we are on hold for a month before moving into our new coop in September and then flying to Anchorage in October to meet our second grandson who is due in September.
---
&nbsp Our classmate Bill Bradford, the current president of the Recreational Vehicle Chapter of the Alumni Association, sent this account of a rendezvous this May.
&nbsp As Dee and I arrived in Las Vegas early to host the USNA RV Chapter 2010 National "Come Around" in late May, we were able to enjoy a very lengthy meal (three-plus hours) with companymate Tom Jones, whom I had not seen since '63 and his wife, Sue. Las Vegas resident Bruce Alitt, whom I had not seen since plebe year, and his wife, Barbara, were able to attend the Chapter's arrival happy hour and "Firstie Dinner." Bruce had his first experience with an RV when he came on board our coach.

Bradfords and Joneses




At the Sedan Crater




The Sedan Crater


&nbsp The come around was centered around two core activities: A briefing by the 432nd Wing that runs the Predator and Reaper RPA (remotely piloted aircraft) programs and a bus tour of the Nevada Test Site where over 900 nuclear test shots were conducted. This picture at the observation point shows John & Kay Morgan (right rear and front) with Dee (left front) and me beside the Sedan crater, which is 320 feet deep and 1280 feet in diameter, created by a 104 KT shot that was part of the "Plowshare" series. John went Air Force and hiked down to the bottom of the Sedan crater and back while he was working on the Hudson Seal (1968) and Snubber (1970) test shots.
---
&nbsp As you can see by the listing on our web site (Click HERE), quite a few children of '63 have attended USNA. Now, it's good to see some of our grandchildren visiting the Academy. Before we know it, we'll learn that one or more members of the newest Plebe class is a grandchild of '63. I thought about this when Mike Harman told me that his grandson Tim (son of Todd Harman '92) was coming to the Academy for a Lacrosse camp this summer. Also, Mike sent this photo of his granddaughter Gabriella (his son Michael's oldest daughter) standing under his picture in the Athletic Hall of Fame while visiting USNA. The picture next to Mike's is our classmate Gaylord Hopkins.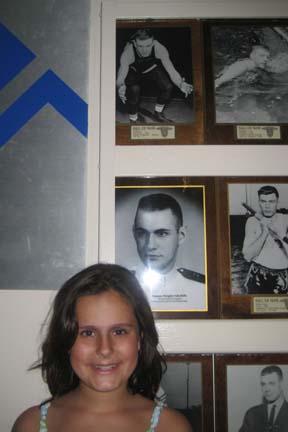 Mike Harman's granddaughter with his picture
---
&nbsp I'm quite pleased to tell you that Bonnie Evelyn Nolan, widow of George Fred Nolan '63 and Michael Allan Blackledge '63, widower of Helen Faust Blackledge, were married on 25 July. The civil ceremony took place at Bonnie's home in Albuquerque, NM. It was officiated by the Honorable John Edwards Conway (USNA '56), Senior Federal District Judge for the District of New Mexico. This picture of Bonnie and Mike was taken in June as they enjoyed a pre-nuptial European cruise honeymoon aboard the SS Crown Princess. Congratulations!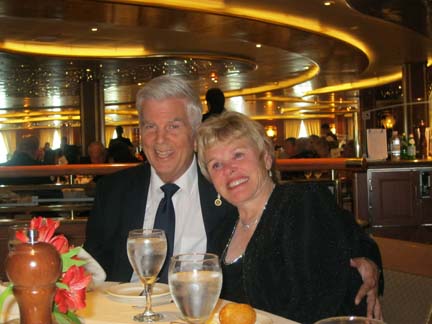 Mike and Bonnie
---
&nbsp We can add another name to the list of our classmates who are published authors. This note came to me in July from Walt Breede:
&nbsp I wanted to let you know that I just published my first novel, Snow on the Golden Horn. I'm nowhere near Pete Deutermann:'s league in either quality or quantity, but there are a couple of interesting paradoxical points. Pete spent his career as a Naval officer and mine was in the Marine Corps. Pete finished as a Captain and I finished as a Colonel. One of Pete's chief characters in several novels is a former Marine officer; mine in Snow is a former Navy officer. The book is available now at www.authorhouse.com and will also be available at other local and on-line retailers in a few weeks. A sequel, featuring the same good guys and different bad guys, is almost ready to go.



---
&nbsp Here's the latest news about the San Diego scene, courtesy of Phillip Marsden: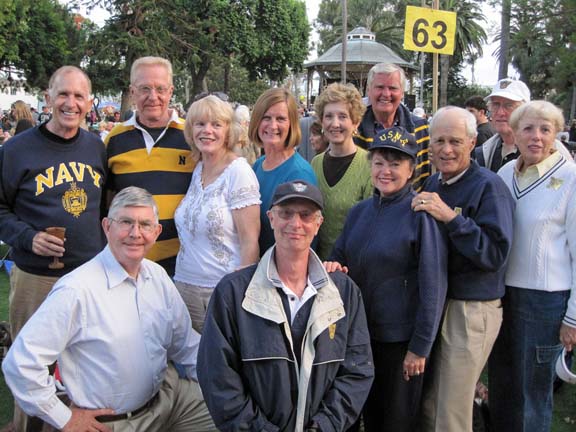 Concert goers in Coronado
&nbsp Twelve classmates and wives gathered on a beautiful July afternoon in Coronado's Speckels Park to enjoy a rousing concert by Rockola, a local band. On hand were Karl and Marirose Kozak, Dave and Lana Moore, Chuck and June Stone, Charles and Nancy Helsper, Donna Kaup, Clyde VanArsdale, Ted Krohne and Phillip. Bill and Donna Gentile were also present but couldn't find us in the crush! The park was completely full with many people dancing to the oldies from the 50's, 60's, and 70's. When we all stood up to take the group photo, Charlie Helsper grabbed the pole with the '63 sign to make sure it was in the picture. All this commotion came to the attention of the Rockola bandleader, who quipped " '63, your table is ready!" Great fun was had by all.
&nbsp Martha and I are fine and enjoying time with our young grandson, who is a delight. We recently returned from a wonderful cruise through the Norwegian Fjords and are looking forward to a Fall trip to New York and DC.
---
&nbsp Tony Breard is the latest of us to submit a Midshipman remembrance to be shared with our classmates and other Shipmate readers.
&nbsp Randy Orlowski's recent recount of his sally into High Society reminded me of my similar sorties.
&nbsp The annual Mardi Gras Ball in Washington, D.C., was, and may still be, one of the top tier social events for numerous well connected national, state and local elected officials as well as many comfortably positioned captains of industry and selects of society, local and Louisiana. All Louisiana Midshipmen were invited to attend, and sometimes a few Mids from neighboring states, depending on the number of guys needed to escort and present the state's beauty queens to the King and Queen of the Mardi Gras Court. I attended all four years, although on several occasions my Full Dress Blue Uniform was misinterpreted as that of a Bell Hop.
&nbsp Each of my years at the Mardi Gras Ball was memorable for various and sundry reasons, real or imagined. However, it was the Mardi Gras Ball my Third Class year that stands out as my most memorable. I had the privilege of escorting Miss Mittie Sue Ticac (TEE - cat), Louisiana's Poultry Queen (not, as some have insinuated, its Chicken Queen) in her introduction and presentation to the Mardi Gras Court. Mittie Sue was from Maringouin (mar - ran - GWAN), Louisiana. Maringouin means mosquito in French, especially a large swamp mosquito.

Mittie Sue Ticac and Tony Breard


&nbsp After my official escorting duties were completed and her prescribed formal responsibilities to the Court were concluded, we were allowed to share in all the other fine aspects of the occasion - the lush and liberating Sheraton Hotel, an excellent, extensive buffet, a great dance band and dance floor, and the opportunity to mingle with the social gentry and the establishment nobility. The ballroom was set up with what seemed like hundreds of large round tables each seating about twelve or fourteen people all in their finest, elegant attire. The centerpiece of each table was a lazy-Susan-like, fully stocked bar that would have been the envy of any self-respecting neighborhood pub. As we milled about the ballroom between dances, people would invite Mittie Sue and me to sit down at their table for a visit and a drink.
&nbsp As we were returning from a dance, we passed near a table with a very recognizable elected official and I asked Mittie Sue if she would like to have her program autographed by that official? She replied that she would, so we walked over, waited for a pause in the conversation at the table, excused and introduced ourselves to the Honorable Lyndon Johnson, Vice President of the U.S. He very graciously stood, shook our hands and talked with us wholly unhurried for several minutes, asking her about her home, her first-visit opinion of Washington D.C., her future goals and aspirations and asking me about details of daily Naval Academy life, the academic program and my future plans. We asked for his autograph; he politely agreed pulling a large felt tip pen from his inside coat pocket with which he lively inscribed neatly across the top of Mittie Sue's program, Lyndon Baines Johnson. We thanked him for his time and courtesy, turned, and left his table.
&nbsp I was probably not more than two tables away before I realized that there probably would be very few times in my life that I would be able to walk up, utterly unchallenged and unimpeded, to the Vice President of the U.S. for a casual conversation. So I located and politely took possession of an unattended program and returned to the Vice President's table. Once again, I waited for a pause, excused myself and apologized for interrupting him for a second time, but explained that I had quickly come to the realization that this might be one of the few times, if not the only time, in my life that I could do what I was doing with him at that moment. He stood, had a good, agreeable laugh, pulled out the felt tip pen and flourished across the front of my program, "LBJ".

Johnson's initials on Tony's program



---
&nbsp Members of the 23rd Company held their Fifth Annual Reunion this July. Harry Hirsch prepared a colorful, comprehensive, and envy-inducing account of their time together at The Lake of the Woods in western Ontario. I have pulled some excerpts from Harry's text to share with you below, together with photos provided by Zimm Zimmerman and Mike Krause. Here are some parts of Harry's text:
&nbsp Dream, if you will, of a truly pristine glacier-sculpted lake with 65,000 miles of predominantly craggy stone shoreline populated with 14,000 lush, densely forested islands, a slowly building breeze from dawn to dusk with a daytime high in the low 70's, sleeping at night with the windows wide open and a crisp 60 degrees in the middle of July, fishing for several species of abundant and eager fish, some four feet long and up to 40 pounds, bald eagles overhead, colonies of pelicans, an occasional loon or two and sea gulls galore, and lastly, daily lunch of the most tender flaky white fish you have ever savored cooked over an open fire accompanied by an ice cold beer or a well chilled glass of Pinot Grigio, or both if so inclined.
&nbsp The foregoing is a vastly tempered description of the experience of 14 highly matured stalwarts (Mike Bonsignore, Bill Bradford, Len "Snopes" Eaton, Harry Hirsch, Steve Hoy, Niles Iannone, Mike"Google" Krause, Steve Leisge, Carl "Flack" Logan, Vern "Beast" VonSydow, Art "Boomer" Weidner, Dick Ortwein, Mike Rubel, Sherwood "Zimmy" Zimmerman) from 1963's most distinguished or perhaps infamous 23rd Company who comprised the group for the Fifth Annual Reunion at Turtle Bay Yacht and Lodge at The Lake of the Woods in Ontario, just east of the Manitoba border, July 15-19.

The Grace Anne II


&nbsp After meeting on the dock in Kenora, a town on the northernmost shore of The Lake of the Woods, we embarked on a three-hour dinner cruise to the lodge aboard the Grace Anne II, an elegant 80 year-old, 85-foot full displacement motor yacht. During our stay at the lake, eight of us were berthed in staterooms aboard the yacht and six were in bedrooms in the lodge.

23rd Company spirit





&nbsp The daily routine was unvaried. At 0730 we had a fully served breakfast cooked by the French chef, which was outstanding. At 0830 we loaded up five fishing boats, which were about 20 foot runabouts powered by 150 HP Suzuki outboards. The first order of business was to provide for the shore lunch. This entailed catching 10 healthy sized walleyes per boat and perhaps a few edible sized perch. The boats sped off in different directions to each guide's coveted spot. The only way one might go hungry at Turtle Bay Lodge would be to have been on a hunger strike! As a testament to the quality of fishing on The Lake of the Woods, one of the guides commented that in his memory no boat had ever failed to catch their lunch quota.
&nbsp The shore lunch was a real treat. The freshly caught walleye and a few perch were cooked over an open fire in a humongous skillet after the sliced potatoes had been fried in the same pan. Cans of baked beans and corn were heated alongside. We all sat around a table in a covered outside dining area and essentially wolfed down the grub with our wine of choice or Molson or LaBatt beer.
&nbsp Having resisted the urge to take a short siesta, we were usually back in our boats by 1400 hours ready to go after the big ones, muskie and northern pike. Based upon whatever the fishermen wanted to do, the boats arrived back at the lodge between 1700 and 1830 hours. After cocktails, we would return to the Lodge and have dinner; spare ribs and grilled salmon, and on the final night truly succulent prime rib.
&nbsp Our last dinner was capped by the awards ceremony. Mike Bonsignore hauled in the largest muskie, 44". He just edged out Steve Hoy's 42 incher. Other awards went to Zimmy for an 18 " small mouth bass, Vern, 25" walleye, Bill Bradford, 13" perch, and Steve Hoy 37" northern pike. Everyone caught a bunch of fish each day. As with our last three trips, no one bothers to count the number of fish caught.

Mike Bonsignore and his trophy muskie




Steve Hoy




Vern Von Sydow


&nbsp The prior four reunions we had fly fished in Colorado, New Mexico, and twice in Montana, so it was a bit of a change to forego the weightless forearm cast, mending the line and wooly buggers and nymphs. Our paramount criterion is that catching fish, lots of fish, be as guaranteed as possible with skill not an absolute prerequisite. (To illustrate the point, J.J. Hogan last year mastered fly fishing the morning of the first day out, immediately after he learned which way to crank the handle on his reel.) The Lake of the Woods met that threshold with ease. It was a truly unique experience with great accommodations, very well prepared high quality food, the best brands of adult beverages, and gracious and impeccable service. It was a "five star" fishing expedition and certainly exceeded all of our expectations. At times it was like being amidst a symphony of nature, with the fish biting, the pelicans and gulls jostling, the stately bald eagles keeping vigil overhead, and the occasional doe and fawn feeding on the shore, all with rarely another fishing skiff in sight.



&nbsp Our thanks go to Mike Bonsignore for discovering the Lake of the Woods Lodge and for planning this most memorable of reunions. Although one might think that the cost would have been prohibitive, Mike approached them about a year ago when the economic outlook was uncertain at best and negotiated a fantastic deal. Every effort is made to keep the cost of participating in these reunions as reasonable as possible. In this case it was a heck of a bargain.
---
&nbsp Bob Harper reports on '63's participation in this year's Multiple Sclerosis charity bicycle ride in Northern Virginia.
&nbsp What began over 20 years ago as Terry's Team continued yet again with our Class team riding in the Northern Virginia MS Bikathon. The team represents the Class of 1963's support and caring for those among us, as well as family and friends, afflicted with MS. Riders who are still able contribute time, donations and camaraderie while others are asked to provide prayers and donations on behalf of those who are afflicted and unable to ride.
&nbsp This year, the ride (60 miles on Saturday, 12 June) started about six miles north of Middleburg, VA, and proceeded through Philomont, Upperville, Rectortown, Delaplane, Marshall, The Plains, Middleburg, and finally back to the Start/Finish point. Terry's Team regulars Brev Moore and Peter Browne were unable to participate this year, leaving Carol and John Aucella plus me to wrestle with the "foothills of the Appalachians". Brev was already committed to a Boy Scout outing and Pete had an attack of shingles that ruled out his riding. We missed their company and good spirits. John and Carol claimed not to be in their usual training condition this year and rode a slower pace. Maybe it was just to keep company with their elderly teammate, because this is the first time I was able to keep up with them. The 900 or so riders all had the same challenge, and it was more than the #&@## hills -- it was the heat. Despite an early start and riding 32 miles to lunch by noon, the increasing heat load kept us from getting to the Finish until 1600.
&nbsp All contributions go to the MS Society for research as well as care and services to those with the progressively debilitating disease. Each rider contributes a $300 entry fee and collects pledges and contributions to help defeat MS. Our team has never achieved top fundraising honors, but with the other riders' average age in the mid to late 20s, we do get some notice. In addition to showing USNA logos, we always set the record for oldest average age team. This year it became 63 plus 7 and we all yielded to the heat and hills by taking Sunday off to rest and recuperate rather than riding 40 miles to complete the 100 mile total. It's easy to blame the heat this year; after all, who'd believe that just maybe we're getting older and smarter?
---
&nbsp As I was wrapping up this report, Spencer Johnson supplied news about another milestone for the Class of 2013:
&nbsp Here is the design of the class crest selected by the class of 2013. If you look closely at the cable that fouls the anchor, you will see the numbers 6 and 3 in its coils. The class motto in Latin means roughly "surrender to nothing" -- a more formal way of saying "Don't Give Up the Ship," an attribute that they have demonstrated individually and as a class in their Sea Trials and in their class spirit to date.



---
&nbsp Now, wasn't it fun to read all this news and see so many images? The credit goes to everyone who sent their contributions to be shared with our classmates. Keep up the great work, folks!



---