Shipmate Column
October 2022
---
CLASS OF 1963
Pres: CAPT W. Spencer Johnson IV, USN (Ret.)
Sec'y: Michael H. Shelley
27 Cambridge DR, Brevard, NC 28712
h: 828-506-2201 e: nstar@citcom.net
Web site: http://www.usna63.org.


For any classmate you can go to the Classmates Page and enter his name to read his current biography if available.
---
---
---
&nbsp There is a good variety of news to share this month. Regretfully, we begin by reporting the loss of two members of our Class of 1963 family.

Gary Warren Wilson died on 15 July. His widow, Patricia, can be contacted at 135 Augusta Drive, Moorestown, NJ 08057.
---
&nbsp Charles Helsper's wife, Nancy, passed away on 27 June. He can be contacted at 274 J Avenue, Coronado, CA 92118.
---
&nbsp Ray Hoag sent news about the funeral service for our late classmate Mel Bunnell.
&nbsp Mel Bunnell was laid to rest in Arlington National Cemetery with full honors on July 11, 2022, in the presence of friends and family. Among those present were three of his 21st Company classmates: Tom Batzel, Dick Kuntz, and Ray Hoag .

Dick Kunz, Ray Hoag, and Tom Batzel



---
&nbsp Watt Miles contacted me with information about Ron Klemick's scheduled inurnment at the Naval Academy Columbarium at 1400 on 12 October. Several members of the 5th Company will be traveling to Annapolis for the service. A group discount has been arranged for lodging at the SpringHill Suites on Admiral Cochrane Boulevard. If you want to use the group discount, contact Watt by email (perrymiles@cox.net) or phone (757-423-7614) for details. Also, tell Watt if you plan to attend the reception at the USNA O-Club following the service so there will be an accurate head count to aid preparations.
---
&nbsp Our busy West Coast correspondent Phillip Marsden submitted two items this month. The first noted the continuation of a Coronado tradition for USNA '63.
&nbsp A small but spirited group of classmates and their ladies braved the crowds on Sunday, 26 June, for our first Concert-in-the-Park get-together this season. Spreckels Park was full of fans on a warm summer afternoon for an Abba cover band who had everyone dancing. If you don't believe me, check out this photo showing Vern, Donna Kaup , and yours truly. (Some of you may not call that dancing!) The other photo shows the afternoon attendees including Vern and Gail Von Sydow, Lew and Lynn Blackwell, Donna Kaup, Grant Telfer, and Lee Cargill . Bravo Zulu to Grant Telfer for his impressive mounting of the Class of 63 banner - using a complicated array of lines, bungee cords, seaman's knots and sweat! It attracted a number of visitors. Plan to join us for the next concert in August!

Dancers? Really?




A Coronado tradition continues



&nbsp Phillip's second note was about a chance meeting with a classmate.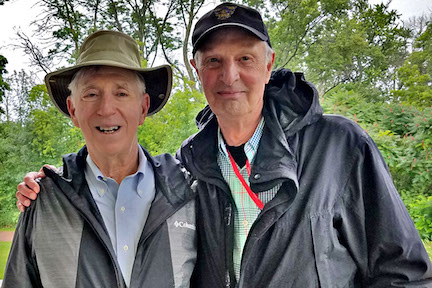 Bracy and Marsden
&nbsp Good things can happen when you wear your USNA gear. Martha and I were on a Great Lakes cruise from Toronto to Milwaukee. I took along my Class of 1963 ball cap figuring I might run into some grads. Down to the last day before Milwaukee and I had not had even a nibble. So I am on an elliptical trainer, pumping away next to another grey head jogging on the treadmill while watching some program on his iPad. Suddenly he pauses his routine and exclaims, "If that is a 1963 cap, we are classmates!" That is how I met Mike Bracy .
&nbsp This photo was taken by Mike's wife, Ella, the next day as we were touring Milwaukee. We both agreed that our 60th reunion next fall may be our last best chance to see many of our classmates.
&nbsp The cruise was on one of Viking's expedition ships - the type they use in Antarctica. Martha and I enjoyed the ship and the cruise. Highly recommended.
---
&nbsp Many members of our Class are part of families with multigenerational traditions of military service. In a recent note, Pete Deutermann summarized his family's Navy and Coast Guard service across many decades.



&nbsp My grandson, Anthony Franson, was sworn into the class of 2026 this June. He represents the third generation of my family to enter Annapolis -- my father, VADM H.T. Deutermann, '27, my older brother, LCDR David Deutermann, '56, myself, and now, Anthony. My daughter, Sarah, was Navy OCS and flew F-14's; My son, Daniel, was NROTC Florida, and was both a Navy helo (CH-46 ) pilot and instructor for 10 years, and then a USCG SAR pilot for the next 10 years. He transferred to the USCG when BuPers said he finally had to go ashore! My younger brother, Steve, was Marquette NROTC and was a surface warfare officer for 20 years. Family trade all the way. 
&nbsp My latest book, The Last Paladin, is being published this July. It tells the story of the USS England, which managed to kill six Japanese submarines in the western Pacific in the space of a month.



---
&nbsp With time available and interest undiminished, many of us are enjoying books, articles, and other information about naval history. Two rich sources of digital information were brought to my attention recently. Steve Duncan alerted me to a web site which presents a wealth of information about ship losses during WW II. The dynamic maps and graphics on the site are compelling presentations of military and nonmilitary sinkings.I encourage you to click HERE to see the impressive data, time-based animations, and other interpretations of the more than 20,000 sinkings from 1939 through 1945.  Well Done! to the Canadian man who did this work entirely on his own.
---

&nbsp Dave Moore called attention to a podcast series from USNA that is sure to be interesting to most of us. Issued by the Naval Academy Museum in Preble Hall, the naval history podcasts present historians, practitioners, military personnel, and other experts speaking about various naval history topics from ancient history to more current events including Naval Academy activities and Midshipman culture. Begun in 2019, the series now includes nearly 150 podcasts you can choose to hear. To see the list of topics, click HERE
---
&nbsp Here's the latest from Jim Oakes :
&nbsp This is a picture of Lynn and Lew Blackwell and yours truly and Suzanne Fuqua of Phoenix and Dallas at Swaddee Thai restaurant in Coronado, California, just after July 4. The restaurant is owned by Richard Carlquist, USNA 1980. Richard's dad was a Naval aviator from the class of 1948. Richard's wife cooks all the delectable dishes. Highly recommended for anyone visiting the San Diego area.

Dining in Coronado



---
&nbsp It's always good to hear from Fred Kaiser, whose latest news concerns '63 pride displayed on license plates.
&nbsp Earlier this year, Jud Pearson and his wife Betsy reconnected with me, as we both live in the suburbs of Chicago. When we got together with them in the Spring, Jud was proud to show me that his license plate was "NAVY 63." Unfortunately, he couldn't get USNA 63 in Illinois, because I already claimed it years ago. I have been a longtime friend with my Academy roommate, Jim Stageman . Jim and his wife Sandy recently visited us from Omaha, Nebraska, and he proudly displayed that he had been able to claim USNA 63 for that state. These two photos show our pride in our Academy heritage.

Fred and Klara Kaiser with Betsy and Jud Pearson




Jim Stageman and Fred Kaiser



&nbsp My license plate is already on record with our class because I have the same plate for both my car and my motorcycle. Years ago, I was driving our car on one of the Chicago Expressways and a car pulled up next to us. I glanced over and a young man turned his head towards me and saluted. He obviously graduated after us, but his respect made my day!
&nbsp Fred, Jud, and Jim are among our numerous classmates with USNA or USN-related license plates. Visit our web site photo gallery of plates and their owners by clicking HERE.
---
&nbsp In our June column I reported that Nick Nerangis' grandson Alex Limoges was playing for San Diego in the American Hockey League. Nick recently announced that Alex has signed an NHL contract to play with the Winnipeg Jets for the upcoming year. Congratulations!
---
&nbsp In July, Dick "Rhino" Wyttenbach sent a timely account of his VA full disability and the events that contributed to his illness.
&nbsp The VA just rated me 100 percent combat related disabled from Agent Orange exposure in Vietnam. Am I the first in our class to be 100 percent? At Destroyer School we could ask for our next assignment. In June 1966 I asked to be Weapons Officer on a FRAM I destroyer based in San Diego just about to deploy to Vietnam. I got my first choice. As a result, I now get the joy of riding around in my electric scooter! Because of Agent Orange, I am electric scooter bound from diabetic neuropathy in feet and fingers. I also have atrial fibrillation and chronic diastolic heart failure.

USS Southerland



&nbsp I was Weapons Officer on USS Southerland (DD-743) when we deployed to Vietnam for six months in 1966 and another six months in 1968. The ship fired over 40,000 five-inch rounds as naval gunfire support for the Marines and Army, going so far up the rivers that we got scratches on our sonar dome. I attribute much of our Agent Orange exposure to contact with contaminated water during that period. It was only a short time ago that "blue water" vets became eligible for disability treatment. I qualified several years ago because I had to escort into Danang the body of a dead marine we picked up floating in the ocean. I filmed that trip with my personal 8mm movie camera. That film proved to the VA that I got my "boots on the ground" which qualified me years before my shipmates.

USS Hoel



&nbsp The Tet Offensive in January of 1968 was particularly intense. We started at the DMZ and ended up at Hue, Then the Ops Officer on our Destroyer Squadron staff ate a sandwich he bought from a street vendor in Hong Kong and ended up staying in a hospital there for months. I was sent over to the staff TAD to fill the gap for a month while my ship went to Subic. The staff was on USS Hoel (DDG-13) and engaged, with another tin can, off the coast of North Vietnam. We were tasked to attack two targets every 24 hours, at all hours randomly. We would charge in and shoot at bridges, tunnels, barges, and so forth. Several times the shore batteries would shoot back. Once, a burst went off right over the bridge. Sounded like a thousand marbles rained down on us. Another time a fragment of a shell punched a hole a foot in diameter in our missile launcher. No one was wounded. Once two shells straddled us, fifty yards on both sides. I filmed it with my personal 8 mm movie camera. I had nothing else to do after radioing for the two ships to hightail it farther out to sea. The Commodore told me to plan and schedule our attacks at any time and not to worry about his sleep. But, he said, no attacks between 2000 and 2200 each day. We were to be far out to sea then. I asked him why. He said, "The movie, dummy! Nothing will interfere with my movie." So, we stopped the war every night for two hours! I later returned to my own ship to conclude a double operational period of 63 days at sea, a record, and an appropriate number of days.
---
&nbsp Last month I posed a question about the size of the area that was off-limits for alcohol consumption by 1960's Midshipmen. The near-unanimous responses received from classmates were that the area was defined by a seven-mile circle centered on the Academy.
---
&nbsp Just as I was about to submit this column for publication, I received the news that Jack and Kathleen Colyer had been skydiving a few days earlier. Here are three photos from their adventure, plus the brief text that accompanied them.
&nbsp What an incredible day we had with the Union League Club Military Affairs Committee's tandem jump outing at Skydive Sussex with their team of professional tandem instructors. Out at 14,500 feet, free fall for 10,000 feet at 125 miles per hour, then parachute for the ride home and perfect landings. Pure magic in the sky.

Jack and Kathleen Colyer




Beginning the descent




Kathleen and her instructor



---
&nbsp That's it for now, folks. Keep sending your news and photos to me. We're depending on your support.



---