Shipmate Column
September 2004
---
CLASS OF 1963
Pres: Stephen M. Duncan
Sec'y: Michael H. Shelley
25 Sweetwater Lane, Pisgah Forest, NC 28768
h: 828-862-4245 e: nstar@citcom.net
Web site: http://www.usna63.org.
Remember that you can click on any underlined Classmate's name to view his Current Biography.
---

&nbsp Our classmate Alexander "Doc" Palenscar died on 27 March 1967 when the aircraft he was piloting was shot down over North Vietnam. His remains were lost for many years but were eventually recovered and repatriated to the United States. They were laid to rest at the Naval Academy on 21 June. Doc's companymate Peter Browne prepared this account of the event.
&nbsp We had a beautiful day in Annapolis for the funeral mass and burial service. Al's remains were found in Vietnam and repatriated to the United States. He was killed in action, leaving his wife Leslie and two children, Cathy and Alex, who were all at the ceremony. So were both his parents along with other family members. His dad was a retired Air Force Colonel who was an attorney during his career.

The service began with a mass in St. Andrews chapel below the main chapel. After the mass, the cremated remains were brought from the chapel to the Colombarium on Hospital Point between the footbridge and Hubbard Hall. A 21 volley rifle salute culminated the military burial service and his remains were placed in the wall. (We had another service there a few years back for Ned Walsh.) Nineteenth Company mate Doug Zanzot gave a eulogy and it was a pretty emotional experience.

The Class of '63 was well represented at the service. Also from the 19th Company were Roger Glaes , Peter Browne, and Diana Zanzot . Other classmates included Kate and Jim Ring, Sonny Glassner , Carol and Bob Harper, David Robinson, Charlie Lynch, Charlie Minter, Jay Gowens, Carla and Jeff Miles, Frank Hilton, John Aucella, Denny Dougherty, Linda and Charlie Stubbs, Bruce Webb, Scott Harmon, and Dick Guffey.

&nbsp Subsequently, Kate Palenscar addressed this note to the Class of 1963.
&nbsp It is with deep gratitude that I write to the Class of '63 for their presence and thoughts on the occasion of the memorial service for my father. All of my life I have heard of, as well as been lucky enough to experience upon occasion, the great support that the Class of '63 has for one another. As was mentioned several times after the ceremony, the Class of '63 seems to have a certain "magic" that surpasses even the other fine classes at the Academy.

I am overwhelmed and very moved at the attendance of Class members at my father's memorial, and of those who were not able to attend, but whose thoughts were with us. It means a great deal to all of my family, and I thank you so much for everything.

I hope to be able to correspond/speak with not only those who did attend, but other classmates of my father's. And if there is anything, ever, that I can do to assist anyone, please do let me know. My e-mail address is kate@kate.net .

&nbsp Upon request, I will supply Kate's phone number and mailing address to any classmate who would prefer to speak or correspond with her directly.
---

&nbsp I was glad when Mike "Blackie" Blackledge checked in from New Mexico with news of a fly-in assembly of some of our Fourth Company mates.
&nbsp Susan and Ross Anderson have completed their 10-year airplane project and demonstrated its airworthiness many times over the past year. They made Memorial Day weekend a little special by flying to the Santa Fe, NM, municipal airport and contacting two nearby 4th Company classmates. Lou Simpleman drove down from Trinidad, CO, and Helen and I came up from Albuquerque. We all were suitably impressed, went out to dinner at The Old House, and solved eight major world problems.

The event would have warmed the heart of even T.L. Griffin, our Company Officer from '61 to '63. We're hoping that the entire 4th Company will get together next year.

&nbsp Blackie provided several photos of the group and the Andersons' home-built airplane.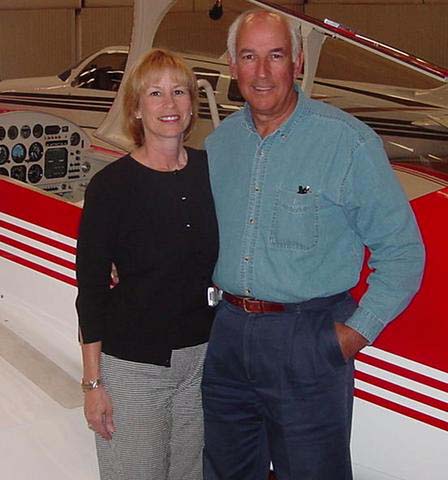 Susan and Ross Anderson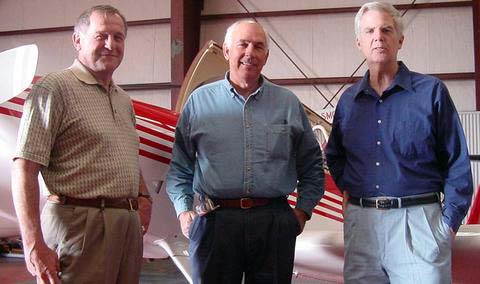 Lou Simpleman, Ross Anderson, Mike Blackledge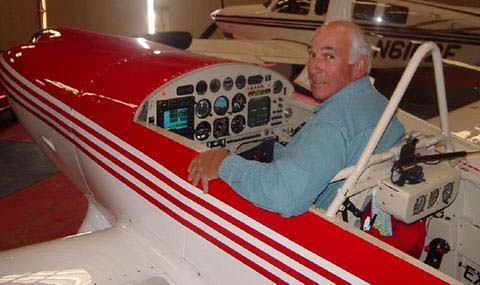 Ross in his cockpit

&nbsp Shortly after I prepared the preceding text, Blackie phoned me with the shocking news that Ross had been killed only hours before, when his plane crashed at Seal Beach, CA, on 7 July. He had been flying his daily commute from Torrance to Chino where the warbirds aircraft restoration business he had purchased last year is located. Our profound sympathies go to Susan Anderson for her sudden and tragic loss. She can be contacted at 28870 Crestridge Road, Rancho Palos Verdes, CA 90274-5000. In lieu of flowers, the family requests donations for a memorial to Ross. Checks made out to USNA Class of 1963 Foundation, with memo: "For Ross Anderson Memorial" should be mailed to USNA Class of 1963 Foundation, c/o Lowe Enterprises, Suite 100, 12020 Sunrise Valley Drive, Reston, VA 20191.
Ross was a true gentleman and a good man who was held in high regard by his companymates and, I am sure, by countless other friends and colleagues. We will miss him very much. (See the Last Call section of USNA63.org for an extended remembrance prepared by Mike Blackledge.)
To complete our Last Call, I am sorry to tell you that our classmate Lee Livingston passed away on 6 July at a hospital in Bangor, PA. The cause of death was not reported. We extend our sympathies to Lee's family, who can be contacted at 41 Spring Lane, Bangor, PA 18013-6143. They ask that memorial contributions be made to The United States Naval Academy Class of 1963 Foundation, c/o USNA Foundation, Attention Bob Hofford, 291 Wood Road, Annapolis, MD 21402-1254. .
---

&nbsp Roger Mehle reports on two Class of 1963 events held in Washington, DC, in late April.
&nbsp The first was a 24th Company dinner on April 24 at the Four Seasons Hotel. My wife Colette and I hosted the gathering for D.C. area 24th Company '63ers, plus companymates who came from Florida, Maine, and Pennsylvania. Coincidentally, our companymate Ken Metviner had hosted a dinner in Oregon the preceding weekend for our 24th Company classmates in that part of the country.

The attendees in Washington were: Tom Brandt (flew in from Boynton Beach, FL!); Pat and George Emery (Kennebunkport, ME); Beth and Joel Gardner (Sterling, VA); Mary Ann and John Gowens (Ellicott City, MD); Colette and Roger Mehle (Washington, DC); Judy and Tom Morgan (Rockville, MD); Nick Nerangis (Winchester, VA); John Nielsen (Lansdale, PA); Patty and Tommy Thompson (Lewisberry, PA); and Priscilla and Tren Ward (Chester, MD).

A few days later, Will Settle organized a no-host dinner at the University Club on April 30 attended by classmates (and spouses) who are, or were, involved with the Class of '63 Foundation. The attendees were: Jim DeFrancia (Aspen, CO); Laurie and Sonny Glassner (Baltimore, MD); Sandy and Ron Klemick (Hampstead, NC); Betty and Kent Maxfield (McLean, VA); Colette and Roger Mehle; Sandy and Ken Metviner (Paramus, NJ); Judi and Dave Puckett (Toledo, OH); Jack Reed (Fernandina Beach, FL); Jane and Will Settle (Richmond, VA); and Gene and David Robinson (Alexandria, VA).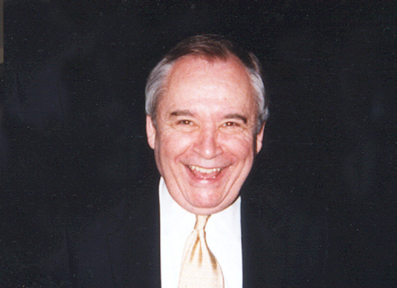 Roger Mehle
24th Company dinner in D.C.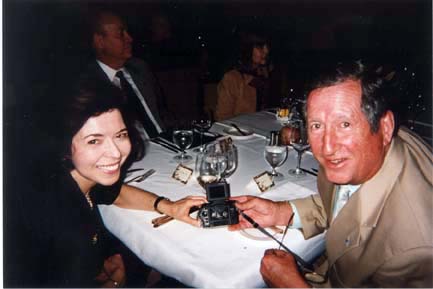 Colette Mehle and Joel Gardner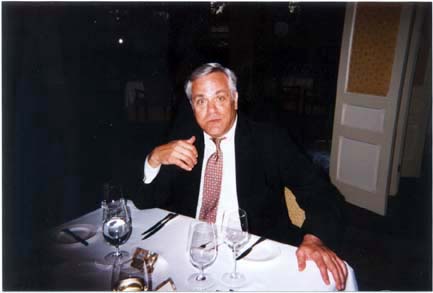 John Nielsen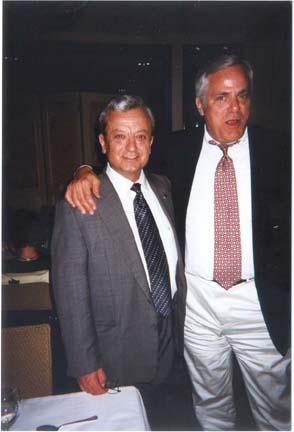 Nick Nerangis and John Nielsen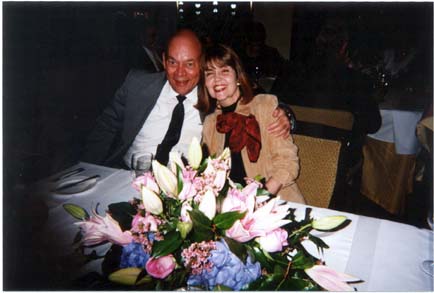 Tommy Thompson and Mary Ann Gowens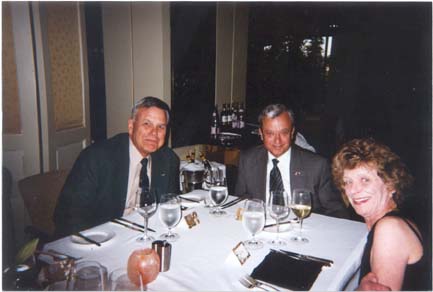 Tom Brandt, Nick Nerangis, and Pat Emery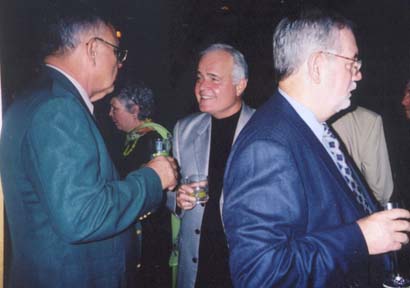 Tommy Thompson, George Emery, Tom Morgan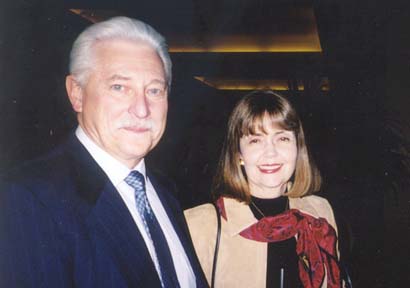 John and Mary Ann Gowens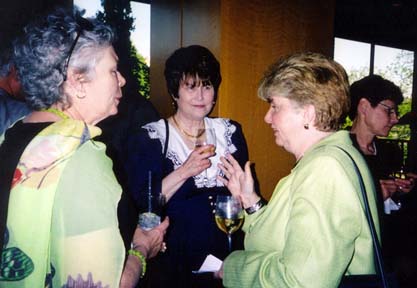 Beth Gardner, Priscilla Ward, Judy Morgan, Patty Thompson
Class of 1963 Foundation Dinner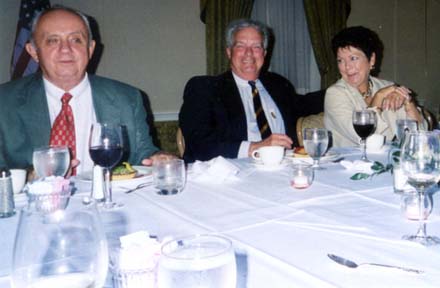 Jack Reed, Kent Maxfield, Sandy Klemick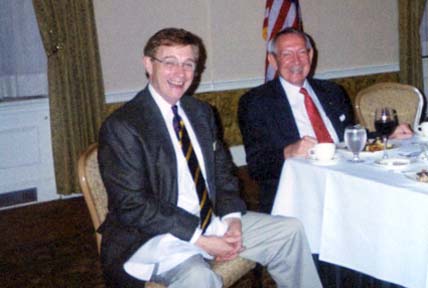 Will Settle and Dave Robinson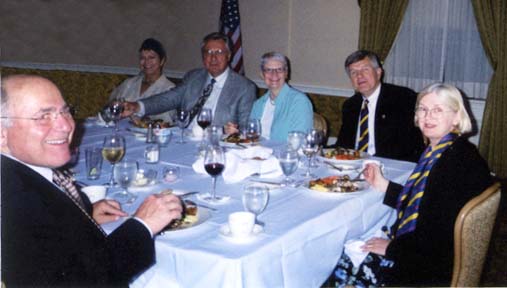 Counterclockwise from left: Ken Metviner, Jane Settle, Dave Puckett, Judi Puckett, Ron Klemick, Sandy Klemick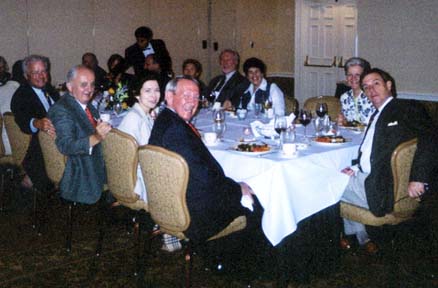 Counterclockwise from left: Kent Maxfield, Jack Reed, Colette Mehle, Dave Robinson, Will Settle, Gene Robinson, Sandy Metviner, Jim DeFrancia
---

&nbsp Whoever said there is no such thing as perpetual motion didn't know about Dave Moore. He submitted this account of his latest travel.
&nbsp I returned in early June from a 25-day trip to Mississippi with a side trip to Mobile, AL, and Destin, FL. On the way I visited Frank Wroblewski and met his "steady," Janeice. His address is Timpson, TX, but he lives halfway between Garrison and Center. He has 43 acres with a five acre pond right behind the house (with beaver). His property is a quarter mile off the road, reached by driving through a "green tunnel." That part of Texas is really dense pines, oak and brush -- and lots of poison ivy. His land allows him a one mile jogging path and places to shoot skeet, pistol, and rifle. Ski has remained in really great shape.

On the way back I stopped at Jackie and Rick Scott's near Sulphur Springs. They have sold off some of their land but still have about 30 acres -- some of which are leased out to the neighbor's cows and a cell phone tower. Most of the land is cleared pasture with big oak trees and two ponds. Also met Max, their green-winged macaw. Watched a skunk moving babies from the utillity shed to the pool pump area - that's something for Rick to cope with. The day after we left, the area around Dallas and Sulphur Springs was hit hard by violent hailstorms.

I passed through Las Cruces twice but scheduling conflicts precluded a visit with John Morgan. But based on a recommendation from Rick, we discovered Mesilla, an old town that is now an historic site - where Treaty of Guadalupe-Hidalgo was signed ceding everything west of Louisana Purchase and also where Billy the Kid was tried and executed.

In Phoenix we got together for dinner with Peggy and Art Walther and Patrice and Bill Karpinski. Art lives in Peoria which is at the NW corner of Phoenix and Bill lives in nearby north-central Phoenix. Peggy is still recovering from a big car accident but gets around with a cane. Bill wanted everyone to know that BGen Janis Karpinski from Abu Ghraib prison is not related to him.

Got home to 109 degree temperatures - the same as Phoenix. This week we have a cool spell down around 100, a good chance to work in the yard.

I just got a note from Tom Miller. He and Ros are about to take off on their summer trip -- this time to the Aussie outback. Then Tom will continue on to his summer archeological dig with the University of Pennsylvania in northern Thailand.

Tom has just acquired USNA63 Hawaii license plates . Way to go, Tom ! When I tried to get a personal plate for California, all the good variations on USN, USNA, and 1963 were taken, probably by all those guys in San Diego, so I got GO USNA. While I'm on this subject: Frank Holmeshas USNA 63 on one car and NAVY 63 on the other. There's not much competion in Idaho, he says. George Nolan has USNA 63 for New Mexico -- even though he has moved to Las Vegas.
---

&nbsp "Vanity" plates are a very visible way to express pride in our connection to the Academy. As I've reported here before, many of our classmates display these on their vehicles - cars, trucks, and even a motorcycle. Rather than repeat the list here, I am offering an opportunity to you. If you send me a clear photo of yourself with your plate, I'll publish it with the online version of our Shipmate column and it will be permanently displayed in a new section of our web site.
---

&nbsp In June, Pete Carrothers sent this note about his plans for the next few months:
&nbsp Eighteen months have passed since we docked from our Great Loop cruise and we're getting "Sugar" ready for a 3-4 month cruise leaving Houston in late July and heading over to Mobile and up the Tenn-Tom to the Tennessee and over to the Cumberland. We plan on staying until October and the end of hurricane season in the Gulf. Hope to see a few classmates along the way.
---

&nbsp Time now for some nature study. That's not the thing you expect to find here but I'm always looking for news about our classmates and came across an interesting article in the Annapolis Capital newspaper in late June. Here are some excerpts:
&nbsp There is a thriving hive of honeybees at the William Paca House and Garden on Prince George Street. Peter Quinton, a volunteer beekeeper and retired Navy commander, introduced the hive about two months ago. The bees will help pollinate fruit trees on the estate -- and around Annapolis -- and provide an added feature for visitors who enjoy watching nature.

Quinton, who keeps two hives in his Severna Park yard, created the new hive in a way that mimics how bees migrate in the wild.

Quinton's fellow volunteers at the Paca Garden gathered around to watch him care for the hive. A surface warfare officer who graduated from the Naval Academy in 1963, he developed a love for bees when he was 15 and living in California. A teacher introduced him to beekeeping, and he soon had several hives of his own.
---

&nbsp Retired Delta Airlines captain Dick Buelow is enjoying the challenges of his second career. He finished law school in May of 2003, was admitted to the Illinois Bar in November, and since January has been an Assistant State's Attorney in McHenry County, Illinois.
---

&nbsp Again this May, the Class of 1963 "Terry's Team" of intrepid cyclists honored our late classmate Terry Abell by participating in the Northern Virginia bike tour to benefit Multiple Sclerosis research. Here is the "official" photo of the team, which consisted of five classmates, Terry Abell's three daughters and a son-in-law, and two friends.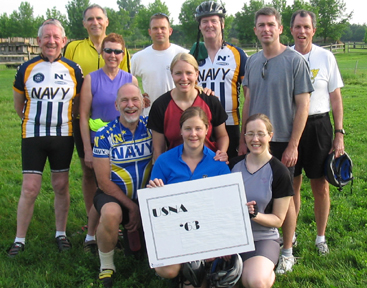 USNA '63 "Terry's Team" 2004

&nbsp Left to right are (front row) Jennifer and Tammy Abell; (second row) Bob Harper, Allison Abell Moore, and husband Patrick Moore USNA '92; (third row) David Robinson, John Aucella, John's friend Carroll Christy, Jennifer's friend Dave Freeman, Peter Browne, and Jim Ring.
As in years past, Bob Harper provided a full account of the event. .
&nbsp The team missed its previous left coast representative, Denny Vaughan, whose work had a way of getting in the way of pleasure. To compensate, we sent our own right coast representative to the west. That was Brev Moore, who missed riding with us to be with his son who required emergency surgery in California. Another stalwart, Jay Gowens, also had to cancel at the last moment due to family conflicts. The addition of the extended Abell family provided a very special occasion for all of us to appreciate the opportunity to be a part of Terry's Team.
While the plan is always to get beaucoup bike miles in training for the ride, certain factors may conspire to upset the best-laid plans. Those include the weather, workload, physical condition, lethargy, and the avoidance of pain. As a consequence, prayer often becomes the surrogate for painful physical exercise. This year was no exception (other than John Aucella, Jay Gowens, and Brev Moore who had trained extensively) and the prayers before dinner at the Abell home the night before included some specifics about finishing the good fight.
Everyone was at the starting area in good time on Saturday morning and registration, photos, and preparations to depart were relatively uneventful. Somewhere between the photo session, stowing spare gear in the cars, and pumping bilges, we got separated from Jim Ring and the group rolled off a bit later than usual. Even more unusual, it wasn't raining! It was the first time in four years that we had a dry road surface. However, there was plenty of moisture as the temperature reached 90 degrees. The group soon split into the rabbits (John, Peter, and Carroll) and the tortoises (everyone else except Jim).
The tortoises ambled along the Virginia hills and countryside at a reasonable rate, enjoying the countryside and good companionship. None of us did the Saturday overnight and Sunday ride this year because it was going to be even hotter on Sunday. There is no authorized out-and-back route, so we rode to the lunch stop 30 miles from the start, then reversed course. One of the more rigorous environmental challenges this year (other than those #*# hills and the heat) was the noise level from the cicadas as we went through the trees. The good news is that we won't have to ride with them again until 2021. We were accompanied by lots of others who were also out riding so that others might benefit. Many thanks to those who continue to support this fine cause and a special BZ to Tammy, Allison, and Jennifer for providing such delightful company and really making us all a part of the extended Abell family.

&nbsp Supplementing Bob's recollections are the viewpoints of two other riders. Let's begin with Jim Ring's first-person account. . &nbsp Somehow, I missed everyone at the 8 a.m. start, but it is just as well. I gained tremendous respect for bike riders on Saturday. I do exercise regularly, but was not in shape for this. I missed the turn at Marshall,Virginia, for the 30 milers and continued on the100-mile route. As I started through the hills, they started looking like Everest and I had to push my bike up some of them. When I got to the first rest stop and found out that I made the wrong turn, I decided that I would head back to the start/finish line, since I was so far behind. As I was getting closer to the starting point, someone from MS asked if I wanted a ride, but I said no. Then, like a vulture, the SAG wagon, which picks up fallen riders, started following me, but I never used them -- too embarrassed. I made it back tothe start (around 18-20 miles), got in my car and drove to the nearest gasoline station where I got gas, Gatorade, water, a double Cheeseburger at McDonalds next-door, and headed home. The air conditioning in the car felt great.
I told David Robinson that I held him in high esteem for his Navy Cross and Vice Admiral rank. I now hold him in higher esteem after he rode 60 miles that day.

&nbsp This note from John Aucella speaks of the benefits of riding in general and of the special experience of riding for a good cause. . &nbsp I was extremely pleased to help raise funds for the National MS Society and ride with the Navy '63 team in honor of Terry Abell. I knew Terry the past few years and he indeed was an inspiration with his attitude and continued desire to lead as full a life as possible under his handicap.
I really enjoyed riding with all the class members and meeting Terry's daughters. I began riding as a therapeutic exercise in earnest in the spring of 2003 as a way to get out of the house, to set my mind on new things, and meet new folks. Along the way I really became excited about the sport, started putting in long miles on a weekly basis, and even made a 350-mile cross country bike trip in Italy where I met Carroll Christy who is equally enthusiastic about the sport. Raising dollars for MS and riding with a wonderful group of folks seemed like a great thing to do. We both had a good time and look forward to participating in the event for many years to come
---

&nbsp That wraps it up for this month. Please remember that it's your turn to check in with me to share news about yourself, your family, and your classmates. We're depending on YOU, sir!



---