Shipmate Column
September-October 2012
---
CLASS OF 1963
Pres: CAPT W. Spencer Johnson IV, USN (Ret.)
Sec'y: Michael H. Shelley
164 Sweetwater Lane, Pisgah Forest, NC 28768
h: 828-862-4245 e: nstar@citcom.net
Web site: http://www.usna63.org.


For any classmate you can go to the Classmates Page and enter his name to read his current biography if available.
---
---

&nbsp I am sorry to begin this report with the sad news of the loss of another of our classmates. Dan Hitzelberger died from a heart attack on 10 July. His widow, Bonnie, can be contacted at 24 Wainwright Drive, Annapolis, MD 21401-2211.


&nbsp Remember that obituaries for many of our deceased classmates can be seen by clicking on their names in the Last Call section of our web site. Click HERE to see Dan's.
---
&nbsp Professional photos of Class of 1963 attendees at the Class of 2013 Ring Dance are now available for online viewing and purchase. Whether you were at the dance or not, I encourage you to visit the Strawbridge Studios web site to see and enjoy the images by clicking HERE . Once connected to the site, enter the password "1963" to view the images. Note that you can click on the plus sign at the bottom of each photo to enlarge the view.
---
&nbsp With memories of the Ring Dance still very fresh, Pete Carrothers sent this note and picture.
&nbsp I originally got my Naval Academy appointment from Arkansas and three years ago a mutual friend suggested I hook up with John Rex Spivey '13. Nancy and I met him at the Ring Ceremony back in 2011 and it turned out he is the President of the Class of 2013. John hooked me up with one of his classmates (also from Arkansas) that I gave my sword to when we were in Annapolis for the Ring Dance.

Nancy and Pete Carrothers with Class of 2013 President and date



&nbsp Since Nancy (who is Clay Dugas' cousin) was dating Larry Warnken back in 1963, I thought it only appropriate that I take advantage of the opportunity to bring her to the 2013 Ring Dance to celebrate 48.5 years of marriage. We met at June Week 1963, got engaged in August and married in December. And they said it would never last....famous last words.
---
&nbsp Pete is among the first of our classmates who have generously donated their swords to members of the Class of 2013. Another is Chuck Stone, who supplied this account of his gift.
&nbsp We had a special day on July 4 aboard MIDWAY in San Diego. For some time now, I have contemplated passing my sword to a member of the Class of 2013. Well, it so happens that Midshipman 1/c Laura Curtis, the granddaughter of very long time Supply Corps friends, Joe and Janet Bartel, is now somewhere in the top 30 in the Class of 2013. These photos were taken aboard MIDWAY in front of the A4 memorializing our classmate Stan Smiley, who was KIA in Vietnam. Along with about ten other family members, our classmates Vern Von Sydow and Don Jacobs attended, as well as Laura Curtis' father, Capt. Adam Curtis, USN (Ret.) '85, a Navy Seal. A key part of this presentation was reciting the Laws of the Navy (upon which the Link in the Chain program is based).

Sword presentation




Vern Von Sydow, Chuck Stone, Midn Curtis '13, Don Jacobs






&nbsp I have heard that Don Jacobs also donated his sword to a member of the Class of '13. I hope to have more information and a photo from that event to share with you next month.
---
&nbsp One of the offerings in the silent auction at our Mid-Term Reunion in San Diego last year was a round of golf at the storied Olympic Club in San Francisco, provided by Lew Blackwell. Reporting on the outcome of the bidding, Lew sent this illustrated note.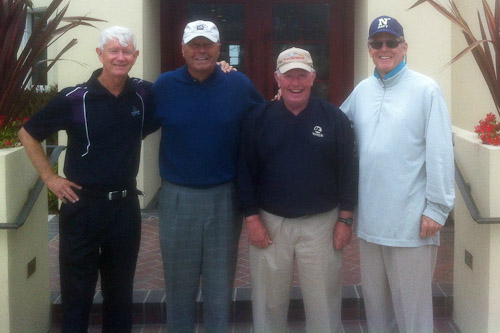 Stowell, Rubel, Cook, and Blackwell at the Olympic Club
&nbsp In this photo are the successful bidders, Ralph Stowell (who was also my Granby H.S. classmate), Tim Cook, and Mike Rubel with me at the Olympic Club on June 30 just before we played the U.S. Open Lake course. The course was still in its U.S. Open playing condition and was a humbling experience ... but we all finished ... and after a few adult beverages concluded that we had actually played very well and the next time we would bring it to its knees. It was a great finish to this charity event benefitting the 1963 Center for Academic Excellence at the Naval Academy.
---
&nbsp Here's another reminder from Ken Metviner, the fundraising chairman for our Class Foundation, about Planned Giving to the Naval Academy.
&nbsp It's amazing how many of us have included the Naval Academy in our wills or estates but have never notified the Naval Academy Foundation. Amazing, too, how many have failed to specify the Class of 1963 Legacy Fund as a restricted use for their bequests. Amazing, as well, how many assume their generosity will be recognized in the Company Competition even though their wills/estates fail to specify a dollar amount. Well, it is not too late to make it so .Get in touch with Dick Jones (rjones@fnfd.com)or your Company Rep. today! Speaking of the Company Competition to raise funds for our gift to the Class of 1963 Center for Academic Excellence, don't be last! Take the conn and get on board! We are the first class to have tried this, so it is up to us to set the bar high for those who follow.
---
&nbsp Here's a 2011 photo of three of our classmates, with this explanation from Dave Maples: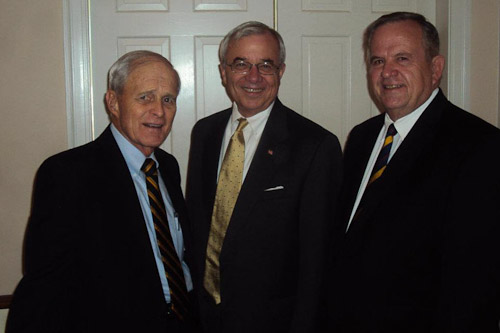 Stone, Degolian, and Maples
&nbsp This picture was taken at Rose Robinson's memorial service last year in Fitzgerald, GA. She was the mother of Chuck Stone and my wife, Roselyn Stone. Mrs. Robinson was 92. Felix Degolian was one of my best friends in the 19th Company from 1959 to 1962. We knew Chuck in the 18th Company. Felix has been close friends with Chuck since graduation, in the service and to the present. Felix was a bit of a connector between Roselyn and me when we first met seven years ago. In 2007, Chuck gave away the bride in Atlanta. That's the story anyway.
---
&nbsp Sandy Stoddard submitted this fine note with a photo of three roommates from the 22nd/10th companies.
&nbsp During Plebe summer, Jim Tolbert and Ron Jarvis lived across the hall from me, and then we three joined up for plebe through 2nd class years. Unfortunately, Jim had to turn back to the class of 1964 at the end of our 2nd class year, and Ron and I had to split for first class year due to unsynchronized striper positions.
&nbsp Early in July of this year, we old roomies got together at Jim's timeshare in Idaho for a wonderful mini-reunion. We played a couple rounds of golf and had great time re-living life at USNA.

Stoddard, Tolbert, and Jarvis



&nbsp Ron and his wife Emiley are happily settled in a Dallas suburb, after a very successful post-Navy career with Exxon. Jim lives in Yardley, PA, just north of Philadelphia. He followed up a very fine Navy career, where he had two major commands, with a gratifying second career running business career schools in the Philadelphia area. He lost his wonderful wife Nancy last year, after 47 years of marriage.
&nbsp I retired after 30 years in the surface line Navy, having had three commands at sea and several ashore. My second career was with the American Red Cross, where I was the Disaster Services Director for the North Bay area. My wife Bunny and I live in Santa Rosa, CA, north of San Francisco in the Sonoma County Wine Country. It amazes me that there are no other known classmates that live in this beautiful Napa/Sonoma region of the U.S. I have been very fortunate to have had Ron and Jim as my best friends for over 50 years, and we and our wives have been very close through the years.
---
&nbsp I know you'll be glad to see this news about another of our offspring who is forging a successful naval career. It comes from Alan McAnally.
&nbsp In July, Terry and I participated in the ceremonies and traditions as our son Chris took command of VR-55 at NAS Point Mugu, California. Flying the C-130 Hercules, the squadron provides around the clock, short notice global logistics support for U.S. Naval forces deployed and stationed throughout the world.
&nbsp Looking back it seems like such a short time ago that we were at his commissioning aboard CONSTITUTION. Chris earned his wings in 1995 and served aboard Theodore Roosevelt and Enterprise. It was a typical and beautiful Southern California day for the change of command and a weekend of festivities and good cheer. I have included a photo that was taken after the ceremony. It doesn't show my original sword (now his) which is certainly a little worse for wear but still did a great job of cutting the cake! In the photo are Terry and me, Chris, his wife Vivian, and our granddaughters Catherine and Elizabeth.

Alan McAnally's family at VR-55 change of command



---
&nbsp I was pleasantly surprised to receive this email from Tony Taylor in early July:
&nbsp As you may recall, I was originally a member of the Class '63 (originally 24th Co.), but midway through Youngster Year I bilged math and turned back to '64 and was placed in the 5th Company. I went on to graduate with the Class of '64 and retired from the naval service in 1987 after 23 years. My career was in the Surface Navy with most of my sea time serving on ships out of Norfolk, with the exception of my year as a Swift Boat skipper out of Danang.Bob LaGassa keeps me posted with many of the goings-on with '63.
&nbsp I thought you might be interested in my chance meeting today with Gerry Stiles '63. He recognized my USNA polo shirt as I was passing by Gerry and his wife at Costco in Sequim, WA. Gerry told me that they spend their winters in California and have lived near Sequim (a town on the Olympic Peninsula) for the past eight years. As I understand, Gerry went Air Force upon graduation and later retired in California after 20-plus years. He looked fit and well and younger than what must be close to 70 years old. He mentioned that he is associated with the Coast Guard Auxiliary and had just come from a tour, with his Coast Guard organization, of ALABAMA, a Trident sub in Bangor, WA.
&nbsp I still have many fond memories of my eighteen months as a member of the Class of '63, and especially of those classmates I knew during that time. It just so happens that my roommate at the time of bilging math was Roger Keithly, who also had to turn back to '64 at the same time. Roger went on to become an A-6 pilot and later got his law degree and served in the JAG Corps until he had met his obligation for having the Navy pay for his post grad education.
&nbsp Thanks for contacting us, Tony. Folks, wear those USNA ball caps and shirts when you're out in the world. You never know who you'll run into!
---
&nbsp With that encouragement to show your colors, we'll wrap up this month's news exchange. I'm hoping to receive your submission soon.



---