Shipmate Column
September 2006
---
CLASS OF 1963
Pres: CAPT W. Spencer Johnson IV, USN (Ret.)
Sec'y: Michael H. Shelley
25 Sweetwater Lane, Pisgah Forest, NC 28768
h: 828-862-4245 e: nstar@citcom.net
Web site: http://www.usna63.org.


For any classmate you can go to the Classmates Page and enter his name to read his current biography if available.
---
&nbsp Continuing a long-standing tradition, several of our classmates participated as a team in the Northern Virginia Multiple Sclerosis Bikeathon on 20-21 May. Bob Harper submitted this report about "Terry's Team," named to honor our late classmate Terry Abell.
&nbsp For the second year in a row, the MS Bikeathon was blessed with perfect weather. Participants included Brev Moore, Carroll and John Aucella, Pete Browne, and yours truly. Yet again, we established the team record for oldest average age (with my leadership for that) at the vaunted mark of 63 plus 2. Note that we count by prime integers. Left to right in this Official Event Photo are Brev, John, Carroll, Pete, and me.

Terry's Team" riders in the MS Bikeathon


Starting at Franklin Park (near Purcellville) on Saturday, we cycled 60 miles South to the Plains, then North through Middleburg, Purcellville, and East to the 4-H Fairgrounds near Leesburg. Sunday was a shorter route of about 40 miles that looped South then North to end back at Franklin Park. Pete and I only did the Saturday ride, while the others completed the entire 100 miles. Pete had a family gathering to attend, while some aches and pains convinced me of the better part of valor.

John and Carroll were the rabbits once again, with the rest of us only able to catch them when they stopped for lunch and at the 4-H Fairgrounds. It seems like their solid training routine (plus the rides over the mountains in Italy) really work. Oh well, we always promise ourselves to get in better shape for next year, maybe this time we will. The good news is that riding by the end of May protects us from the real heat of summer. The bad news is that poor weather in the spring can seriously cut into training time on the road. One opinion on the recent weather is that ever since Terry has gone to his reward, we have had an effective advocate for great Bikeathon conditions.

While still known to the MS Society as Terry's Team, we are all too aware of the seriousness of this disease. It is very inspiring to ride with the hundreds of cyclists that show up to make a statement and a stand against MS. While most riders are the age of our kids (or younger) each and every one is there on behalf of somebody else. It is a unique group, some of whom really labored to cover the miles. The MS Society has already raised over $480,000 from the riders, with pledges that will take them over $550,000. Terry's Team raised $2,500 toward a cure for MS and we will be out there again in 2007, the Good Lord willing.

Once again, let us thank each and every one of you who supported us with your prayers and contributions. Let me also suggest that you too could come out and ride next year, whether for 10 miles or more. The more the merrier, and the camaraderie is really super.
---
&nbsp "Sir, the Class of Two Thousand Ten is formed!" The cycle began anew at USNA on Induction Day, 28 June. Exceptionally proud parents Patsy and Lanny Cox were there in Tecumseh Court to see their daughter Emily begin her Midshipman years. Lanny sent this illustrated report of the day's events.
&nbsp Record rainfall (June was the wettest month in 51 years for the D.C. area.) did not dampen the excitement of Induction Day for the Class of 2010. The dawn brought breaks in the clouds and, by the time the Induction Ceremonies commenced at 1800, Tecumseh Court was bathed in sunlight.

Our daughter Emily's reporting time was 0800. We got over to the Yard at 0700 and found a parking place right next to Alumni Hall for the day. About 0730, we got in the line of candidates and their parents to make our way toward the Melville Entrance to Alumni Hall. The Superintendent and Mrs. Rempt were there personally greeting each new Plebe and their family wishing them well. At 0750 Emily gave Patsy and me a hug and strode confidently and purposefully to the door into Alumni Hall where a Captain Chaplain greeted her. .

When we next saw her (after the official Oath of Office and Induction Ceremony) she looked a little tired but calm and happy to be there. She didn't have the "deer-in-the-headlights" look evident on the faces of many of her new classmates. We went to Smoke Hall for the "ceremonial" swearing in, took lots of pictures, and then back outside to visit and to await the time when the new Plebes formed up into their assigned Company and Platoon for the march (sort of) into Bancroft Hall for evening meal. .

Emily '10 and Lanny Cox




Administering the oath to his daughter




Landon, Patsy, Emily, and Lanny Cox


Yesterday, we got our first letter from Emily and she said she had made points with her cadre by being the only one in her squad who knew the words to Navy Blue and Gold! Having heard the song and joined in singing it at all appropriate occasions over the years I guess it just sunk in - although I'm sure the words she sings are not the revised "gender neutral" words now sung. .

A few minutes after we arrived home in Texas on July 3rd (after 3,412 miles of driving), the phone rang and it was Bob Harper. Bob said he had just seen the most recent Shipmate and had read about Emily's coming Induction with the Class of 2010. He said the local (Annapolis) classmates would be sure to look after her and extended an invitation for Emily to stop by the `63 Tailgate Tent after home football games to "wet her whistle" before walking back to the Yard. .

All in all, it was a wonderful trip. Emily's perseverance and determination to gain her place in the Brigade finally paid off after three Letters of Rejection from the Admissions Office. She (and her proud old Dad) are happy campers!
---
&nbsp Hearing about yet another Plebe Summer should stir some memories of our own experiences. Do the math: 47 years have passed since the summer of 1959 when we made a mess of stenciling our White Works, tied uneven neckerchiefs, learned to march more or less successfully, adjusted to living with all that dust-catching metal furniture, did obscene amounts of P.T. (and some early-morning E.D. as well), and somehow survived on never enough food. Air conditioning? Not even in the classrooms! I recall that the chapel was cooled but maybe that was only my subjective response to being in a safe place.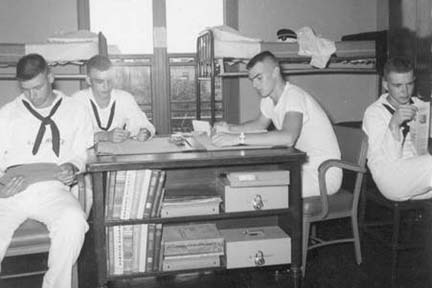 Sunday afternoon, Plebe Summer 1959
---
&nbsp Acting on his own nostalgic inspiration, our energetic webmaster, Steve Coester, has established a new section of the '63 web site devoted to photos from our Midshipman days and the months immediately after graduation. Already on view are images from Plebe Summer; the 4th, 9th, 14th, and 18th Companies; 3rd and 2nd Class Summers; and post-graduation. To view these, go to http://www.usna63.org., click on Wardroom -- Pride and Tradition - Old Midshipman Photos. Instructions are given for submitting some of those photos you may have in your scrapbooks and shoe boxes. Send them in now!
---
&nbsp Go Navy! Beat 'Em All!



---