Shipmate Column
September 2008
---
CLASS OF 1963
Pres: CAPT W. Spencer Johnson IV, USN (Ret.)
Sec'y: Michael H. Shelley
164 Sweetwater Lane, Pisgah Forest, NC 28768
h: 828-862-4245 e: nstar@citcom.net
Web site: http://www.usna63.org.


For any classmate you can go to the Classmates Page and enter his name to read his current biography if available.
---
&nbsp As of this writing in early July, many major wildfires are burning along the central California coast. This is an awful time for the dedicated firefighters who are confronting the blazes. I was surprised to learn, from Dave Moore, that one of our classmates is in the thick of things. Frank Pinney is Chief of the Big Sur Volunteer Fire Brigade. Hats off to him and all his volunteers. This picture of Frank appears on the Brigade's web site.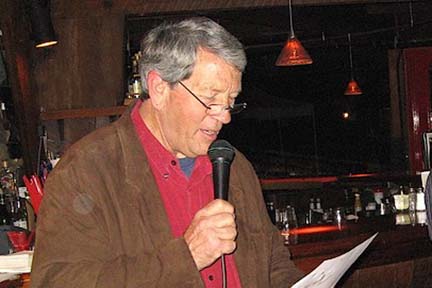 Fire Chief Frank Pinney
---
&nbsp This June I heard from Bill Covington '62, who sent this illustrated news of a chance encounter with one of our classmates.
&nbsp I spend six weeks a year working at an archaeological site in South Carolina named Topper. The site is located on the Savannah River in Allendale County. [Secy's note: It is the location of controversial artifacts believed by some archaeologists to indicate human habitation of the New World as much as 50,000 years ago.]

During the last week of my stay, a gent showed up to work at the site and upon his arrival at the campground he offered to "swab" the deck in the picnic shelter. That gave me a clue as to his naval background and we soon discovered our common USNA experience. Bob VanBuren spent the week working in my unit and we had a great time uncovering the past. I thought you and your classmates would enjoy seeing Bob at work. He needed constant supervision, but that was to be expected.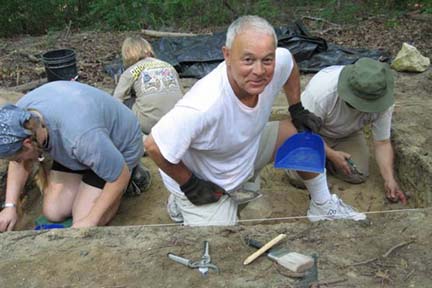 Bob Van Buren, volunteer archaeologist
---
&nbsp Thanks to Dave Durfee for submitting this dispatch from the Pacific Northwest:
&nbsp Another mini-micro 18th Company reunion occurred at Molback's Greenhouse and Nursery in Woodinville, east of Seattle, on Monday, 30 June. The Vaughan-Durfee committee met Melinda and Bob Nobbs as they passed through on a quick sweep of the west coast to include a stop in Monroe, WA, to visit Bill Pawlyk, followed by a visit with Bob's cousin in Shelton, WA. The honored emissaries from the East were in great spirits having spent the night at 33K feet and driving a rental car from SeaTac through city traffic to the reunion site. A great time was had by all, although though LuAnn Vaughan and Vivian Durfee were noticeably absent, even with the promise of a shopping spree at the huge nursery.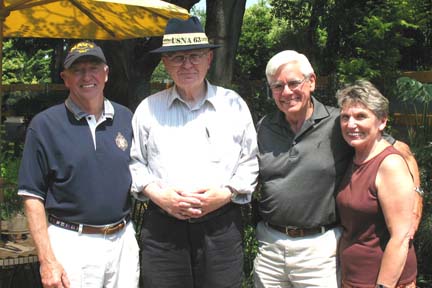 Denny Vaughan, Dave Durfee, Bob and Melinda Nobbs
---
&nbsp Speaking of reunions, here's a nice snapshot of 21st Company roommates Lee Pekary and Jim Oakes, taken during the afternoon cruise at our 45th Reunion this April.
Pekary and Oakes at our 45th
---
&nbsp I've been told that the Class of 1950 column in this issue will include a report on a visit this June to Midway Island to commemorate the 66th anniversary of the Battle of Midway. Our classmate Paul Tobin served as tour historian.
---
&nbsp Our final envy-inducing photo of the month came from Mike Blackledge. In June, he and Bonnie Nolan took one of the multinational tours offered through our Alumni Association. They spent a bit more than two weeks touring Switzerland, France, the Netherlands, and Germany. This picture was taken during their time in Switzerland.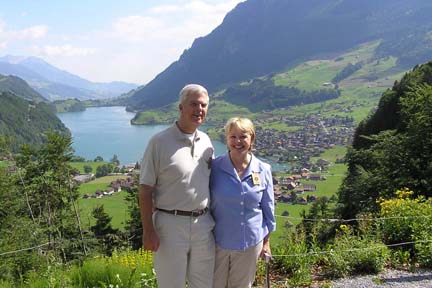 Mike Blackledge and Bonnie Nolan in Switzerland
---
&nbsp This is an unusually brief Class of 1963 report, much shorter than we're accustomed to. Help me out, please. I need your input to keep this thing going in fine style. Send me your news to be shared with our classmates. We depend on you.



---