Shipmate Column
September-October 2009
---
CLASS OF 1963
Pres: CAPT W. Spencer Johnson IV, USN (Ret.)
Sec'y: Michael H. Shelley
164 Sweetwater Lane, Pisgah Forest, NC 28768
h: 828-862-4245 e: nstar@citcom.net
Web site: http://www.usna63.org.


For any classmate you can go to the Classmates Page and enter his name to read his current biography if available.
---
&nbsp Secure for sea, folks, before you get underway to read this installment of our news exchange. What follows is the longest Class of 1963 Shipmate report ever.
---
&nbsp I have learned that our classmate Tom Aulenbach passed away on 19 May in Mankato, MN. I have few details but did learn that he was cremated and will be interred at the Naval Academy. I will publish any further details as I receive them.
---
&nbsp Sir, the Class of 2013 is formed! Induction Day at the Naval Academy on 1 July was the first major event in the Another Link in the Chain (ALITC) program bonding us with the class following 50 years after us.

The dedicated work of ALITC coordinator Ron Klemick and class president Spencer Johnson over the past year, with help from other classmates, made our participation smooth and memorable. Those of us who were there were unanimous in our excitement about the events of the day and appreciation for those who made the arrangements for our involvement. Ron sent this overview of our participation.
&nbsp The Class of 1963 set records for attendance at the I Day picnic and Oath of Office ceremony on 1 July 2009. There were sixty-three classmates and spouses at the 1030-1230 picnic on Worden Field. At 1615, 73 classmates mustered in Memorial Hall to honor our 29 classmates who died on active duty. Volunteers from our class pronounced "present for duty" on behalf of each of our fallen classmates. We all professed we were present for duty earlier after trying to look sharp in a military formation. The Marine Drill Team has no worry!

In a moving ceremony, RADM Peter Chabot '60 led us through the same oath we took 50 years ago.

The ladies representing Protocol for the Superintendent's and Commandant's Offices were kind enough to provide seating for our entire group for the 2013 Oath of Office Ceremony in Tecumseh Court. Our seats and view were a lot more comfortable than on 7 July 1959.

Upon conclusion of the Oath of Office, our class joined the 2013 plebes who had no family present at the Mexican Monument for some words of encouragement and use of cell phones to call home.

At 1900,the vast majority of classmates sprinted to the O Club for a cold beverage.
---
&nbsp Classmates and their ladies attending I Day included Andrea and Spencer Johnson, Sandy and Ron Klemick , Jennifer and Bill Earner, Judi and Dave Puckett, Sherry and Don Freese, Mike Shelley, Barb and Larry Marsh, Joanne and Ben Redd, Polly and Wilson Harris, Sally and Joe Bustamante, Jan and Pete Quinton, Mary Ann and Rich Miehle, Jim Ring, Steve Duncan, Chuck Stone, Steve Leisge, Paul Revere, Karen and Denis Meredith, Kate and Dave Maples, Bonnie and Dan Hitzelberger, Jerry Smith, Anne and Perry Miles, Bob Forster, Dave Driskell, Janice and Dick Kuntz, Sonny Glassner, Doug Davidson, Betty and Kent Maxfield, Bonnie and Daryl Rabert, Diana and Doug Zanzot, Kathy and Nick Nerangis, Jim Turner, Mario Fiori , Dick Jones, Al Griggs, Chuck Spadafora, Barbara and Birney Pease, Pete Featherstone, Doris and Tom Selden, Glynda and Mel Bunnell, Mike Cronin, and Bruce Webb.

Click Here for a photo gallery including images from classmates and photographers from the Alumni Association staff.

Here are two of those photos enlarged for better viewability: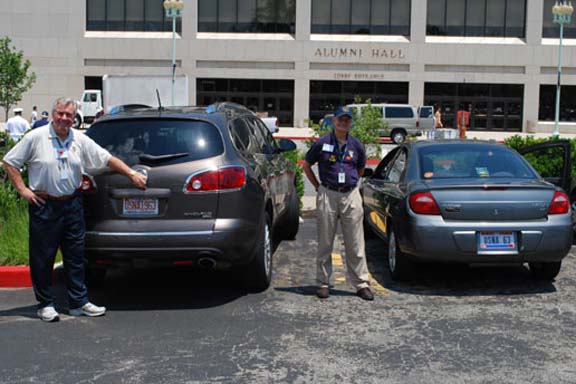 Klemick and Selden with their '63 license plates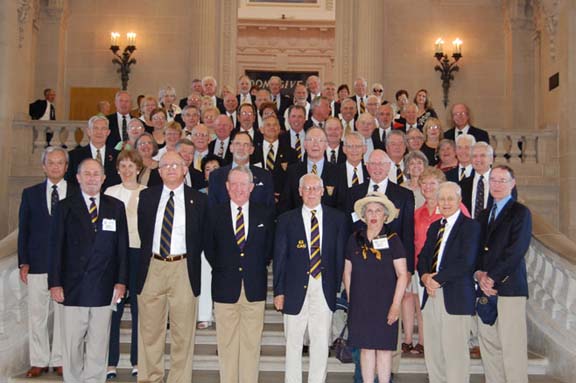 After the Mem Hall ceremony
---
&nbsp Please note and remember this milestone for '63: we now have a grandchild in the Brigade of Midshipmen. Pat Waugh told me that he spent the week around I-Day with his son, Steve '86, at Steve's home on the Chesapeake Bay in Lusby, MD. Sustaining the family tradition, Steve's son, Nicholas, was sworn in with the Class of 2013. The new Midshipman Waugh is the first grandchild of the Class of 1963 to enter the Academy.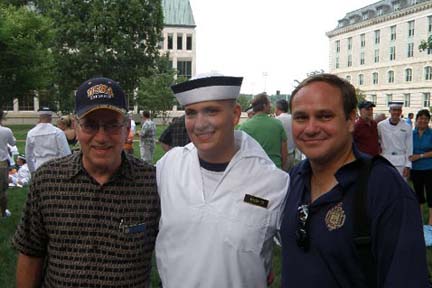 Three USNA generations - '63, '13, and '86
---
&nbsp This note and photo come from the parents' side of I-Day, sent by Patty Lutton, wife of Todd Lutton '84.
&nbsp My son, Nikolas Lutton was inducted into the class of 2013. I am writing this to send you a heartfelt thank you on behalf of him and our family. As we were spending some final minutes on Stribling walk on I-day, a very jolly group of members of the class of 1963 joined us in our celebration of our son's induction. We are a rather goofy family and were having a very nice time. The members of '63 took a few moments to share the fun with us, and we really appreciated it. It brought home the feeling that USNA really is a family. My husband, Todd Lutton is a member of '84 and will be celebrating his 25th reunion this year along with his classmates. I did want to send in a picture of the gentlemen from '63 with our son. It really made our day on July 1, and we thank you!

Doug Davidson, Larry Marsh (obscured), and Chuck Spadafora with Midn Lutton and family member



---
&nbsp In the weeks leading up to I Day, our classmates made presentations to 36 Alumni/Parents Club Chapters across the country regarding the ALITC, our class history, and the Class of 1963 Center for Academic Excellence at the Academy. Accounts of many of these presentations can be seen in the ALITC section of our web site. Just Click Here or on the heading titled "Another Link in the Chain 1963-2013" on the Wardroom page.

Be sure to check our web site often for full coverage of future ALITC events and past activities. One aspect of ALITC is that our class history appears in the 2009-2010 edition of Reef Points, preceded by a paragraph which includes this sentence: "The members of the Class of 2013 are supported by not only family members and friends, but by the members of the Class of 1963, fifty years their senior." To read our class history, Click Here.
---
&nbsp I want you to see this excerpt from an e-mail the Naval Academy's new Academic Dean and Provost Andrew Phillips sent to Class of 1963 Foundation president David Puckett about the Class of 1963 Center for Academic Excellence (CAE).
&nbsp I appreciate [your] e-mail and of course the very gracious support for the Class of 63 CAE!! We're all very grateful for the support provided by the Class of 1963. It has made such a big difference for midshipmen. In case you did not know, our attrition due to academic reasons is now down to about three percent over four years!! That's incredible - it used to be above 20 percent. And fully 75 percent of ALL midshipmen make use of the CAE every year now. So, I have no doubt that your support for that Center is a central reason for our success.
&nbsp A four-year academic attrition of only three percent is indeed incredible. (I wonder what it is at the other service academies and civilian universities.) As you know, our support for the CAE's highly effective programs will continue, especially through our fund raising effort to provide at least another $1,963,000 to the CAE as our class gift at our 50th reunion.
---
&nbsp Chuck Stone sent this good news about the Class of 1963 Mid Term Reunion.
&nbsp We here in San Diego thank you for responding to our survey of interest in participating in a Mid Term Reunion in the spring of 2011. The results of the survey were quite encouraging, with an overall response rate of about 43% (226 classmate responses of about 522 Classmates with known email addresses). Of these, 63% (142 classmates) were "Yes" (most were very enthusiastic)! Another 23% (52 classmates) were "Maybe" (with most leaning "Yes").

So, the USNA '63 Mid Term Reunion is a GO! Put March 31-April 3, 2011 on your calendar in ink!


We are negotiating a contract with the Manchester Grand Hyatt Hotel on the San Diego waterfront (for very "Navy friendly" prices) to be our Headquarters Hotel. Our Events Committee is hard at work on a schedule of events which we hope will include a San Diego Harbor Cruise, a Graduation Ceremony and Parade honoring our Class at the Marine Corps Recruit Depot, plus lots of time for meeting and greeting Classmates as well as multiple opportunities for sightseeing, golfing, touring, and just relaxing and enjoying San Diego!

We will continue working out the schedule details, and make a formal announcement sometime over the next couple of months.

You can help by passing the word to the roughly 50 percent of Class and Companymates who may not have received it directly.

Your San Diego Mid Term Reunion Committee looks forward to seeing you in San Diego in 2011! The Committee members are Jim Fontana, Phillip Marsden, Bill Hughes, Don and Charlotte Jacobs, Rich Wilson, Jim Thornton, Lee Cargill, JJ Hogan, Dave Meyers, John Ryan, Karl and Marirose Kozak, Vern von Sydow, Grant Telfer, Bob Easton, John Middleton, Chet White, Mike Rubel, Chuck and June Stone, and several others! We have received special help and support from Class Officers: Spencer Johnson (President), Mike Shelley (Secretary), Steve Coester (Webmaster), and David Puckett (President, Class Foundation) .
---
&nbsp Some of our mates are already warming up for the Mid Term Reunion. This note came from Alan McAnally in Irvine, CA.
&nbsp While I don't know if you could call it a 21st Company reunion, it was sure a pleasant afternoon. Bob Keeler recently got in touch with USNA and that was the catalyst for our Southern California lunch. I had not seen Bob since we graduated and I know it has been 20 years for Jim Fontana and John Middleton. At any rate, in July we had a long lunch in Irvine, which is convenient to where John, Bob, and I live. Jim had a longer haul up the freeway from the San Diego area but it wouldn't have been the same without him.

Middleton, McAnally, Keeler, and Fontana


We spent three hours reminiscing and catching up, telling tall stories that got more incredible and tales that get better with each telling. It didn't matter. It was great getting together and as we have all said at one time or another, "You've haven't changed at all" and "I feel like we are picking up where we left off."

We spoke a lot about the mini-reunion planned for 2011. As the self appointed company custodians of the remarkable weather and SoCal life style, we all look forward to seeing everyone out here in San Diego.
---
&nbsp Pete Vreeland provided this information about a memorial to a classmate.
&nbsp There will be a memorial plaque dedicated to Dan Moran and installed at his high school on the occasion of the 50th reunion of his graduating class at St. Ignatius in Chicago. The short dedication ceremony is scheduled for Saturday, September 12, 2009. Dan was a special friend and we often wonder what would have been if things happened differently. He gave his life for his country and we are all better off having known him and we cherish his memory.



---
&nbsp Tom Hall retired from his senior post in the Department of Defense this spring, concluding perhaps the longest term of military and civilian service to the United States by any member of the Class of 1963. Here is an account of Tom's retirement ceremony and some of the many awards conferred to recognize his remarkable accomplishments.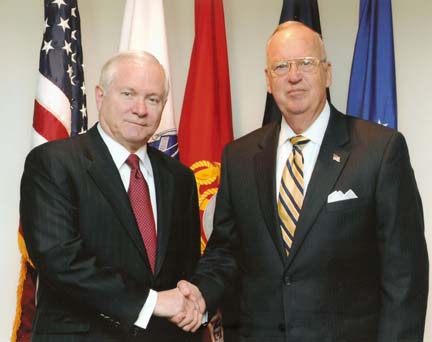 SecDef Gates and Tom Hall
&nbsp Secretary Tom Hall and his wife Barbara were recognized by Secretary of Defense Robert Gates in a ceremony conducted in the Pentagon upon the retirement of Tom as the Assistant Secretary of Defense for Reserve Affairs and as the Acting Under Secretary of Defense for Personnel and Readiness. Tom was the longest serving Assistant Secretary of Defense for Reserve Affairs in history, having served almost seven years under both President Bush and President Obama. He was awarded his second Defense Distinguished Public Service Award in part for overseeing the largest mobilization of Reservists since World War II as well as the transition of the Reserve Forces from a Strategic to an Operational Force. Previously, he had been awarded the Defense Distinguished Public Service Award for his service as the Chief Negotiator for the United States in the removal of U.S. Forces from Iceland and the renegotiation of the mutual defense treaty between Iceland and the United States. He also received, upon his retirement, the Chairman of the Joint Chiefs of Staff's Distinguished Public Service Award, the Commandant of the U.S. Coast Guard's Distinguished Public Service Award, Chief of the National Guard Bureau's Distinguished Service Award, and the President of the Naval Reserve Association's Distinguished Service Award. Tom has many military decorations with the highest being the Distinguished Service Medal. He is also a member of the Oklahoma Military Hall of Fame.

Barbara and Tom Hall with their son Tom and SecDef Gates


In the same ceremony, Barbara Hall received the Secretary of Defense's Exceptional Public Service Award for her sustained and superb support of military families throughout the world during her 46 years of marriage to Tom. With this retirement, Tom marks 50 years of service to our nation in uniform, as head of a veterans' organization, and as a senior Department of Defense official, Tom is not retiring fully, however, and, in his own words, "I intend to keep trying to make a difference in the lives of people and to look for ways to return in full measure to my country the blessings it has provided to me."
---
&nbsp Following a visit to the Academy this spring, Joe Kotowski sent this pair of then-and-now photos showing himself and his wife, Wendy, in front of the bandstand. I can't see much difference, except that the bushes in the background are taller.
| | |
| --- | --- |
| Wendy and Joe in 1989 | Twenty short years later |
---
&nbsp John Morgan submitted this illustrated report from a Recreational Vehicle Chapter event a few months ago.
&nbsp From the high peaks of the Colorado Rockies to the gold mines under those peaks, '63 was represented in Ouray, CO, last September. The event was a USNA RV Chapter "Come Around." Here is a picture showing Bill Bradford and me standing atop Imogene Pass between Ouray and Telluride, Elevation 13,114 feet, where hundreds of cross country runners raced the day before. However, we wisely made the trip via Jeep. Another day trip was an authentic rail ride deep into the Bachelor Syracuse Mine where we learned how mining was done over a century ago. Panning in the tailings pond got us a few flakes of real gold. Classes from '48 to '67 were represented in this "Switzerland of the West" adventure.

Bradford and Morgan in Colorado




Touring the gold mine



---
&nbsp Don Palen recently updated his current biography info on our web site. Here is an excerpt. I encourage you to look at his full entry there, and to add or update your own entry.
&nbsp Don currently lives in his condo, part of a 100 year old "Newport cottage" in Middletown, RI, spending most of his time playing retiree and dedicated bachelor. In 2000 he became interested in hot air balloons and after volunteer crewing for a year he bought his own balloon and started lessons, earning his private pilot's license in the fall of 2001 and his commercial license in the spring of 2004. His balloon, SKY DRIFTER, is seen at balloon festivals up and down the east coast from St. John-sur-Richelieu near Montreal to Miami, FL.

Don escapes the New England snow each winter, spending February through May near Tampa, FL, and flying his balloon locally there as well as in balloon festivals all over Florida and the south. He welcomes any classmates visiting the New England area and offers free expert Newport tour guide services and advice, including the best places to wine and dine. His email is palen63@gmail.com and regardless of his location (while in the U.S.) can be reached on his cell phone at 401-447-7993.
---
&nbsp Jim Metcalfe reports about an adventurous visit to Bermuda earlier this year.
&nbsp In February, Lisa and I joined Jeff Miles at the St. Georges Club in Bermuda for a week of fun - sometimes in the sun and often in the rain. Jeff and Carla for many years went to Bermuda for their anniversary in June. They often invited us to join them but we kept putting it off until retirement. When Carla became ill in the spring of 2008, they rescheduled their trip to February 2009. As our classmates know, in September Carla finally lost her heroic battle with cancer. Jeff invited Lisa and me to join him for the trip.

We had a great time in spite of the often wet and windy weather. Jeff gave us a complete tour of the island -- but he could never get us to ride the motorbikes as he and Carla had done. We ate and drank at many fine and interesting establishments and raised our glasses often in toasts to Carla. While February may not be the best time to visit Bermuda, we certainly enjoyed it.

Lisa and Jim Metcalfe with Jeff Miles in Bermuda




Getting water for the head


One of the problems was the temporary loss of most of the island's electricity in what we would call a nor'easter. The wind hit a steady 100 MPH and the rain came in horizontally. Almost all the fresh water in Bermuda comes from cisterns that catch rainwater. Unlike water towers, cisterns need electricity to pump water up. No electricity, no water. Period. We improvised, as you can see in this picture of me getting water from the swimming pool to prime the heads.
---
&nbsp In the "Oh, so close!" department, Tom Brandt reported that his niece, Megan Brandt, was accepted for admission to both the Naval Academy and the Air Force Academy Class of 2013. In the end, she chose USAFA.
&nbsp Megan was a 4.0+ student, stood first in her class, lettered in sports, and joined the Sea Scouts in High School. She was honor graduate and battalion commander in her summer training at Great Lakes Naval Training Center. The next summer she went to aviation training at NAS Dallas. She is a licensed pilot and flies in the Civil Air Patrol. All other things equal, she was really impressed with the Air Force Academy's flying club whereas the USNA has curtailed theirs. I almost had a family member in the 50-years-after-us class and although she won't be carrying on the Navy Tradition we are all extremely proud of her.
&nbsp Tom sent this photo of Megan receiving the USMC Scholastic Excellence Award at her high school's awards ceremony this May.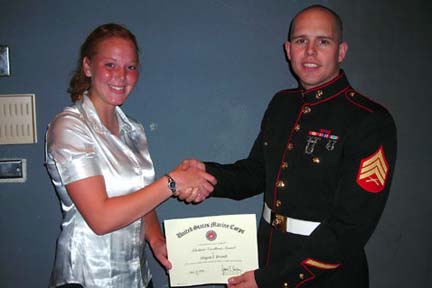 Tom Brandt's niece receives USMC award
---
&nbsp I want to be sure you know about Bugles Across America, a private organization dedicated to ensuring that proper honors are rendered at the burial ceremonies of all veterans. This background information is from the organization's web site:
&nbsp Bugles Across America was founded in 2000 by Tom Day, when Congress passed legislation stating Veterans had a right to at least two uniformed military people to fold the flag and play taps on a CD player. Bugles Across America was begun to take this a step further, and in recognition of the service these Veterans provided their country, we felt that every Veteran deserved a live rendition of taps played by a live bugler. To this end, we are actively seeking volunteers to provide this valuable service to Veterans and their families.


Bugles Across America now has over 5,000 bugler volunteers located in all 50 states and a growing number overseas. Since the Department of Veterans Affairs is expecting more than 1/2 million veterans to pass every year for the next seven years, Bugles Across America is ALWAYS recruiting new volunteers.
&nbsp Donations to Bugles Across America help sustain its service to veterans and their families. I invite you to visit their web site at www.buglesacrossamerica.org to learn more about their activities and, if you wish, to support their work.
---
&nbsp Hugh Schall has an extra copy of the 1963 Lucky Bag. If you'd like to have it, contact Hugh at hes@msn.com .
---
&nbsp Last year I shared with you a note from Bill Covington '62 about his volunteer archaeological work with Bob Van Buren. Thanks to Bill for sending this report about their work this summer.
&nbsp We just finished up another year digging at the Topper site in South Carolina. It was my great privilege to once more host Bob on my unit team. This year Bob brought his son, Bob Jr., who flew all the way from Colorado to be with us. I must say that it is a sad comment on our ages when our children start getting gray hair! Both Bobs did a wonderful job on site, but Bob Jr., who was a first time digger, proved to be a quick learner and by the end of the week he had become an expert trowel man; any archaeology team in the nation would be happy to have him work on their site. Now, Bob Sr. is another story. That's not a comment about '63 but once more the year group required frequent supervision! (This is an improvement from last year when Bob needed constant supervision.) Here are two pictures, the first showing Bob and Bob Jr. in our picnic shelter, and the second showing Bob on the left, me in the middle, and another of our unit mates, Amy, on the right. We had fun and I hope both guys come back next year.

Van Burens, father and son




Van Buren, Covington '62, and co-worker



---
&nbsp Thanks to John Peterson for telling me about Frank Pinney's retirement this May from his post as Chief of the Big Sur Volunteer Fire Brigade. Dave sent a copy of an article published in the Monterey County (CA) Herald about Frank's many contributions to his community during his service with the brigade since its founding in 1974. He became Chief in 1992. Here are some excerpts from the article:
&nbsp Residents say if ever there was an unofficial mayor of Big Sur, Pinney would be it. "If you've spent any time in Big Sur, you would certainly be aware of Frank's role and his presence," said the president of the Big Sur Chamber of Commerce. "He had such a prominent role for so long, really by force of his own personality and the time and effort he put into the fire brigade. He's always had a much larger view than the small town parochial view of what the fire brigade should be."

As much as he has contributed to the brigade, the retired chief said it has successfully grown into a major Big Sur presence because of community support and a commitment from the volunteer firefighters who often have to leave their day jobs to respond to a call. The brigade "represents the commitment of the community to take care of its own," Pinney said. "In the city, I don't think (a fire department) has quite the social meaning as it does here."

Pinney does not plan to completely disappear from the public eye. He is sticking with his day job as a general contractor, and he remains on the brigade's board of directors. But the time had come, he said, to hand over the brigade's leadership duties to someone else.
---
&nbsp Dave Moore came across these photos he had taken earlier this year and submitted them for you to see. I don't have details about where they were made but want to show you how good these guys look.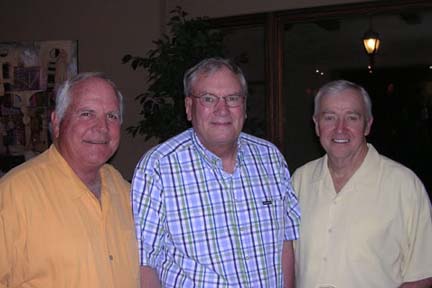 Dick Anderson, Dave Anderson, Denny Vaughn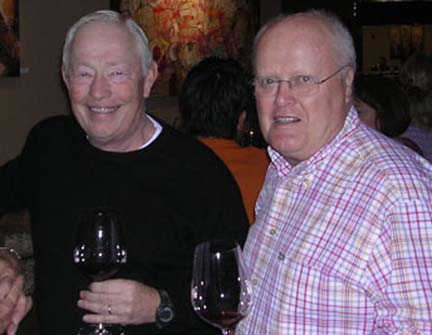 Tim Cook and Bob Borlet
---
&nbsp That's all for now, folks. The mail buoy is empty, so we need your input for this news exchange. My next publication deadline is the third week of September, so don't delay!



---