Shipmate Column
Stewardship 2011 2011
---
CLASS OF 1963
Pres: CAPT W. Spencer Johnson IV, USN (Ret.)
Sec'y: Michael H. Shelley
164 Sweetwater Lane, Pisgah Forest, NC 28768
h: 828-862-4245 e: nstar@citcom.net
Web site: http://www.usna63.org.


For any classmate you can go to the Classmates Page and enter his name to read his current biography if available.
---
&nbsp I regret to report that our classmate Major K. Howe died in Memphis, TN, on 15 February of respiratory and heart complications. His widow, Linda Black-Howe, can be contacted at 6365 Star Valley, Bartlett, TN 38134.



---
&nbsp Thanks to Dave Moore for this illustrated note:
&nbsp Since Gail and Doug Tozour decided to flee the Philadelphia weather and spend February in La Quinta, CA, the rest of us decided to have a party to mark the occasion. Left to right in this picture are Chuck Spadafora, Dick Anderson, Lew Blackwell, Denny Vaughan, Dave Moore, Tim Cook, and Doug Tozour.



&nbsp The group photo below shows Alan Hendershot '66, Dick and Helen Anderson, Chuck Spadafora, Tim and Valeria Cook (front), Lew and Lynn Blackwell, Gail Tozour, LuAnne and Denny Vaughan, Doug Tozour, and Lana and Dave Moore.



---
&nbsp Soon afterward, Dave left sunny Southern California to rendezvous with several classmates in Taos, NM, for a few days of skiing. En route, he stopped overnight in Albuquerque. Long-time local resident Mike Blackledge filed this account from that weekend.
&nbsp Dave Moore and Ed Hutcheson came into town on 5 February, the day before the Super Bowl. Bonnie and I arranged a dinner for Dave with Beth Paiz (daughter of Bonnie and the late George Nolan '63) and Albuquerque residents Pam and Ron Walters at Cervantes Restaurant. Ed arrived later in the evening, and the next morning he and Dave showed up at Bonnie's for breakfast. Their payback was having to dig her 90-gallon trash can out from under a 15-foot snow drift. I was useless, having undergone hip joint replacement surgery in January, but I did offer sage advice from time to time -- this is the Air Force way.

Beth Paiz, Ron and Pam Walters, Dave Moore, Mike Blackledge




Hutcheson, Blackledge, and Moore



---
&nbsp Here are some excerpts from an announcement I received recently:
&nbsp Dallas business coach and consultant Tom Meyer achieved Gazelles International executive coaching certification this past November, completing a rigorous program including leadership and service obligations. He joins a mere 32 other coaches worldwide who have earned certification status from Gazelles International, a premiere international executive education and coaching association, whose president said, "Tom is a great addition to our worldwide network of certified coaches and brings a particularly deep level of business process knowledge to the greater Dallas metropolitan area."
&nbsp Tom is a veteran in the consulting business, with more than 23 years of experience. He is founding president and principal of VENTOM & Associates Consulting. His clients have included businesses with international clients as well as the U.S. Navy.
---
&nbsp I reported last month that Jim Eckland is now working at the Oyu Tolgoi mine construction site in Mongolia. Jim sent a status report, from which I have excerpted the following:
&nbsp The weather at this remote mining site is unusually "not as cold" for the past month (15 degrees below zero Celsius), but I am told that the March winds coming are bitter. Here's a picture of me in the issued warm Arctic gear (parka, pants, boots, etc.).

Jim Eckland in Mongolia



&nbsp Oyu Tolgoi currently employs over 6,000 employees and contractors, of which over 3,900 are Mongolian nationals. Thirty-eight companies are operating at the site, and there are expats from 30 countries. Flags from the different countries fly high near the main buildings at the site. Ninety percent of the workforce will be Mongolian once production begins.

A portion of the Oyu Tolgoi mine site



&nbsp The site will gain 1,000 more workers in next month as we all work to finish the job early and start production of copper and gold slurry from the deep vertical mine shaft and open-pit mine. Both metals are at highest price/ton ever. The mine's production should yield grand profits.
&nbsp I am looking forward to R&R in late February, after my first eight weeks here. I shall meet my wife, Claudia, at Malaga in southern Spain. It should be warmer there.
---
&nbsp The Stamford (CT) Advocate reported in February that Chris Munger is now the Special Assistant to the Mayor of Stamford for Emergency Planning and Training. His role will be to provide planning and training in such areas as anti-terrorism, school safety, workplace violence and storm relief. After service in the Marine Corps, Chris served in the FBI for 25 years. His experience includes major criminal investigations and foreign counter-intelligence operations, with 16 years as the police training coordinator for the bureau's New York office. Following his career in the FBI, he worked for the Rockland County Police Department in New York for 15 years.
---

&nbsp Next month I'll have a report on the Class of 1963 Mid Term Reunion in San Diego. If you can't be there with us, why not stage a mini-reunion with one or more of your classmates who live in your area? Get together for a meal and good conversation. You know you'll be glad you did.
&nbsp Several USNA alumni who live in our part of western North Carolina lunch together on the third Thursday of every month. Here's a photo from a recent lunch at Marco Trattoria in Brevard. Left to right are Jim Spencer '64, Vince Putiri '67, and '63 classmates Mike Shelley, Bernie Grabowski, Bill Hollenack, and Joe Kotowski. This began as a '63 event but we decided to bring the junior classes on board to receive our supervision and guidance. It's a struggle.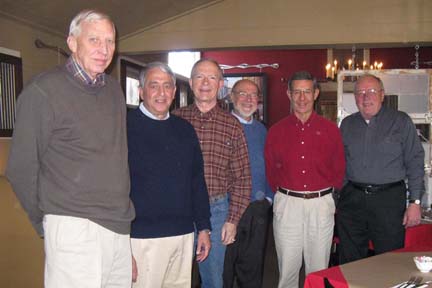 USNA alumni in Brevard, NC
---
&nbsp
---
&nbsp That's all for now, folks! Keep sending those e-mails, letters, and photos.



---