Shipmate Column
January/February 2005
---
CLASS OF 1963
Pres: CAPT W. Spencer Johnson IV, USN (Ret.)
Sec'y: Michael H. Shelley
25 Sweetwater Lane, Pisgah Forest, NC 28768
h: 828-862-4245 e: nstar@citcom.net
Web site: http://www.usna63.org.
Remember that you can click on any underlined Classmate's name to view his Current Biography.
---

&nbsp This is a double issue of Shipmate, so there is not nearly enough space for the news and pictures that have come to my attention since the last issue. You'll have to go to our web site to see the complete package. I hope you're already in the habit of looking there first, to see ALL the news and to see it well before it appears in the magazine. This column, for example, was posted at USNA63.org in mid-December. I always send a publication announcement by e-mail via our Company webmasters as soon the latest column is online. Be sure to tell me if you change your e-mail address!
---

&nbsp The results of the election of Class of 1963 officers were announced by e-mail and on our web site in November. For those of you who are print readers only, here is the new slate of officers: President - Spencer Johnson, Vice President - Jim Ring, Treasurer - Al Sherman, Secretary - Mike Shelley. We are all grateful for the exceptionally dedicated and effective work of our past President Steve Duncan, who served us for seven very challenging years. Please read Steve's final letter to the Class of 1963 in the Hot News section of our web site.
---

&nbsp Folks, I want to remind you about a unique part of our web site - the Gold Pages. These are a classified directory of business products and services offered by our classmates. Take a look at what's already there by going to the home page and clicking on Wardroom, then Classmates, then Gold Pages. To add your business to the listing, contact webmaster Steve Coester by e-mail at scoester@cfl.rr.com. We are adding a new classification for "Good Works/Charities" to include information about such organizations headed by our classmates. This does not include efforts or events that are local activities of larger organizations.
---

&nbsp Phil Marsden has submitted two contributions and many photos for this month's news exchange.
&nbsp On my last trip to the Pacific Northwest, I had the pleasure of visiting Sherri and George Miller in their beautiful new home in Allyn, WA. George has retired from his second career as a nuclear engineer at Rocky Flats and he and Sherri have relocated to Allyn to be near their grandkids. With a home overlooking the local golf course, George is compelled to work on his golf game to hold his own with all of the other retirees. It was great to see them both and to catch up on past history.

George and Sherri Miller welcome Phil Marsden



&nbsp Next, Phil reported on the traditional Army-Navy game party at June and Chuck Stone 's home north of San Diego on 4 December. June and Chuck merit special recognition for hosting this great event year after year. I believe it's the longest-running Class of 1963 event of any type.
&nbsp June and Chuck Stone welcomed 26 fellow classmates and guests to their hilltop home in Escondito to celebrate Navy's latest convincing football victory over Army. A great time was had by all, with a number of new out-of-town faces to add to the usual colorful local mix. Attending were Sue and Lee Cargill, Ginnie and John Dolby, Bob Easton ('64), Jim Fontana , Janet Gushue, Jerry Harken , Nancy and Charlie Helsper, Maureen and JJ Hogan , Karen and Steve Hoy, Don Jacobs, Donna Kaup, Jim Lasswell and friend Cindy Jensen, Phil Marsden, Betty and John Middleton , Dave Moore, Sally and Win Orgera, Jay Roberts , Jan and Mike Rubel, John Ryan , Grant Telfer , Sandi and Jim Thornton, Vern VonSydow, Rich Wilson, Sheila and Mike Bonsignore, Dottie and Bill Hughes , Linda and Chuck Spadafora , and Lewis Im (USNA '04).

San Diego Beat Army party




Party attendees




Jim Fontana, Rich Wilson, Bill Hughes




Jerry Harken, Jay Roberts, Dave Moore




JJ Hogan, Cindy Jensen, Jim Lasswell, Mike Bonsignore




Donna Kaup, Chuck Spadafora, Chuck Stone




Mike and Jan Rubel




Win and Sally Orgera, Steve Hoy




Lewis Im and Sheila Bonsignore




Chuck Stone, John Ryan, Jim Fontana



&nbsp Phillip noted that Lewis Im was the photographer for the group photos. Mike Bonsignore made a point of contacting Lewis when he came to town and brought him to the party. There is an interesting story behind this, as told by Mike.
&nbsp Lewis Im is the son of a Korean-American who owns a dry cleaning business in New York city near our apartment. Lewis has a firstie bother, Luke, who has also been selected for special warfare ops when he graduates next May. Both these young men are fine examples of the American dream, as it makes no difference what economic strata they originate from. Both these men have worked hard to distinguish themselves as candidates for the Academy and as midshipmen. I met both men through their father, and invited Lewis to the A/N festivities because he was just starting his BUDS training at Coronado.
---

&nbsp While the West Coast folks were whooping it up at the Stones' home, a lively group of our Washington, DC, area classmates assembled to do their part in cheering Navy to another glorious victory. Jim Ring describes the event for us.
&nbsp Several members and spouses gathered at Army Navy Country Club for the 105th playing of the Army-Navy football game. With Navy one win away from tying the series, this was an important game. We set up shop in the grill, taking two large tables right in front of the large screen TV. For some reason, there were not many Army fans. That was probably a good thing, because those in attendance really enjoyed the outcome. David Robinson , Kent Maxfield , Tom O'Brien, Phil Rooney , and Frank Edrington were joined by Fran and Tom Reemelin , Jackie and Mike Cronin , and Kate and Jim Ring. Mike's eldest daughter Jenny (8th grade) also came along and was proud to show her Blue and Gold clothes. Hot dogs were free and we had a few pitchers of suds. A grand time was had by all and the only misplay occurred when some of us couldn't remember the new words to the Alma Mater. We hope to do this next year and try to rival the West Coast party at Chuck Stone's house.

For you historians, please note that the total score (42-13) equaled the total score in '59 (43-12), when we were plebes. Some recalled that we were a two-touchdown underdog to Army then, exactly the same line but with Army the underdog this time. All were happy that Army did not pull off the upset we did. As I recall, we were exceedingly happy to carry on until Christmas leave.
---

&nbsp David Byrnes reported his participation in a spirit event at Patuxent River.
&nbsp It's been a while since I've heard of any 63ers making a float and being in a Beat Army Parade so I thought I'd send this picture from the parade here on base. I felt "ancient" when a recent grad came up to me and asked, "Why are you wearing that old rag?" (Army B robe) and even more ancient when a lady came up to me and said she had her dad's Army B robe that he' won. He was Navy class of 53. Our float didn't win a prize but I felt my contribution helped us win the party.

Dave Byrnes (far left) at the Beat Army parade



---

&nbsp Lou and I drove up from North Carolina for Homecoming weekend and had a great time touring The Yard, lingering in the beautifully refurbished Memorial Hall, shopping in the Mid Store, and hanging out with classmates and friends. Saturday's tailgate and football game (34-20 over Delaware) were worth the trip all by themselves. The premier event of the weekend was the class party hosted again by Carla and Jeff Miles at their lovely home in west Annapolis. Among the classmates I saw during the weekend - most accompanied by their ladies - were John Truesdell , Tom Reemelin , Al Sherman , Ron Wills , Forrest Siburt , Art Weidner , Jeff Miles, Mike Rubel, Harry Hirsch, Ian Sargent , Miller Detrick , Mike Krause, Phil Rooney , Joel Gardner , Steve Leisge , Lew Blackwell , Charlie Minter, our Honorary Classmate Charlie Minter '37, Peter Quinton, Mike Bracy , Bernard Grabowski, Bill Hoefling , Paul Tobin, Spence Johnson, and John Kelly. That's a good turnout for an "off" reunion year!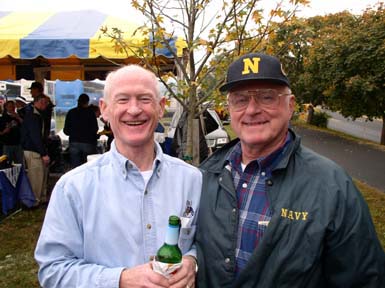 Tom Reemelin and Al Sherman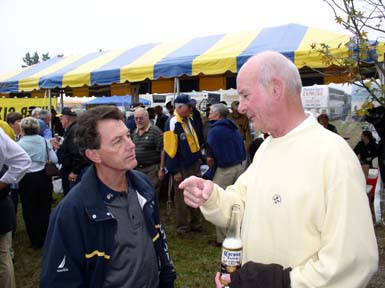 Forrest Siburt and Harry Hirsch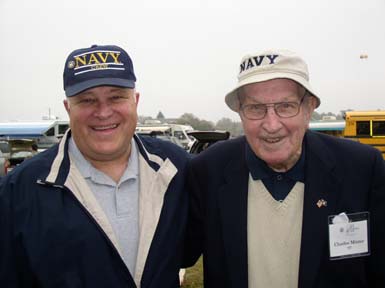 Two Charlie Minters -- '63 and '37 / '63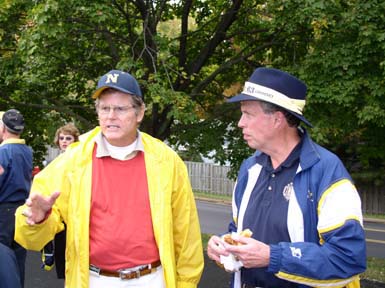 Lew Blackwell and Jim Ring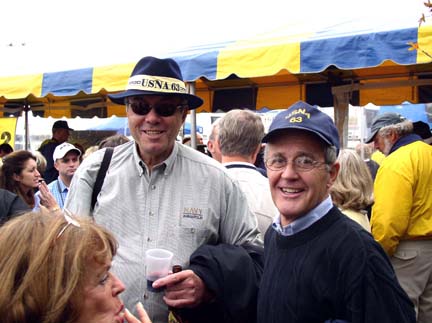 Mike Krause and Miller Detrick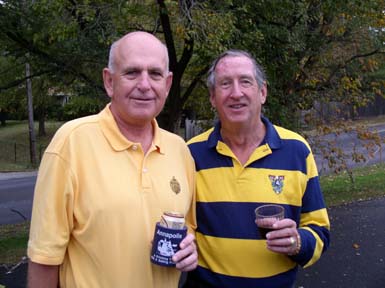 Jim Lloyd and Joel Gardner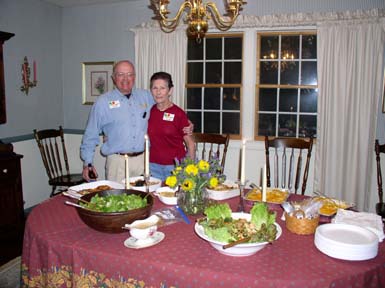 Jeff and Carla Miles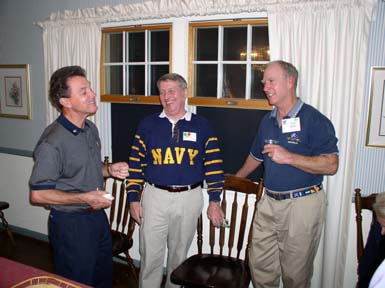 Forrest Siburt, Jim Metcalfe, and John Kelly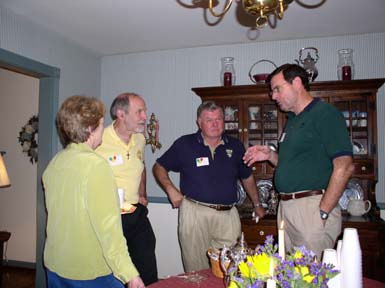 Lynne Tobin, Bob Harper, Spencer Johnson, and Paul Tobin
---

&nbsp Navy's tune-up for the Army game was a 54-7 victory over Rutgers two weeks earlier. Jim Metcalfe filed this after-action report:
&nbsp Lisa and I arrived from Virginia Beach just after the start of the game, so we missed the pre-game tailgate. On hand for that were our new President Spence Johnson, Sandy and Ron Klemick from North Carolina, Jim Lasswell and Chester "Whitey" White from San Diego, Al Sherman , Bruce Webb , and Fran and Tom Reemelin . Fran was seen later handing out her chocolate M&M's cookies in Section 105. Phil Rooney also attended, and reported that his daughter Kate had passed the California bar -- no mean feat. That is probably the toughest bar exam in the country. Forrest Siburt was flying solo because Arlene looked at the weather and forecast rain. Unlike some of us, Arlene is smart enough to not even go out into the rain. Lisa and I stayed with Carla and Jeff Miles and as always had a delightful time. They will be spending Christmas in Hawaii with their daughter Erica '87 and grandchildren. Son-in-law David Smith '87 is CO of a P-3 squadron that will be deployed to Southwest Asia, so Erica would be alone (and she may also have some active duty as a Reservist). Which reminds me, while I was channel surfing during a break in the Monday Night Football game, I hit the History Channel's "Tactical to Practical" program. There was David explaining the evolution of the P-3 from the Lockheed Electra and how it is currently employed.
---

&nbsp Judy and Norm Shackelton have returned to the U.S. after nearly four years in England. They are living in Manassas, VA, and Norm works with Lockheed Martin. Their son Cory (USNA '98) is a Marine Corps CH-46 pilot who will be heading back to Iraq in February for a seven-month tour.

Also relocating were Connie and Tom Brandt , who recently moved from Ohio and are now settled in Boynton Beach, FL.
---

&nbsp Mike Blackledge retired from Sandia Laboratories in Albuquerque in December, a few days before I began preparing this month's news for you. I expect him to give us a full account of the festivities, which were planned to be something very special.

I had lost contact with Eric Krieger, so I enlisted Mike to track him down. This is the result:
&nbsp I caught up with Eric by phone and had a great talk and catch-up. He is still living at his Albuquerque home but is employed by Los Alamos, so he makes the 1 hr 15 min commute (each way) daily. The good news is that he is in the perfect job for him: Quality Assurance for a highly respected National Laboratory. He says he is having the most fun since command, and loves working with the young, smart folks, an opportunity he has not really enjoyed since his Navy days. The bad news is that right after he signed on with LANL, all heck broke loose with regard to Los Alamos and public relations problems. Beyond regular security concerns, part of Eric's job is also with the Suspect and Counterfeit Items program, very big throughout the DOE.
---

&nbsp Noted maritime artist Dick Whalen, our classmate, was commissioned by the Hampton Roads Navy League to paint the commissioning portrait of USS RONALD REAGAN (CVN-76) for the Ronald Reagan Presidential Library and Museum in Simi Valley, CA. This is a significant honor. Dick presented his painting of the ship to Nancy Reagan last year. Dick had to overcome numerous difficulties in painting a ship that had not been completed. Here is an excerpt from a Naval Media Center transcript I found on the internet.
&nbsp REPORTER: Dick Whalen was commissioned by the Hampton Roads Navy League to paint the commissioning portrait of USS RONALD REAGAN, and even though it takes less time to paint an aircraft carrier than to build one, Whalen had his work cut out for him.

UNIDENTIFIED: This painting was somewhat unique because we actually commissioned Dick Whalen in January, a little bit later than what we normally do. Whalen had to paint the carrier's portrait while working around shipyard restrictions and the fact that the ship was not completely built. And, at the time, Dick will tell you, that the ship was in the shipyard, and there were some things that had to be done. And I think that you have to be somewhat of a magician to try to paint a ship that's in the process of being built. But, Whalen did not have to rely fully on his imagination. He used models, blueprints and interviews with sailors

WHALEN: To paint USS RONALD REAGAN as it would look when finished, I went and talked with the air wing folks to find out how the aircraft patterns are actually working, how the aircraft are being moved around on deck, where they would be fueled, where they would be stored, where they would be set up for catapult shots and the like. It's working with the crew that helped this retired Captain feel like he's back in the saddle again. That's also a lot of fun just being able as a retired navy guy to stay close to the fleet by doing something like this. It almost is like being on active duty with a lot less of the hassles.

REPORTER: This painting not only helped Whalen connect with sailors, it gave him a chance to honor the president the ship is named after.

WHALEN: Knowing that the original canvas was going to the Reagan family made it just extra special. It became an honor as well as yet another commissioning painting. So, in that regard, it was really pretty neat to be able to do something good for an individual who had done so much for his country and the United States Navy.
---

&nbsp Thanks to Rich Weidman for sending this alumni snapshot and note.
&nbsp Attached is a photo of (L-R) Denny Tomlin, me, and Rick Wakefield -- a strong '63 contingent at the recent South Carolina Low Country Chapter ( Hilton Head, SC) annual picnic. All the added post-graduation poundage is due to having just finished a huge low country bar-b-que dinner.

Low Country classmates



---

&nbsp Phil Marsden concluded his report about the Army game party (above) by saying that " Vern VonSydow has been honored as the "Teacher of the Year" from his school district. Vern has worked selflessly for many years as a teacher for some of the "most challenging" kids in San Diego. I feel very proud to have him as a classmate."

This write-up from the Sweetwater Union High School District's web site describes an award-winning program that Vern leads. It recently received the California School Boards Association's Golden Bell award, which goes to only the most innovative and results-getting educational strategies.
&nbsp Another Golden Bell goes to the Palomar Navy Internship Program led by Vern Von Sydow. This partnership -- praised by former Attorney General Janet Reno and Navy Secretary Richard Danzig -- connects hard-to-reach teens with academic and employment training. Over 1,200 young people previously at risk for dropping out have completed their high school diploma and gained specialized skills for entering the workforce. Participants have stated that the experience has been invaluable and has provided them with a new sense of commitment, responsibility and self-confidence.
---

&nbsp Another of our classmates who is making a positive impact on at-risk youth is Virginia Beach resident Huey Long . Jim Metcalfe talked with him recently and filed this summary.
&nbsp Huey taught in local high schools and worked with troubled youth after a 30-year Navy career (He retired as a Captain -- was an E-2 squadron CO and NFO). He has now started working with Commonwealth Challenge at Camp Pendleton, the Virginia National Guard base next to Dam Neck. The Commonwealth Challenge uses a military style organization and lifestyle to try to save at risk youth who are about one step from incarceration. My hat's off to Huey or anyone who takes on such a challenge.
---

&nbsp A press release in early December reported the appointment of Peter Savage as President, CEO, and Chairman of Hammerhead Systems, Inc., of Mountain View, CA. Hammerhead is the market leader in migration solutions which accelerate the delivery of new Ethernet and legacy services. Pete joined Hammerhead as an experienced CEO having successfully led Applied Digital Access as President and CEO, and Chairman of the Board, from a small private company through an IPO, three acquisitions, and an acquisition by Dynatech. He was also President and CEO of Hatteras Networks, President and COO of Commterm -- Alliance Telecom, and President and COO of Xylogics.

In 1995, Pete was Southern California High Technology Entrepreneur of the Year. He received the San Diego World Trade Center AT&T International Business Leadership Award, and the American Electronics Association Outstanding Contribution to the San Diego Community Award in 1996. In 2000 Pete was selected as Director of the Year by the Corporate Directors Forum. He has been a Director of the San Diego Economic Development Corporation and Chairman of the Educational Excellence Committee - Partnership for the New Economy.

Pete holds an M.S. degree in Applied Solid State Physics from Columbia University. He was first in his class at the Naval Nuclear Power School, and served in Atlantic Fleet fast attack submarines.
---

&nbsp That's a wrap! Resolve to make 2005 the year that you finally take the plunge and send me some news about yourself and classmates you've been in contact with. It's easy to do, but most of you who enjoy seeing this regular source of news have never contributed. It's your turn now.



---