Shipmate Column
January-February 2012
---
CLASS OF 1963
Pres: CAPT W. Spencer Johnson IV, USN (Ret.)
Sec'y: Michael H. Shelley
164 Sweetwater Lane, Pisgah Forest, NC 28768
h: 828-862-4245 e: nstar@citcom.net
Web site: http://www.usna63.org.


For any classmate you can go to the Classmates Page and enter his name to read his current biography if available.
---
&nbsp This has been an unusually busy autumn for our Class and many of our classmates. I have a lot of news and information to share with you, so let's get to it.
---


&nbsp I am sorry to report the death of our classmate George Paul Love, who passed away on 18 November in La Mesa, CA. Two tributes to his life can be seen in the Last Call section of our web site by clicking HERE . Paul's family may be contacted at 11616 Calle Simpson, El Cajon, CA 92019.
&nbsp The Class has also suffered the loss of two great ladies. Carol Lachata passed away on 14 November, and Carol Harper died on 22 November. Both women had courageously battled health issues for quite some time. Don Lachata can be contacted at 8100 Lorie Court NW, Silverdale, WA 98383 and Bob Harper can be contacted at 202 Providence Road, Annapolis, MD 21401. A testimonial to Carol Harper can be seen on our web site by clicking HERE .
---
&nbsp The Class has received a letter from Dr. Bruce J. Bukowski, who became the new Director of the Class of 1963 Center for Academic Excellence in July, reporting on its accomplishments and plans. He closed the letter by saying,
&nbsp "I can think of no better impact one can have on the Academy than what the Class of '63 has decided to invest in. Over 750 midshipmen a week utilize the services of the Academic Center. Your commitment impacts the lives of midshipmen every day and not many classes can say that. We look to continue to improve on the Center in the next year and are excited to move to the Levy Center next August which puts us even closer to the Brigade. The staff and I thank you for all your support. You can count on us to continue to explore new ways to provide academic support for all Midshipmen at the United States Naval Academy. "
&nbsp To see the full text of Dr. Bukowski's letter, click HERE.
---
&nbsp The Class of 1963 Foundation is intensifying its focus on the Legacy Gift our class intends to present to the Center for Academic Excellence to commemorate the 50th anniversary of our graduation. I have information to share with you about some exciting activities now underway. Let's begin with this note from Ken Metviner, the Vice Foundation Chairman for Fundraising:
&nbsp By now we should all be up to date on the terrific success of the Class of 1963 Center for Academic Excellence and why we are so excited to provide funding for it as our 50th Anniversary Legacy Gift. If anyone is still uncertain about this program, please contact your Company Representative or any Class or Class Foundation officer or trustee.
&nbsp We are really enthusiastic about the new simplified irrevocable bequest form, that can be executed without having to change your will or trust.
&nbsp Also of note is the Company Competition, to see which Company has the most donors to the 63 CAE. A number of our Companies have taken this challenge very seriously and have already developed op orders for immediate execution. Don't be last !!
&nbsp Phillip Marsden, who is coordinating the fundraising competition between USNA Companies, sent this description of how it will work.
&nbsp Recent correspondence from the Class and Foundation officers has described our Class's fund drive to raise $6.3M for our 50th Reunion gift to the Class of 1963 Center for Academic Excellence. One of our 50th Reunion fund-raising objectives is to achieve 100 percent classmate participation in the 63CAE Fund drive. To promote achieving this objective, a Company Competition has been established. Here is how it works:
&nbsp A list of the number of 63CAE donors from each company will be compiled. (2) This number will be compared to the total number of graduates from each company to obtain a company donor percentage. (3) This percentage will be updated monthly and displayed on the Class website. (4) The leading companies in donor participation will be recognized at the 50th Reunion.
&nbsp To learn more about the competition, visit the Foundation section of our web site by clicking HERE .
&nbsp Another element of the 63CAE fundraising efforts will be a raffle for some truly distinctive prizes. The drawing will be held at the Class Dinner at our 50th Reunion on 25 October 2013. Mike Krause is coordinating this program. He provided these details:
&nbsp Following the success of the Silent Auction at the Mid Term Reunion, the Class of 1963 Foundation and the Class of 1963 along with the 50th Reunion Committee led by Bill Earner are supporting a Raffle to be held during the 50th Reunion in Annapolis. Among the items to be raffled are a complete set of twelve place settings of antique Wedgwood Naval Academy plates, cups, saucers and bread plates donated by Mike and Kathy Krause in the Staffordshire Blue color. The background on these plates can be reviewed by clicking HERE .
&nbsp In addition to this very desirable and collectable set are a weekend for two couples at Mike and Sheila Bonsignore's home in Santa Barbara, CA, and a bottle of Chateau Laffite Rothschild from the exceptional Bordeaux vintage of 2000 donated by Ken and Sandy Metviner.
&nbsp The value of each of these raffle items is in excess of $3,000. A total of 1,000 raffle tickets will be sold starting in the spring of 2012 until the 50th Reunion at $50.00 each. The full $50,000 proceeds from the raffle will support the Class of 1963 Center for Academic Excellence.
&nbsp If you have any questions about the raffle, or would like to donate a similar item as a prize, please contact Mike at 203-249-4876 or by email at msk7736@gmail.com .
---
&nbsp Well, 2011 has not been a banner year for Navy football, but the spirit of '63 was undiminished at our tailgate parties in the stadium parking lot. Here are some pictures taken before two of the home games. The first was submitted, with this brief text, by Eileen Dabich.
&nbsp This picture was made at the '63 tailgate at the Navy vs. Southern Mississippi game on October 8th. We had 10 midshipmen join us at the tailgate before the game. They received special permission to get out of the "March On." These midshipmen hold leadership roles in their class and were a fun and interesting group to talk to. They will make fine officers one day.

Class of 2013 leaders attend the Class of 1963 tailgate



---
&nbsp Class of 1963 turnout for this year's Homecoming game was excellent. This group picture taken at our pre-game tailgate shows most of us who were there. Left to right in the front rows are Doug Davidson, Bill Witcraft, Mike Shelley, Sam Garde, Forrest Siburt, Nick Nerangis, Phil Rooney, Jeff Miles, Eli Dabich, and Pete Quinton. Standing are Bruce Webb, John Kelly, Al Sherman, Dan Hitzelberger, Spencer Johnson, Ron Wills, Mario Fiori, Mike Nadolski, Chet White, Bill Earner, Norm Shackelton, and Steve Leisge. Others not pictured include Bob Forster, Ken Metviner, and Ian Sargent.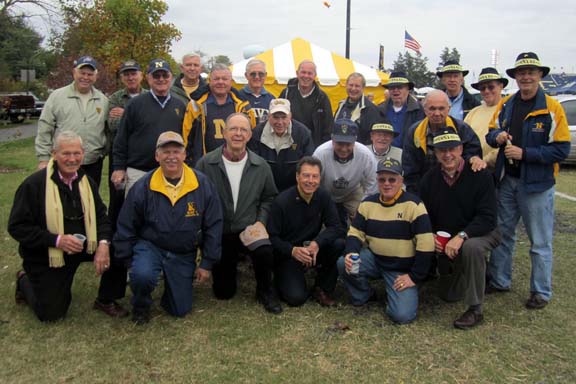 Homecoming 2011



&nbsp Tailgating resumed after the game ended with Navy on the short end of a close score. That evening, Jennifer and Bill Earner graciously hosted the Class of 1963 Homecoming party at their lovely home in nearby Crownsville. Attendance was large and the party spirit prevailed.
---
&nbsp Don Freese sent this photo showing Navy alumni at the Bay Pines Sports Bar in St. Petersburg, FL, on 12 November. Their cheer reflected Navy's victory over SMU that day. Left to right are Dick Petrucci '61, Ollie Donelan, Dick Ardavany '61, and Don.



---
&nbsp Travis Beard brings us up to date about himself and his family.
&nbsp Here is a photo of our family taken last November, shortly after Veteran's Day, for the occasion of our son Cliff's graduation from the U.S. Army Special Forces Qualification Course (Airborne) at the John F. Kennedy Special Warfare Center and School at Fort Bragg, NC. Since that graduation, Cliff (Staff Sgt.) has been assigned to a SF team in the 7th Special Forces Airborne Group, located at Eglin AFB, FL.
&nbsp At the end of last year, Joan retired from nursing (over 45 years worth) and is now into knitting, scrap booking, quilting and taking care of our black lab, "Judge", who's 12 years and has two bad knees. My main activities now are a furniture restoration business (part time work) and weight training, stretching so that I can justify cookies and pies.
&nbsp The big dude in the photo is Travis R., our oldest son, who with wife Andrea and two little boys reside in Basalt, CO (near Snow Mass and Aspen). He is a maintenance manager for a property development company and Andrea is a marketing manager for a entertainment events company in Aspen. All of us (including Cliff) plan to spend this Christmas (and our youngest grandson's birthday) together at Travis and Andrea's home in Basalt.

The Travis Beard family



---
&nbsp Larry Marsh sent this illustrated news in October.
&nbsp Last week, Mal Wright and I attended the very enjoyable and memorable WILL ROGERS (SSBN 659) Reunion in San Diego. Mal and I commanded that fine ship from 1977-81: Mal was CO, Blue Crew; I was CO, Gold Crew. We made 13 turnovers together. While in San Diego, we also had the opportunity to visit and lunch with Phil Marsden, who is often referred to as "Mr. San Diego" by all of us. Mal, Phil, and I had a great mini-reunion as we reminisced and listened once again to some of Mal's endless supply of entertaining sea stories. Is there anything he forgets?

Larry Marsh, Phil Marsden, and Mal Wright



&nbsp I noted that Larry and Mal had shared command for four years, which struck me as unusually long, so I asked Larry for an explanation. Here's his response:
&nbsp "Back in the day" when Mal and I were in command of WILL ROGERS, the last of the "41 for Freedom" SSBNs built in the 1960's, having command tours of about four years was not that unusual. The Submarine Force was expanding rapidly during the then height of the Cold War, but the number of Submariners was not and the inventory of those of us "Qualified for Command" was especially at a premium. Hence, the longer tours. What was unusual was for the two of us to be USNA Classmates and to be in command of the same ship simultaneously for such a long time -- virtually all of our mutual command tours. Of note, Mal eventually went on also to command ALABAMA (SSBN 731), one of our first Trident submarines. I believe he may have had more submarine command time than any of our Classmates, and that, because of his early junior officer and executive officer service also in SSBNS, he made more SSBN Strategic Deterrent Patrols than any other Classmate. He was "THE Strategic Submariner!" for our Class, that's for sure!
---
&nbsp Thanks to Chris Munger for relaying this note that Charlie Newkirk submitted for our Shipmate report.
&nbsp I am now in my 40th year in Germany and still teaching half time. This gives me more time for soccer, among other things. This picture is from a game we played last month against a much younger team from Heilbronn. Not only did we have the snazzier uniforms but we won the game 6-2. I am second from the right in the back row. I must admit I only played one 45-minute half.

Charlie Newkirk in a German soccer league






---
&nbsp Dave Bingemann reports on this year's Terrible Tenth (8th Company) Reunion:
&nbsp As you know, since 1994 we have been holding Company mini-reunions almost annually somewhere in CONUS in between the five year homecomings in Annapolis. We try to split our get-together's equally between the two coasts, and usually have roughly half of us attending each event.
&nbsp This year 17 of us gathered from October 11-14 in Novato, CA, just north of San Francisco, hosted in grand California style by Georgia and Hugh Schall. We thoroughly enjoyed two full days of tours. The first day was spent in western Marin County seeing the magnificent redwoods of Muir Woods, visiting the 1906 Quake center, observing the rutting wild elk, and buying out the local cheese stop. The second day was spent in wine country in and around picturesque Healdsburg, sampling some great local wines. Fortunately, we did that tour by bus.
&nbsp We all had a wonderful time. But most importantly during our get-together, we all enjoyed good fellowship and the wonderful food and hospitality of the Schalls in their scenic and warm California home. The weather was ideal, Fall foliage was just beginning, and the scenery, especially western Marin County, was just spectacular.
&nbsp Those attending were of course the Schalls, plus the Augurs, the Bingemanns, the Breens, the Bucks, the Calvanos, the Deegans, the Dickersons, Ollie Doherty, the Earners, the Ellisons, Hahn, the Helspers, Kell and Sandra, Kleinfeldt and Lynne, the Oatways, Patterson and Cathy, and the Spears. With spouses and friends, we numbered 34 strong. This photo of the entire group was snapped in the Schalls' home.

Tenth Company mini-reunion



&nbsp In 2012 we return to the East Coast and plan to reconvene again sometime in the Fall in Charleston, SC, with hosts Margarette and John Boley doing the honors.
---
&nbsp Apropos of the Tenth Company, I just learned from Dick Augur that he has joined the ever-growing list of our classmates who show their USNA pride on their personal vehicles.
&nbsp I went to the Local Motor Vehicle Office here in Tucson and asked for the USNA '63 license plate. It turns out that Ed Howard up in Phoenix got there first, so I had to settle for plain old "USNA." This photo was taken at the '63 Mid Term reunion in March with my fellow Terrible Tenth Survivors Earl Buck, Bill Earner, Charlie Helsper, myself, and Bill Hahn

Dick Augur displays his licensed pride



---
&nbsp Mike Krause tells us that many members of the 23rd Company convened again this year for their annual sportsmen's expedition.
&nbsp This photo was taken during our annual fishing trip. This year we went to Barriles, Baja California Sur, to fish in the Sea of Cortez in late October. Our thanks to Mike Rubel who brilliantly conceived, meticulously planned, and flawlessly executed this adventure. We had a great time, marred only by JJ Hogan breaking his leg on a Zip Line ride. He was moved to Balboa Hospital in San Diego to recuperate. A full PowerPoint summary of our trip, including photos and a narrative by Harry Hirsch, are on the 23rd Company page of our web site. Click HERE

23rd Company in Baja California



&nbsp Shown left to right in the picture are (sitting) Len Eaton, Jim Thornton, Steve Leisge, and Mike Krause; (middle row) Sherwood Zimmerman and Steve Hoy; (back row) Vern VonSydow, Dick Ortwein, Bob Maier, Harry Hirsch, Mike Bonsignore, and Mike Rubel; (there in spirit but hospitalized) JJ Hogan, III.
---
&nbsp Don't forget that members of the Class of 1963 and their ladies have been invited to attend the Class of 2013 Ring Dance on Saturday, 19 May. This will certainly be a most memorable occasion for the Link in the Chain senior class and the junior class as well. The uniform will be tuxedo with white jacket or mess dress white jacket. Mark the date now and plan to come with your best girl to rechristen your ring and enjoy a most memorable evening with the Class of 2013.
---
&nbsp That's all for now, folks. I hope you'll continue to treasure and enjoy every day.



---