Shipmate Column
March 2009
---
CLASS OF 1963
Pres: CAPT W. Spencer Johnson IV, USN (Ret.)
Sec'y: Michael H. Shelley
164 Sweetwater Lane, Pisgah Forest, NC 28768
h: 828-862-4245 e: nstar@citcom.net
Web site: http://www.usna63.org.


For any classmate you can go to the Classmates Page and enter his name to read his current biography if available.
---
&nbsp Our faithful correspondent Phillip Marsden sent this report about a large contingent of classmates and their ladies who shared the grand experience of watching Navy's seventh consecutive gridiron victory over the Black Knights of the Hudson.
&nbsp After a three-year break, June and Chuck Stone hosted the southern California contingent of the Class of 1963 to an Army/Navy game victory party. On a gorgeous, sunny day a good number of classmates hit the deck early, including several new faces to augment the usual suspects. Besides our hosts this photo shows Bob and Sharon Borlet, Wayne Clark, Bob Easton, Jim and Pat Fontana, Bill and Donna Gentile plus Bill's sister, Kate Treesuwan with friend Christine Sullivan, JJ and Maureen Hogan, Steve Hoy, Bill and Dottie Hughes, Donna Kaup, Karl and Marirose Kozak, Phillip Marsden, Alan and Terry McAnally, Dave Meyers, John and Betty Middleton, Dave and Lana Moore, Win and Sally Orgera, John Ryan, Grant Telfer, Vern and Gail VonSydow, and Rich Wilson. Present but not shown are Bob Easton's daughter, Lara, who took the picture, and Terri Ryan. A wonderful time was had by all as we celebrated Navy's 7th win in a row.

Southern California Beat Army party



---
&nbsp Phillip Marsden forwarded an e-mail from Steve Hoy saying that our classmate John Ryan has served as Board Chair of the Camp Pendleton Armed Services YMCA since January of last year. This particular YMCA is very involved in taking care of the families of our deployed troops. Steve said that they do an especially great job during the Christmas season. A 1972 graduate of Georgetown Law School, John was selected by the Ninth Circuit Court of Appeals in 1986 to serve as a bankruptcy judge sitting in Santa Ana, CA. Judge Ryan became the chief of the Ninth Circuit Bankruptcy panel in 2000. After 21 years on the bench, he retired in early 2007.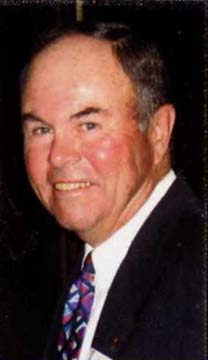 John Ryan
---
&nbsp Sonny Glassner sent this news about a great honor recently conferred on George Tracy.
&nbsp As you know, George Tracy was inducted into the National Lacrosse Hall of Fame on November 8th at a ceremony attended by almost forty Navy teammates, classmates, former coaches, and friends and family. The prior evening Laurie and I hosted a dinner party for George, his wife Kay, and many former Navy teammates. Here is a photo of George, Ian Sargent, and me that was taken at the dinner party.

Sargent, Tracy, and Glassner


The induction ceremony was spectacular and George was humbled by the well deserved recognition that puts him in league with the legends of our wonderful sport. In George's acceptance speech he shared his honor with his teammates, coaches, classmates, and the Academy. This was truly a magical evening for George. I cannot remember having seen him so happy other than when he married Kay.

At George Tracy's induction into the National Lacrosse Hall of Fame


This picture was taken at the induction ceremony and includes many old Navy Laxers. In the back row from left to right are Brian Lantier '65, Tom Mitchell '61, Pat Philbin '64, Carl Ripplemeyer '60, Greg Murphy '70, Pete Taylor '64, and Don Chinn '61: in the front row are me, George, and Denny Wedekind '65. Here is the citation for his award as it appears on the Hall of Fame web site.

A three-time All-American, Tracy was one of the leaders on Navy teams that captured three consecutive USILA national championships from 1961 to 1963. An attackman and midfielder, Tracy was captain of the 1963 team and played in that year's North-South game, scoring three goals.

Tracy developed his early lacrosse skills on Baltimore's Bolton Hill, inspired in part by his lacrosse cousins, the Corrigans. A three-sport athlete at Loyola High School who also played football and ice hockey, Tracy contributed two goals to help Loyola win the final MSA hockey championship in 1956.

Following the 1962 collegiate season, Tracy had the opportunity to help pioneer televised box lacrosse as a member of the Collegians team that won the championship of that summer's Maryland series.

Tracy's awards include the U.S. Naval Academy's Stuart Oxnard Miller Memorial Lacrosse Cup (1963), the Navy Commendation Medal, Vietnam Campaign Medal, Vietnam Service Medal (three stars) and the National Defense Service Medal. Following his collegiate career, Tracy played and coached for 15 years on the club level in five different states. He has been inducted into the USNA Athletic and US Lacrosse Greater Baltimore Chapter halls of fame. He is being inducted as a truly great player.
&nbsp Click HERE to visit the Lacrosse Hall of Fame web site.

A Baltimore Sun blog has a long, interesting article about George. See it by clicking HERE
---
&nbsp Here is a challenge from Dave Moore,
&nbsp My current project is electronically rounding up the 15 members of my Plebe Summer Crew. As I have told others, I check the declining number of brain cells by trying to recall the people who were with me during those challenging weeks of our transition. Try it for yourself: See how many of the names of the 15 boys in your plebe summer crew you can remember.
&nbsp I don't know about you, but that left my brain bent as I struggled to name more than three. One more thing: A photo of Dave's "Go USNA" California license plate has been added to the gallery of more than 20 vanity plates and their owners on our web site: Click Here to see them. If you have such a display of pride and spirit on your vehicle, send a photo to our Webmaster Steve Coester at scoester@cfl.rr.com .
---
&nbsp Speaking of Steve, here is an illustrated account he sent in December.
&nbsp Linda and Jerry Smith are on a multi-month cruise on their Gemini 105Mc Catamaran, traveling the Intracoastal Waterway from Annapolis down to the Florida Keys. I had met them a couple of years ago via email after Ollie Donelan had suggested to Linda that she contact me for my birding photographs. Linda is an avid birder. They contacted Yvonne and me along the way and again when they anchored in Cocoa, FL, on December 17. We met face to face for the first time in quaint Cocoa Village for a nice dinner and lots of USNA and Navy stories. Jerry said he sort of remembered me from the Academy but my mind wasn't that sharp. We had lots of common acquaintances from USNA and Jerry's Naval Aviation service -- particularly his squadron mates, Ollie Donelan, Lee Pekary and Vern Browne. The next day I took them and their friends from Annapolis who have a second home near us to the Viera Wetlands where the birds cooperated and we had a wonderful morning of birding. Later, Yvonne had a great lunch prepared for us at our home. We all gathered on their boat for cocktails and more tall tales while watching the sun set. It's always wonderful to greet classmates whether we knew each other before or not. The Academy bond is so strong and the tales so outrageous. It was a fine way to spend a couple of days. Here are some photos from their visit. The first shows Yvonne, Jerry, Linda, and me. The second is their catamaran "Bongo." The third pictures Jerry and Linda.

At the Cocoa, FL, marina




Linda and Jerry Smith's catamaran




Linda and Jerry Smith


Ten days later, Yvonne and I attended a wedding in Fernandina Beach, north of Jacksonville. While there, we visited Fort Clinch State Park and watched the sunrise over the Atlantic Ocean. Since Ann and Tom O'Brien moved to Orange Park near JAX last February, we decided to surprise them on the way back home. Gracious as always, they received us and our pooch, Snuffy. We brunched at their country club and had a great chat for a couple of hours before again hitting the road.. Here's a snapshot of the four of us.

The Coesters and the O'Briens



---
&nbsp Marine Lieutenant Julie Jordan Naughton '07, daughter of Judy and Jerry Jordan, deployed to Afghanistan in October. As a Motor Transport Platoon Commander, she has been working out of Camp Bastion, a British Base in the Southern Helmand Province. From there, she is planning and executing re-supply convoys to combat forces in the region.
---
&nbsp Dave Byrnes undertook a solo hike on the Appalachian Trail in October. Here's a portion of his trip report.
&nbsp I started the hike the evening before Hurricane Ike came through and woke the first morning with my tent coming apart from the wind. I stayed in the trail shelters for the other nights so the only weather problems were cold nights and foggy mornings. I trekked through scenic Vermont for about 83 miles. I lasted for six nights and seven days -- my knees aren't what they used to be.

Sixty-three Quality miles plus twenty Beat Army miles add up to the miles I hiked during seven days. To differentiate a Quality mile and a Beat Army mile consider the analogy of doing push-ups for a Navy score then adding one more Beat Army push-up. For me, that last push-up often required summoning up a special effort. The Beat Army miles were the times when the trail went straight up a wall of rocks or at the end of the day when I was exhausted and the campsite was still two miles ahead.

I headed south from the New Hampshire state line with a 55 pound pack and a goal to make it to Massachusetts. Early the first morning on the trail, remnant winds of Hurricane Ike swirled through my tent and ripped it apart. A beautiful day followed the storm as I hiked south. This picture was taken by two German tourists staying at a ski lodge that I passed.

Dave Byrnes on the Appalachian Trail


At a trail shelter, I met two local young men from a near-by town in Vermont. They offered me a shot of Jack Daniels. Talking with them I discovered they were roughing it for a couple of days before they had to report to Paris Island for boot camp. I gave them a couple of USMC History questions to which they promptly gave correct answers. I had to chuckle when they I told them my background because their demeanor changed, the Jack Daniels bottle disappeared, and I was "Sir'ed" the rest of the evening. I felt very proud of our next generation of Marines.

On the trail I met an elderly lady hobbling toward me. She had braces on her legs and ski poles in her hands. She told me of her medical problems and that both of her knees replaced. She didn't carry a pack. Her husband drove a camper and would arrange to meet up with her each night. I was impressed with her determination and fortitude. For the next several miles I thanked God for my good health. Also, along the trail, I kept a mental note of god's other gifts to include; wild turkeys, one moose, four chipmunks, beautiful birds, some insects, plants, trees, water, sunshine, fog, mud, rocks, lots of green, red and golden leaves.

The trail is marked by white blazes and I carried a map, but I still managed to get lost at times by taking a wrong turn. Then, there were times when it seemed like no one had ever been there before. The blazes disappeared but there was only one possible way to go along the side of a rock face. "Yeah, there is another blaze on that tree around the bend." On the sixth evening mother nature got started on her fall foliage design. That night my water bottle froze and the spring was laden with ice. The only colors I was concerned with were my red cheeks and blue toes. I'd hiked about half way through Vermont, maybe Massachusetts next time? The next road I came to I departed the trail and headed for town. I shuffled along the road and stuck out my thumb. I was surprised that after a few vehicles passed a young man in a beaten-up farm truck stopped and gave me a welcome ride into town. At the local general store I was told about a bus to Killington where I could get a motel room. The pack, somewhat lighter of food, and I just made it to the motel room.
---
&nbsp Jim Stageman is the latest of our classmates to add his personal information to the Current Biographies section of our web site. A physician, Jim has for many years been on the faculty of the medical school at the University of Nebraska, where he is currently the Assistant Dean of Graduate Medical Education. Take a look at Jim's and other submissions in the Classmates area of the site, then add your own! Current biographies.
---
&nbsp Happy Saint Patrick's Day, folks! I and several of our Carolina classmates took the USNA entrance physical in Charleston, SC, on Saint Patrick's Day (my birthday) 50 years ago. Remember that this is our big anniversary year: five decades since we were sworn in as midshipmen and the Class of 1963 was formed on 7 July 1959. Send me some reminiscences from that year. I'll publish them so we can all share the memories.



---