Shipmate Column
May 2009
---
CLASS OF 1963
Pres: CAPT W. Spencer Johnson IV, USN (Ret.)
Sec'y: Michael H. Shelley
164 Sweetwater Lane, Pisgah Forest, NC 28768
h: 828-862-4245 e: nstar@citcom.net
Web site: http://www.usna63.org.


For any classmate you can go to the Classmates Page and enter his name to read his current biography if available.
---
&nbsp USNA class leaders were taken by surprise recently when the Alumni Association suddenly announced that henceforth Shipmate magazine will be published only five times each year. This will be only half the number of issues you have been receiving.

You are accustomed to receiving monthly issues of Shipmate, exceptions being the January/February and June/July double issues. The newly announced schedule will be January/February -- March/April -- May/June/July/August - September/October - November/December. The new schedule is already in effect. The column I prepared for the March 2009 issue will not appear in print - though it has been on our web site since early January -- and the April column was published in a new March/April combined issue.

Taking advantage of the availability of our web site, I intend to continue to prepare Class of 1963 columns on the same schedule that Shipmate has followed for many years. These will be posted on our web site, and I will send an e-mail to you via our Company Webmasters to alert you to each new column. Look for the column early each month except April and November.

The size limit for columns in Shipmate will not change, so I will continue to take advantage of our web site to publish news and photos that do not fit into the magazine. On the flip side, you can be assured that everything that appears in the '63 column in the magazine will have already been available to you at USNA63.org.

We would be severely constrained without our wonderful web site, which was established by our late classmate Bill Kennedy, polished by Mike Blackledge, and managed for the past several years by Steve Coester. Steve has been devoted to his work as our Webmaster and has made many improvements in the content and usability of our site.

Thanks to you, classmates, for your news submissions and continuing support of our efforts to gather and share information about the Class of 1963 and our families. You make it all possible, so BZ and keep up the good work by sending your news and photos to me!
Best wishes,
Mike Shelley
---
A.B. Taylor


&nbsp I regret to report the death of our classmate Alan "A.B." Taylor on 27 February at his home in Eltingville, NY. He had taught math for 20 years at Fort Hamilton High School in Brooklyn. He also enjoyed teaching at Arthur Kill Correctional Facility, where he prepared prisoners for the GED exam. He was known for his spirit of giving and, after having been diagnosed with throat cancer, would frequent area Veterans Affairs hospitals to offer counseling and support to terminally ill patients. His family can be contacted at 9 Andrea Court, Staten Island, NY 10312. An article published in the Staten Island Advance newspaper shortly after his death was titled, "Serving with a quiet, dignified courage. To Navy vet and beloved teacher Alan Taylor, no accolade could be more fitting than 'well done.'" To see the article, Click HERE..
---
I learned only recently of the death of Elaine Stiger, who died from cancer in Sterling, VA, in October 2008. She was the widow of our classmate Bob Stiger, who passed away in 1999.
---
&nbsp Larry Marsh was among the '63'ers who attended the Distinguished Graduate Award ceremony at the Naval Academy on 6 March to witness this high honor being conferred on our classmate Ron Terwilliger. Larry sent a photo and a note saying,
&nbsp Many members of the Class of 1963 were present, and a few of us were able to remain after the ceremony to get our picture with Ron. I only regret that some didn't make it into the picture. Here are, from left to right: Kneeling -- Satch Baumgart, Kent Maxfield, Larry Marsh. Standing -- Eli Dabich, Nick Nerangis , Mike Cronin, Joe Bustamante , Ron Terwilliger, Spencer Johnson, Jim Ring, Mel Bunnell.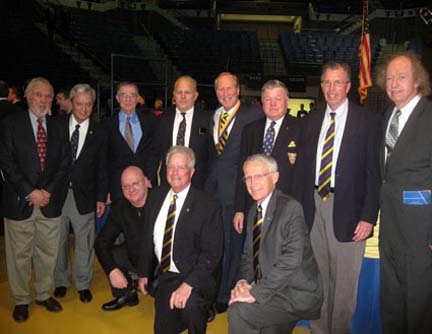 At the Distinguished Graduates ceremony
---
&nbsp Ollie Donelan sent this picture of himself and his son, John, at the Super Bowl. He said he was having a good year -- the World Series in October, the Super Bowl, and tickets for the ACC basketball tournament in March. "Of course, I have no money," he joked, "but a lot of Americans are in that boat right now."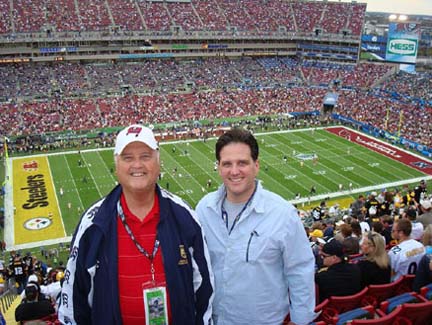 Donelans at the Super Bowl
---
&nbsp Have you done something special lately -- climbed any mountains, for instance? I was surprised to learn that two of our classmates had climbed Mount Kilimanjaro, at 19,330 feet the highest mountain in Africa. Not only that, they made their ascents in September only 12 days apart and did know about each other before returning home - and they had been companymates at USNA! The first to climb was Bo Kearns. Here's his report:
&nbsp I was scheduled to climb Kilimanjaro last February but overdid the training and ended up with knee surgery instead. Since the cost was nonrefundable, there was an incentive to keep at it and I climbed in September.

To work out the jet lag prior to the climb, I spent a few days at an 11,000 acre private ranch in the foothills tracking elephant and game. There were six of us and thirty happy, singing porters who climbed the mountain. I was not singing. I thought it was tough. It was like plebe year all over again. The altitude and cold were brutal. One night we camped at the base of a forty foot glacier. We took the Western Breach trail which only recently reopened after being closed for two years when two Americans got wiped out in an avalanche. Now, you traverse it at 4:00am before the sun thaws the ice and rock. There were several times when I wished I had gone to Hawaii instead. Was it worth it? Absolutely!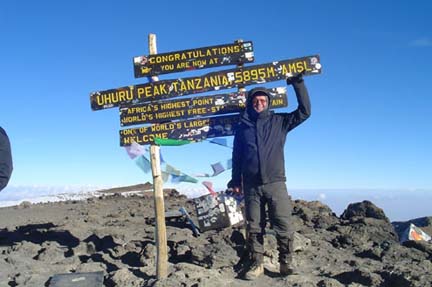 Bo Kearns climbs Kilimanjaro


&nbsp Brev Moore submitted this account of his ascent:
&nbsp I made up my mind last April to make the trip in 2008. I chose the September expedition since I felt I needed the time to get in shape. It was a good call! I climbed in a group of 14. We all made it to the top and had a great time to boot. I had no problem with the climb, but I did adjusting to the altitude, which I expected from my other climbs which were at much lower altitudes. Imagine my surprise after I returned home to find out that Bo Kearns, who was in my company at USNA, had climbed Kilimanjaro about 12 days earlier

The climb was via the Machame (aka "the Whiskey Route") route over the Marangu and Arrow Glacier/Western Breach routes which offer some distinct advantages. It is considered the route that provides the most interesting wilderness experience, great acclimatization, and all around enjoyment and beauty. We spent five nights between 10,000 and 15,000 feet before attempting the summit. The summit, called Uhuru Peak, is about 5,000 feet higher than my previous highest, Mt. Whitney. At the summit we celebrated a while, taking pictures and taking in the view of the glacier and the panorama before us at the highest point in Africa.

Brev Moore and his guide at the summit


After the Kilimanjaro adventure came several days of safari experiences including a visit to Serengeti National Park and Ngorongoro Crater, one of the world's most incredible natural wonders. There we encountered herds of zebra, antelope, buffalo, elephant, rhino, cheetah, and hippo.

I have a little bit of other news. Recently, I received the Silver Beaver award, which is the highest award that a Boy Scouts of America council can award its volunteers. I have been involved with scouting since 1981 as a leader in various capacities including Cubmaster, Scoutmaster, and volunteer positions on our district staff.
---
&nbsp Steve Duncan coordinated the design and production of a memorial plaque which has been installed in the Class of 1963 Center for Academic Excellence at the Academy. I asked him for some details, and here is his response:
&nbsp The 3' X 5' wood plaque features a three-dimensional Class of 1963 Crest at the top, identical to the ones made for the large plaques at each entrance to the CAE. The new plaque was designed to be consistent with and to compliment the older plaques. Below the Crest and the words CLASS of 1963, is a cobalt blue Corian mounting upon which the following words are laser engraved in gold: " In addition to its support of the Center of Academic Excellence, the Class of 1963 has provided college and vocational school grant assistance to family members of the following deceased classmates" Below those words are engraved the names of 47 classmates. Under each name, the numbers of grants given to the children of that classmate are listed, e.g., "Grants - Two."

Click Here. for an enlarged version of the next photo.

Our plaque at the '63 Center for Academic Excellence



---
&nbsp Chuck Stone submitted this richly illustrated account of travels and classmate visits in recent months. He sets a fine example for our classmates!
&nbsp June and I have had several opportunities to visit with Classmates these past few months. Last September, we had a surprise visit here in Escondido from Barbara and Glenn Takabayashi, who were vacationing at the Welk Resort very near us. We renewed old times, told a few sea stories, and enjoyed a delicious dinner. Here is a photo of Barb, Tak, and me.

Chuck Stone with Barb and Glenn Takabayashi


Then in October, while back east for the Class Foundation Board meeting, Felix (Poley) de Golian and I assisted Steve Duncan in taking his boat, REVEILLE, from Oxford, MD to its winter storage in the Black Dog Boat Yard in Denton, MD (several hours up the Choptank River past Cambridge. These photos were taken en route.

A proper salute by De Golian and Duncan




Felix and Steve underway in REVEILLE




Chuck enjoying the river cruise


June and I meandered around the southeast in January and were able to visit Linda and Rick Wakefield for a delightful lunch prepared by Linda. Their neighbors, Cynthia and Denny Tomlin, joined us. Here are photos commemorating the event.

Denny Tomlin, Rick Wakefield, and Chuck Stone




Tomlins, Wakefields, and Stones


A few days later, after wandering around southwest Georgia, we had a special overnight visit with Yvonne and Steve Coester in Rockledge. Yvonne and Steve hosted us to delicious meals and two wonderful visits to the Viera Wetlands, where there is an abundance of wildlife, including every waterfowl you can imagine, plus eagles, caracaras, otters, and plenty of gators! This picture shows Steve and me posing with an 8-foot gator, which was taking an afternoon snooze -- quite likely after gorging himself at lunch. June took the photo, getting even closer to the gator than Steve and I did!

Stone and Coester with their alligator buddy




Yvonne Coester and June Stone


Back in California, we attended the "Dark Ages Ball" hosted by the San Diego area USNAAA at the Manchester Hyatt Hotel on 21 February. Here is a photo of the distinguished Class of '63 participants. From left to right are June and Chuck Stone, Pat and Jim Fontana, Dottie and Bill Hughes, and Marirose and Karl Kozak.

At the Dark Ages Ball in San Diego



---
&nbsp Here's a note from Mario Fiori:
&nbsp I have received quite a few letters/emails from our classmates concerning Bill Pawlyk and have received generous contributions to a legal fund that I am accumulating. I would like to thank everyone who has supported Bill. I do speak to him almost every week and he now does get Shipmate magazine. He continues to work hard to help others at Monroe and I believe he is proud of his contributions to the welfare of the young men he has helped. For those who have not seen my letter about Bill, I would recommend that they go on our class Web site in the Hot News section and scroll to my letter of September 10, 2008.
---
&nbsp Thanks to Mal Wright for sending this photo and news from the retirement of a great ship.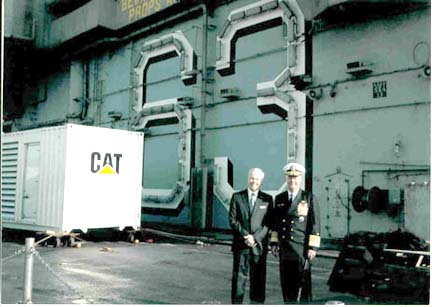 Mal Wright and ADM Tim Keating '71
&nbsp I thought that this photo might provide a nostalgic look back for our classmates. ADM Tim Keating '71, Commander, US Pacific Command, came to Bremerton on January 31st, 2009, to participate in a "KITTYHAWK, Honoring our Legacy" ceremony. I attended the ceremony and convinced Admiral Keating to take time from his "meet and greet" responsibilities to come up to the flight deck for a photo op. He graciously acceded and the result is this photo showing the Admiral and me in front of the big '63 on the island. Because the ship is undergoing deactivation, the flight deck was crowded with the sort of stuff that is associated with that process, hence the conex box and a rather awkward perspective. It was a beautiful day here in the Northwest and the turnout was super. Many former KITTYHAWK veterans were there to lend meaning to a dignified but, nonetheless, sad day. You might recall that our classmate, Lee Tillotson, commanded this fine ship from February 1987 to April 1989 and that our former Commandant, ADM "Bush" Bringle, was her first commanding officer (April 1961-May 1962).
---
&nbsp Homer Smith is Commodore of the Santa Barbara, California, Yacht Club. An article is the local newspaper in early March included this photo of Homer and his wife Jean.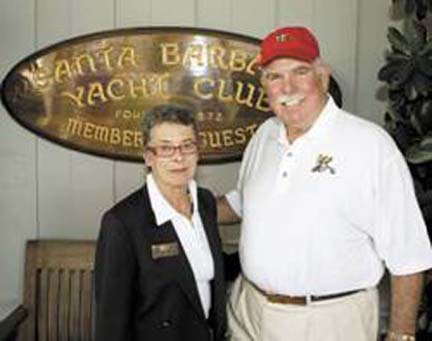 Jean and Homer Smith
---
&nbsp Birney Pease shared this note and photo he received from Alex Daunis.
&nbsp Just got back from a visit with daughter, Sarah, and her babies. Sarah and Matt live about a half mile away, so I get to see her children a couple of times a week. The twins, Gretchen and Rhys, were due on February 12th, but arrived on New Year's Eve. The doctors say that they are now over nine pounds and doing very well.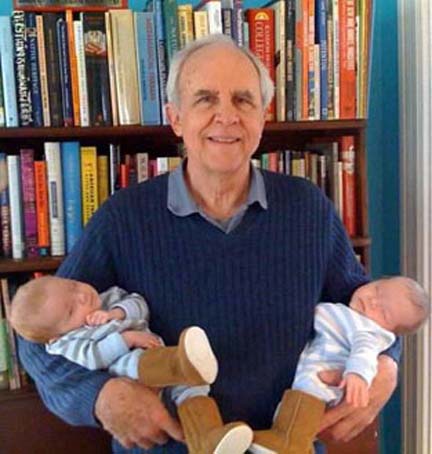 Alex Daunis and his grand-twins
---
&nbsp Whew! What a lot of news and pictures we have this month! Thanks to all the guys who took a few minutes to send an e-mail and some photos for you to see.
See you here next month!



---