Shipmate Column
November/December 2009
---
CLASS OF 1963
Pres: CAPT W. Spencer Johnson IV, USN (Ret.)
Sec'y: Michael H. Shelley
164 Sweetwater Lane, Pisgah Forest, NC 28768
h: 828-862-4245 e: nstar@citcom.net
Web site: http://www.usna63.org.


For any classmate you can go to the Classmates Page and enter his name to read his current biography if available.
---
&nbsp With great regret, I begin this installment of our news exchange by telling you of the loss of two of our classmates.


Jim "Rags" Ragano


James "Rags" Ragano died on 2 September after a courageous battle against a brain tumor. His widow, Margo, can be contacted at 19 Treetop Dr., Arden, NC 28704.


Pete Featherstone


Peter Featherstone passed away suddenly from a heart attack on 23 September. His widow, Charlotte, can be contacted at 2188 Chesapeake Harbour Dr., Annapolis, MD 21403.

We have added these two names to the Last Call section in the Classmates area of our web site. I encourage you to visit there from time to time to review the entries and remember our departed classmates.
---
&nbsp Established on Induction Day this July, the bond between the Class of 1963 and the Class of 2013 was strengthened by two additional events in the Another Link in the Chain (ALITC) program. The first was our participation in Plebe Parents' Weekend in August. A highlight was the dress parade on Worden Field. Reporting that event and his reactions was Phil Rooney, who sent this nostalgic note to his fellow members of the 7th Company.
&nbsp As I sat there in the VIP Reviewing Tent looking out at those 1,200 brand new Plebes marching for their proud parents, I did some heavy, serious reminiscing. And without even realizing where my mind was heading, the following popped in: She walks; she talks; she's full of chalk. The lacteal fluid extracted from the female of the bovine species is highly prolific to the (n)th degree.

What a trip! It was a great gesture for USNA to invite five Class of '63 alumni and their spouses, as part of the Link in the Chain program, to review the Parents' Weekend P-rade on Saturday, August 8, which in case you've forgotten, you and I did exactly FIFTY summers ago!

Jan and I, Andrea and Spencer Johnson, Jennifer and Bill Earner, Sharon and Bob Forster, and Bob Harper represented the Class. I was proud to do it! Every time I looked around and saw all those parents and siblings and of grandparents looking for their son/daughter/grandson/granddaughter, I kept thinking how intensely proud my folks were of their son being part of their first P-rade, and of this institution.

I remembered losing about 30 pounds that summer, notwithstanding the steak and egg breakfasts, with strawberries and ice cream right from our own dairy. What a treat! And I remembered getting fried, and having to go to ED at 0500 and getting hammered by the great physical specimen Joe Bellino!

And I remembered some of those Fall Set P-rades in 1959, when Harry Henning and Pablo Esteban Duran would have us cracking up at their conversations! And I remembered some sort of skit we had where we mimicked Pabs and it was so funny that Lefty (Capt Bill Leftwich, USMC) came into our room and shook our wet and dirty hands. And Ron Koontz, our Company Commander, who led us to within points of winning the colors that spring! And so many more memories!

And I remembered always loving to march! You must have liked it too, because we did very well at it, at least according to those characters all around the parade field taking notes on their clipboards! We did pretty darned well all four years, as I recall. And I was proud to be a part of it. The school, the Brigade, the 21st/7th company. But the best part was when Jan said to me, "You sure made a lot of good friends while you were here, didn't you?" "Friends to the very end", is all I could think of to say.


&nbsp At 1930 on Friday, 28 August, 33 classmates and 23 wives joined the 2013 Plebe class in Alumni Hall for the Honor Coin Ceremony. The Deputy Commandant was the presiding officer. The principal speaker was our classmate Mike Cronin, whose outstanding address to the members of '13 was both pragmatic and inspirational. Our Class President, Spencer Johnson, also addressed the assembly, welcoming the Plebe class as the newest of many links in the chain of Academy alumni. I strongly encourage you to read the texts of Mike's and Spencer's addresses in the ALINC section of our web site by clicking HERE..

Spencer sent this note about the event:
&nbsp It all went well, including a smooth distribution of the coins, during which each member of the class of 2013 shook the hand on one of our classmates. They seemed to be genuinely appreciative and touched by the ceremony. Ron Klemick did a great job in putting all this together. Eli Dabich arranged an opportunity for classmates to rendezvous at the O Club for dinner prior to the event. Mike Cronin did us all proud and showed the class of 2013 what a genuine hero looks and talks like. They were awed, greeting Mike's presentation with a standing ovation.

Mike Cronin addresses the Class of 2013




Applauding Mike Cronin




Doug Zanzot presents Honor Coins




Dick Kuntz presents Honor Coins




Jerry Smith presents Honor Coins




Jim Ring presents Honor Coins




Spencer Johnson




Classmates and ladies



&nbsp For more than a year, the planning and conduct of the '63 - '13 ALITC program has been ably led and coordinated by Ron Klemick. We thank him for the considerable time and skill he has invested in ensuring the success of this effort. Ron sent me a longer report about ALITC from which I extracted the following:
&nbsp The outstanding turnout of 56 classmates and wives demonstrates the enthusiasm and commitment of our class for ALITC. Attending were: Richard and Janice Kuntz, Mike and Steph Nadolski, Roger Mehle, Al Sherman, Bob and Carol Harper, Denis and Karen Meredith, Pete Featherstone, Forrest and Arlene Siburt, Joe Bustamante, Dan and Bonnie Hitzelberger, Jerry and Linda Smith, Mel and Glenda Bunnell, Mario and Susan Fiori, Denny and Noriko Conley, Larry and Barb Marsh, Perry and Anne Miles, Steve Leisge, Dick Jones, Eli and Eileen Dabich, Mike and Jackie Cronin, Jeff Miles, Dan Koczur, Charlie Stubbs, Kent and Betty Maxfield, Rich and Mary Ann Miehle, Jim Ring, Doug and Diana Zanzot, Bruce and Larissa Webb, Doug and Charlsie Davidson, Pete and Jan Quinton, Bill and Jennifer Earner, Spencer and Andrea Johnson, and Ron and Sandy Klemick.

Many of those present were impressed by the handshake and eye contact of 2013 and their ability to engage 1963 while accepting their coins. The Honor Coin event exceeded all of our expectations. Our next scheduled ALITC event will be Herndon Monument in May 2010.
&nbsp Ron maintains a mailing list of classmates who have expressed interest in participating in the ALITC program. Anyone who would like to be included should contact him by e-mail , (rklemick@bellsouth.net) , postal mail (330 Olde Point Loop, Hampstead, NC 28443), or telephone (901-270-9171).
---
&nbsp In late July, George Singer sent this remarkable account.
&nbsp I had the privilege and honor to be part of two magnificent military ceremonies surrounding my family and feel the need to share with you because they were so profound and so reflective of our community.

On July 23, my wife, Penny, and I buried both of her parents at Jefferson Barracks Veterans Cemetery in St. Louis, MO, with full military honors. Her father was a retired LtCol, USAF, with 100-plus missions in the South Pacific flying the B-25 Mitchell, winning the DFC and many other awards. They succumbed to old age during the first quarter of this year and were buried together. Bob had the choice of burial at Arlington or in St. Louis and chose Jefferson because his son is buried there. Scott AFB sent a very special crew down for the ceremony and the day was spectacular as we laid to rest one of the few remaining heroes of that "Greatest Generation" and his spouse. The people at Jefferson Barracks were truly wonderful, arranged everything so very well, and it all was done beautifully.

Here are some noteworthy parts of their obituaries:

&nbsp "Robert J. Morris, (Bob) LtCol, US Air Force (Ret.), passed away on January 29, 2009, at the age of 93 after a very long life and short illness. Bob was a genuinely wonderful man, father, husband, and hero. He was awarded the Distinguished Flying Cross, Army Commendation Ribbon, Air Force Longevity Service award ribbon, Air Medal with 9 Oak Leaf Clusters, WW II Victory Medal, Asiatic-Pacific Campaign Medal, National Defense Service Medal, and American Campaign Medal with one Bronze Star for his service during and after WW II. He flew many missions in the South Pacific, piloting a B-25 Mitchell bomber during the war. Following the war, he served in Brazil, Italy, and the U.S. Bob was born and raised in St. Louis and will be interred at Jefferson Barracks, where his son, Captain Robert Morris, USAF, is also buried."

"Aloise (Alex) Murphy Morris, Bob's marvelous spouse for 69 years, passed away on June 11, 2009. She bore three children and is survived by two, Penny Ann (Morris) Singer and Stephen Morris. "

Alex, by the way, was a pilot in her own right in the 1940s and was a skeet champion of South America in the late 1940s -- a woman ahead of her time in the world.

The following day, we attended a ceremony to dedicate a refurbished B-52 that was mounted at the Arnold Gate of Whiteman AFB. This BUFF participated in Linebacker II and was on the mission when her sister ship Ebony-2 was shot down on Christmas Day 1972. This plane has been renamed the Ebony-2 and dedicated to Capt. Robert Morris (my wife's brother) and his crew. Their plane was hit by three SAMs, yet fulfilled the mission of dropping their stick on the Gap rail yards. Capt. Morris and another crewman were killed, but the remaining crew members got out, became POWs, and were repatriated in 1973 with the other prisoners, following the peace agreement. The entire crew received the Distinguished Flying Cross for surviving the first missile then delivering their bombs in a severe condition, then exiting the airplane, but only after the third SA2 hit. All of the crew and their families were there for the ceremony.





Capt Morris's widow and their two children and three grandchildren were there to participate in the program. The ceremony was an inspiration and reflected what this country is really about. There were no dry eyes after the invocation or speech given by the Wing Leader of that mission when Bob was lost, nor when the B-52 flyover put the period on the occasion.

This ceremony was attended by many Vietnam Vets, particularly B-52 crewdogs, from around the country. I represented the Navy and Boomer community, my son Gary (USAFA '88) was there, as were one of Bob's cousins (a Navy Destroyerman), another cousin (an Army Vietnam vet), and quite a few other family members.

This was truly a reminder of what we are and what we represent. We cannot let anyone forget that it is we who keep this country free with the sacrifices we elect to endure.
---
&nbsp Cole Lindell submitted this wonderful picture with a brief note of explanation.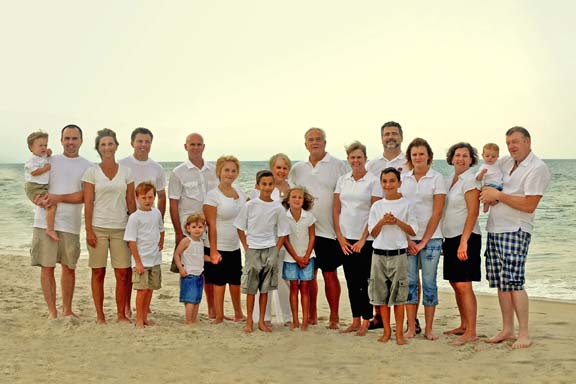 The Lindell family at the beach
&nbsp Shelley and I gathered the Lindell clan in July for a week at the beach on the Outer Banks of North Carolina. They came from Ireland, California, Kansas, and South Carolina. All ten children with spouses and grandchildren were together for the first time. Shelley and I have found that ten is both a challenge and a blessing with the blessing tipping the scale.
---
&nbsp Following a ceremony honoring our late classmate Dan Moran, I received two photographs from Pete Vreeland and the following text prepared by Chuck Adams.



&nbsp On 12 September, members of our class gathered for the dedication of a memorial plaque honoring Dan Moran at his high school alma mater, Saint Ignatius High School in Chicago. Dan was killed in action while flying a combat mission over North Vietnam in January 1967. Classmates in Dan's company not only donated the plaque but also joined in establishing a scholarship fund in Dan's name. The fund provides tuition assistance to deserving students at the school. The ceremony, held in conjunction with the fiftieth reunion of Dan's high school class of 1959, was held where the monument is prominently located in an immaculately maintained garden area just outside the school's dining hall.


This picture shows our classmates who attended the ceremony. Left to right are Tom Selden, Marty Tillapaugh, Bud Johnson, Jerry Huss, Gene Dehnert, Bob Polich, Chuck Adams, and Pete Vreeland. Also in attendance were Dan's brother and sister, John Moran and Gay Moran Pfieffer. Those wishing to contribute to the Daniel H. Moran Memorial Fund at Saint Ignatius may send a check to the school at 1076 West Roosevelt Road, Chicago, Illinois 60608.
&nbsp Pete noted that they were welcomed with open arms by Dan's high school classmates as well as the administration of St. Ignatius. He again expressed thanks to all our classmates who contributed.
---
&nbsp Phillip Marsden and his trusty camera were busy and productive in recent months. He filed this report as proof.
&nbsp I have been doing some traveling this summer that brought me in contact with a number of classmates. I made a trip to the Seattle area in July for my 50th high school reunion and made a point to see some old friends who live in the area. Here are three photos made during my visits.

Meredith Musick and his daughter Jennifer with Phillip




Phillip with Mal Wright




Denny Vaughan, Pete Soverel, and Phillip


After my return from the Northwest we had our annual San Diego gathering of classmates for a Coronado Concert-in-the-Park. The photo shows: (back row) Vern and Gail VonSydow, Donna Kaup, Joe Morra, Betty and Johnny Wills (Ron's sister and her son), Ron and Dee Wills, myself, and Dave Moore. (front row) Lee and Sue Cargill, Clyde Van Arsdale, Bill and Dottie Hughes, and Lana Moore. We enjoyed a wonderful afternoon of music and camaraderie.

'63 in Coronado



---
&nbsp Tom O'Brien tells us about a recent rendezvous with a companymate in north Georgia.
&nbsp Ann and I recently returned from an initially soggy week in the foothills of Georgia's Blue Ridge Mountains (in a timeshare exchange condo, of course-we don't do tents anymore). The "Big Canoe" resort is about an hour north-northeast of Atlanta, where they had all that disastrous flooding you might have seen on national TV because of the deluge. Fortunately, the local roads and streams weren't affected at all, and we were able to get out and about, just not to do the resort-y type things we had planned on doing. We did some antiquing for our silver business and also learned a bit about the first gold rush in the U.S. (1928, near Dahlonega, GA) at the Gold Museum on the town square, while participating in that town's Heritage Days celebration. Watched a reenactment of the "There's Gold in Them Thar' Hills" speech from the courthouse.

We had invited 18th Companymate Tom Reemelin, and Fran, who live in Duluth, GA, up for an overnight and, after they had protected their lovely home and furnishings against the stabilizing Atlanta area floodwaters, they joined us for a couple of days. Tom and I hacked our way around the well-drained Big Canoe Creek and Choctaw golf nines and had a lot of fun doing it. There were beautiful mountain vistas with, unfortunately, too many ponds between our golf balls and the greens. But, the 19th Hole was a winner! The four of us had a great dinner out that night at the nearby Appalachian Grill, while learning how the wives had spent their day (and our $$$!!).

Fran and Tom Reemelin's anniversary lunch




O'Briens and Reemelins


The next day, after a lazy start, the four of us headed over to see Amicalola Falls and then the Wolf Mountain Winery on the Georgia Wine Trail. We discovered a delightful cafe there where we had a wonderful lunch. Halfway through, we were reminded that it was Tom and Fran's 43rd Anniversary, so we had to capture the occasion with a photo. It was a great '63 get-together, thoroughly enjoyed by all.
---
&nbsp So ends another terrific collection of news from our classmates. Join the fun by sending me your contribution soon.



---