Shipmate Column
September-October 2011
---
CLASS OF 1963
Pres: CAPT W. Spencer Johnson IV, USN (Ret.)
Sec'y: Michael H. Shelley
164 Sweetwater Lane, Pisgah Forest, NC 28768
h: 828-862-4245 e: nstar@citcom.net
Web site: http://www.usna63.org.


For any classmate you can go to the Classmates Page and enter his name to read his current biography if available.
---

&nbsp I am saddened to begin this month's report with the news that our classmate Ted Healy died from liver failure as a complication of prostate cancer on 16 July. He was given a military burial with full honors at the Georgia National Cemetery. Ted's widow, Karen, may be contacted at 4449 Pineridge Circle, Dunwoody, GA 30338.
---

&nbsp I have learned that Jocelyn "Joy" Calande, former wife of our classmate John Calande passed away in April. "J.J." may be contacted at Bride Brook Health & Rehabilitation Center, 23 Liberty Way, Niantic, CT 06357; (860) 739-4007. He is receiving care there for a stroke he suffered several years ago. He would enjoy hearing from you.
---
&nbsp What have you done this summer? That's a question that is sure to bring a variety of answers, but probably none of us can come close to matching Gaylord Hopkins. He sent this account of his participation in national-level athletic competition. You're sure to be impressed.
&nbsp This is just a short note about my summer vacation. I spent four days in Houston the last week of June, at the National Senior Games, doing my avocation -- swimming. As a result, I had four first place events: the 200 and 500 yard Freestyle, and the 100 and 200 yard Backstroke, setting a National Senior Games Record in each event. Also, I had two second place finishes in the 50 yard Backstroke and the 100 yard Freestyle. The rules only allow you to swim a maximum of six events. One interesting thing with this event was that they actually measured your reaction time from the starter "beep" to when you actually got off the block. I always knew I was slow in that category, but they actually proved it. In the 100 free I was the slowest person off the block, but by the time we got to the 500 I was average. That just shows why I do much better at distance events. Unfortunately, 500 yards is the maximum distance in the Senior Games. I generally do much better in national ranking swimming a 1,000 or 1,650 yard race. Even though I'm slowing down with age and associated physical infirmities (knee and shoulder arthritis), my competitors seem to be slowing at the same rate. Here is a photo of me with my medals.

Record breaker Gaylord Hopkins



---
&nbsp Pete Carrothers believes he can claim two aviation superlatives, described in this note he sent in July. Be sure to tell me if you can top him.
&nbsp I was thinking about it recently and don't think any of our classmates made it into space. If that is true, I think I might be able to claim "fastest" and "highest" in our class. I was a back seater in the RA-5C Vigilante program during the mid to late 60's, flying off both ENTERPRISE and INDEPENDENCE. We would regularly "punch it" from Yankee Station to Cubi Point (Mach 2-plus) in an effort to accomplish three things: (1) Get to Cubi to get the aircraft washed (2) Burn up all 25,000 pounds of fuel we launched with and (3) get there in a hurry so we could down a couple of iced teas before we had to launch back to the boat.



&nbsp We had a squadron pool on which aircrew could do it in the shortest elapsed time from launch to touchdown at Cubi. This was long before computers and it was a math problem, on how fast you climbed, to what altitude, how long you could stay in max afterburner, when you would start your descent and the object was to breath fumes on landing. At the end of the cruise we won the pool with an elapsed time of 28 minutes to cover 685 miles (speed over ground of 1,468 mph)...we were able to taxi on our own power off the duty runway. We could honestly say we "left it all on the field" so to speak. My highest altitude was around 65,000 feet while doing some mapping of Cuba in 1967.
---
&nbsp Ron Klemick, our coordinator for the Another Link in the Chain program, provided this information about the next major event of our partnership with the Class of 2013.



&nbsp At the beginning of 2nd Class Year, Midshipmen who have committed themselves to further naval service participate in a formal Commitment Dinner in King Hall which will be held on 23 August. Prior to the dinner, all 2nd Class Midshipmen sign their class Honor Scroll, which is then presented to the class during the meal. The scroll will be prominently displayed in Mitscher Hall next to the previous year's scroll. The 50-year alumni class will play a major role in this dinner by providing the guest speaker and by the presence of classmates sitting among the Midshipmen to join in their celebration of this momentous night.

>



&nbsp This very important event in the Another Link in the Chain program is often called "Two for Seven" as the 2/c obligate themselves for seven years including two more years at USNA.
&nbsp As members of the senior, 50 year, alumni class, we and our spouses/guests are invited to attend this event. There will be an 1800 Reception in Smoke Hall prior to the actual Commitment Dinner at 1900 in King Hall.



&nbsp The guest speaker for the 1963 Class is Bill Earner. Dinner is planned so that two 1963 attendees will be seated among the remaining 2/c at each table to afford maximum interaction.
&nbsp All classmates planning to attend should notify Ron Klemick at rklemick@bellsouth.net or (910) 270-9171 by 15 August. Please tell him if there are special dietary requirements.
&nbsp It is suggested that classmates wear their Summer Glee Club uniform: blue blazer, tan or gray slacks, preferably with neck tie as this is a major milestone for 2013.
---
&nbsp The Class Genealogy page of our web site lists the fathers and 47 of our children who have attended the Naval Academy. A recent addition to the page is our first third-generation Midshipman: Nicholas Arthur Waugh '13, the grandson of our classmate Pat Waugh and son of Stephen Waugh '86. See the complete list in the Pride and Tradition section of our web site by clicking Here.
---
&nbsp Bonnie and Daryl Rabert travelled from their home on the Georgia coast for a visit to Tennessee near the Smoky Mountains
&nbsp I just wanted to share this picture of my companymate Bill Cole and myself, taken when Bonnie and I visited with Bill and Penny in Knoxville in June. We were on our way to Blackberry Farm Resort in eastern Tennessee to celebrate our wedding anniversary. It was great to see the Coles. He is doing well and still providing background checks for Homeland Security. Bill and I hope we can get our 15th Company classmates to attend the 50th Reunion in Annapolis. There are many of our companymates I have not seen since graduation.

Daryl Rabert and Bill Cole



---
&nbsp Cliff Barney informs us that his son is now among the published authors in the Class of 1963 family.
&nbsp My son James (USNA '90) has just had his first novel published, a techno-thriller titled "The Genesis Key." James served his time on submarines; USS HYMAN RICKOVER was his boat. Then he went to Yale Law School and is now a patent attorney at one of the D.C. firms. Check out the book at http://jamesbarney.com. He has signed a multi-book deal with the publisher, Harper-Collins, and is working to get his next book out before the promised deadline this October.
---
&nbsp Here are two photos from the July version of the USNA alumni lunch we have on the third Thursday of each month here in Brevard, NC. The first image shows 23rd Companymates Bob Maier, Bernie Grabowski, and Ben Cole (up from his home just below the South Carolina state line). In the group photo are Mike Shelley and Bob Maier (front row), Ben Cole, Bernie Grabowski, Bill Hollenack, Joe Kotowski, and Bernie Conatser (second row). In the rear are Vince Putiri '67 and Jim Spencer '64.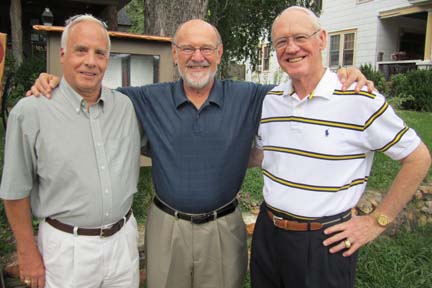 Maier, Grabowski, and Cole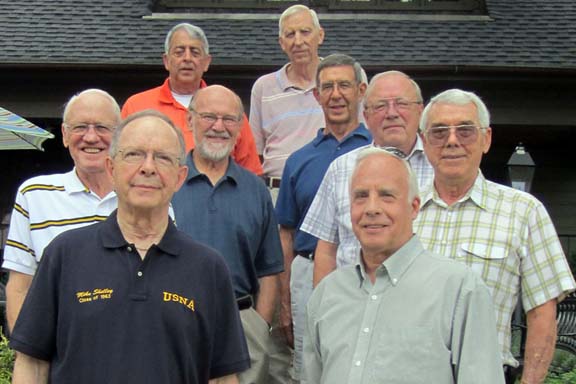 Carolina Mountain guys
---
&nbsp And that's it for this month. This was a much shorter report than usual and my mail bag is empty. After so many good intentions that you didn't act on, now is the time for you to take a few minutes to send an e-mail with news about what you've been up to lately. You'll be glad you did.



---